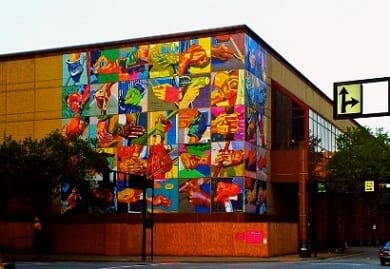 Cincinnati residents applauded the unveiling of a new mural – "The Hands That Built This City" – at the Duke Energy Convention Center on Sept. 17.
Working in collaboration with ArtWorks, a non-profit organization, a team of student artists helped bring the vision of local artist Jenny Ustick to life.
As part of a community art program, this $64,000 masterpiece stretches 71 feet wide and 44 feet high, and it contains 44 hands. Featured in this mural are the hands of Cincinnati's laborers as portrayed in the Union Terminal mosaics, which were installed in 1931 by artist Winold Reiss.
While honoring the past, the mural also pays tribute to three present-day Cincinnatians: Kate Nobbe, a pastry chef at the convention center; Steve Williams, a set-up team leader at the center; and Isaiah Lemons, one of the student artists helping Ustick and three other teachers paint the mural.