Claude Molinari, general manager of SMG/Cobo Center, recently announced the launch of a new Technology Services department. Thanks to the recent $279 million renovation, a broadcast studio, digital signage, Internet and Wi-Fi upgrades, and an extensive fiber network represent meaningful change in the business model for providing Internet services to attendees, exhibitors and show management. The new Technology Services department at Cobo Center is now in place to provide customers with state-of-the-art technology supported by a dedicated in-house team.
"The creation of Cobo Center Technology Services, though significant on its own, is part of a larger overall plan designed to enhance the customer experience," said Molinari.
New digital signage, ranging from the 4,800 square-foot marquee sign on Cobo Center's exterior, to more than 100 digital message boards outside of each meeting room, ballroom and exhibit hall, provides meeting planners with opportunities for advertising, branding, revenue generation and attendee interaction. Use of the signs enhances any show with relevant content such as schedule-at-a-glance, show mapping, logo loops, sponsorship video spots, and Twitter feeds – all incorporating virtual components into live events.
"In our first year of digital signage operation, Cobo Center generated more than $800,000 in advertising revenue, an astounding feat for a convention center," said Molinari. "Our customers quickly caught on to the fact that these signs can create substantial revenue streams."
During the recent renovation, an extensive fiber network was permanently installed throughout the facility, radically amplifying Cobo's Technology Services capabilities. Live streaming from anywhere in the convention center to digital signage via the Cobo Center broadcast studio makes large events attendee focused. Like no other convention center service, the broadcast studio provides a technology command center and control point for all fiber feeds in use by the event, a sound stage for live or recorded broadcasts to hybrid audiences, and source for satellite uplink around the globe, eliminating the need to rent a satellite truck.
Molinari believes, "The digital revolution is the most powerful change to hit the trade show and convention center industry." He added, "This broadcast studio positions Cobo Center as a leader in extending events within the facility and to global audiences."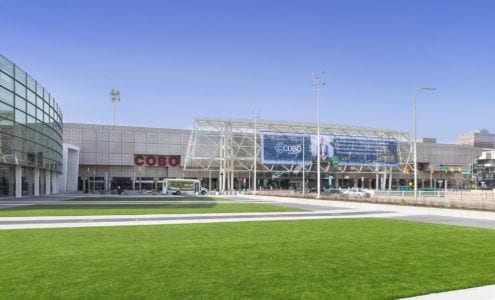 The North American International Auto Show, Cobo Center's largest annual event, peaked WiFi usage last year during Press Days at 14,640 unique users, an increase of 62% the previous year. The current WiFi system in Cobo is an Aruba 802.11ac wireless network designed to accommodate 32,000 devices simultaneously. Discovery during pre-event planning may reveal estimated high usage, in which case, the Technology Services department is prepared to add more APs to smooth out the user's experience and allow for a greater number of guests and their wireless devices to access the Internet at ever-increasing speeds. Full customer use of WiFi service has always been free throughout Cobo Center.
In a world where exhibitors and attendees now carry multiple Wi-Fi enabled devices on a regular basis, it is critical that the system can support a large number of devices simultaneously. "I did not get one single complaint about the WiFi," said Ally Jenkins, manger-conferences for the ASAE 2015 Annual Meeting & Exposition in Cobo Center. Adding, "This is unprecedented."
Soon Cobo Center will be increasing bandwidth to the facility, upgradable to 10G, depending on the needs of the event. "This final enhancement will make the Technology Services offering in Cobo Center the highest caliber, comparable to any convention center in the world," said Molinari.
Other technology enhancements that support events in Cobo Center include: a free facility app that is fully integrable with event apps; recent cell tower upgrades with all providers; online event service ordering for all event services, making service ordering paperless; conversation pod furniture groups where customers can relax, plug-in and recharge between meetings.