In recognition for its world-class facilities and service excellence, Corinthia Hotel Lisbon was named the Luxury Hotel & Conference Center of the European Continent at the 2014 World Luxury Hotel Awards held in South Africa.
Corinthia Hotel Lisbon was selected from more than 1,000 hotels in 145 countries across 50 categories for luxury hotels as the Luxury Hotel & Conference Center of the European Continent by international tour operators, travel agents and hotel guests who have the opportunity to cast their votes annually.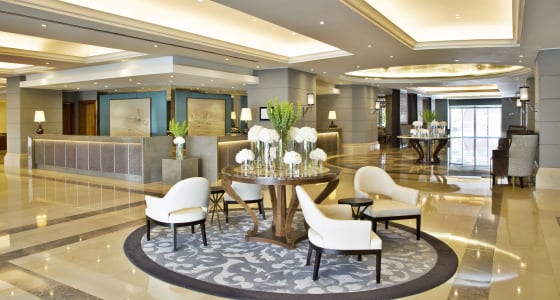 The Gala Ceremony held on Dec. 6 in South Africa, marked the eighth annual World Luxury Hotel Awards, recognized as a global organization providing luxury hotels with recognition.
"We are extremely honored to be recognized as the Luxury Hotel & Conference Centre of the European Continent; it underscores the exceptional professionalism and consistent guest driven focus of our teams. Being acknowledged by such a prestigious organization on the same year of our 10th Anniversary celebration makes us tremendously proud.  We are determined to maintain our exceptionally high standard of service to all guests," said Reuben Mifsud, general manager, Corinthia Hotel Lisbon.
Corinthia Hotel Lisbon inaugurated in March the newly renovated Lobby and Lounge Bar. The new look has created a high-end 'residential' warm welcome and the feel of true luxury where guests can enjoy a more intimate atmosphere and feel more comfort.
The hotel conference and events facilities are the largest and best equipped in a five-star hotel in Lisbon with 16 rooms gathered in the same floor with natural daylight and a capacity for up to 1.400 delegates in a multi-purpose 32,000 square-feet area. The hotel gained recognition as the top conference center hotel in Portugal in 2009 when it was named 'Best Events Hotel' at the third edition of the Events Annual Gala that took place in Oporto, Portugal and in 2011 was named Gold Magellan Award Winner for its outstanding business and conference services in the Hotel/Resort Category. In 2013, it was named winner of the Western Europe Region Energy Project of the Year for 2013 by the USA Association of Energy Engineers, for its outstanding energy efficient hotel project and in August 2014 was elected Portugal's Leading Business Hotel by World Travel Awards.