by H. K. Wilson
In the early 2000s, Corporate Social Responsibility, or CSR, was an often-heard term in the business world. The events industry was no exception, as companies drafted policies and procedures aimed at pursuing social and environmental gains alongside financial ones.
The idea of CSR, however, is not all that modern. It goes all the way back to the Industrial Revolution of the mid-to-late 1800s, when new business and regulatory standards emerged to protect the welfare of workers. Industrialists like Andrew Carnegie and John D. Rockefeller went on to establish large philanthropic trusts, contributing hundreds of millions to education and scientific research.
The term "Corporate Social Responsibility" didn't appear until 1953, when it was coined by American economist Howard Bowen. In 1971, the Committee for Economic Development asserted that a "social contract" existed between businesses and society, suggesting that companies have an obligation to contribute to the needs of society.
Recently, the concept of CSR has morphed into something new: Corporate Sustainability, also known as "Environmental Social Governance" (ESG).
CSR vs. ESG — What is the Difference?
While the two models are very similar, there are some nuances that distinguish them from each other.
First, while CSR tends to look backward to consider how a company has contributed to society, ESG looks forward and thinks about sustainable strategies for the future.
And while CSR initiatives are often aimed at media and politicians with a goal of strengthening or protecting a company's reputation, ESG looks at everyone from consumers to stakeholders to create greater opportunities for emerging markets.
The Three Pillars of ESG
The Environmental Pillar
We hear a lot about the environmental pillar in the events industry, since it includes the actions companies are taking to reduce their environmental impact and carbon footprint. Strategies include using green energy; reusing or recycling materials; managing waste; and reducing their carbon footprint throughout the value chain.
The Social Pillar
The social pillar focuses on practices that promote the health, safety and well-being of employees, consumers and communities. This includes policies like offering maternity and paternity leave to employees; establishing proactive safety procedures in the workplace; giving to philanthropic causes; and protecting access to basic resources.
The Economic Pillar
The economic pillar is about implementing sustainable business practices to promote long-term profitability. In this way, the business is sure to make a lasting, positive impact—doing good while doing well. Compliance and good corporate governance are elements of this pillar. A company will take the long view when making decisions about how to spend or invest resources. For instance, it may create more green jobs or reduce product packaging.
ESG in Action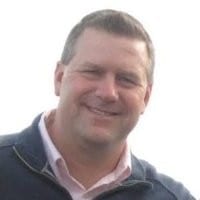 Shawn Garrity (pictured left) is the CEO of Circle, a purveyor of extraordinary experiences across multiple channels. Garrity has been both a successful entrepreneur in the marketing and events industry as well as a thought leader for Fortune 100 brands including Fujifilm, Warner Bros, Turner Broadcasting, MGM and Sharp Electronics over his career. He provides further leadership through his service on various advisory boards, among them, the Falk College of Sport & Human Dynamics at Syracuse University.
According to Garrity, Circle sees "the approach and follow-through for ESG to be blended and holistic. It is essential to audit and adjust ESG platforms to meet the needs of any given client need or initiative."
Circle's guiding principles as they relate to ESG are twofold. Garrity explains, "To function optimally as a business, we need to be authentically committed to shaping our company in the proper manner to improve our ESG score while guiding our clients through the same."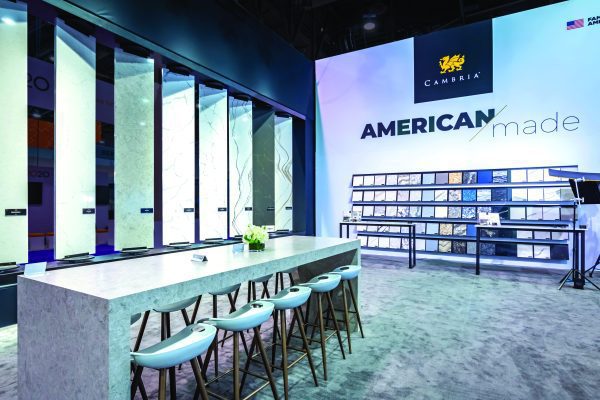 Currently, Circle is "very focused on ESG as a single movement, with a heavy focus on diversity hiring within our organization and with outside initiatives both for-profit and non-profit … We have invested substantial resources, both financially and via staffing, to reduce material waste via reusable assets, including our STIX SEG system. We have a sizable inventory of reusable STIX aluminum beams that have SEG adaptability to accommodate large format graphics. We also incorporate existing Circle-owned rental assets including registration counters, workstations, and a wide variety of assets including AV, demo stations, theatrical equipment, furniture, etc."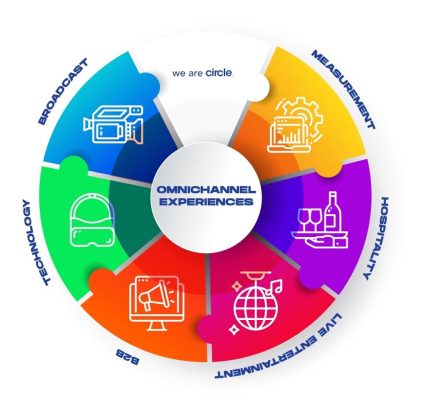 The pandemic has increased the need for business strategies founded on ESG principles. Garrity explained, "Directly and/or indirectly, everything has changed for our company as a result of the COVID effect. We are utilizing 60 percent less square footage based on our clients acceptance of reusable rental assets. Not long ago, our warehouse would be full of client materials that will ultimately end up in landfills after three to five years. The utilization of automated CAD manufacturing technology has also vastly reduced our production square footage requirements. Companies still relying on traditional manufacturing methodology require a substantial footprint for housing crated materials post show.
"Given the industries' demand for a more multimedia-based approach, we have repositioned the company as an Omnichannel Guest Experience Agency, requiring us to hire people (with) different skill sets, requiring a more global perspective as it relates to talent," Garrity adds.
beMatrix® is well-known throughout the exhibition industry for its invention of the "frame with big holes." The company strives for ongoing innovation, with respect for people and the planet always at the forefront.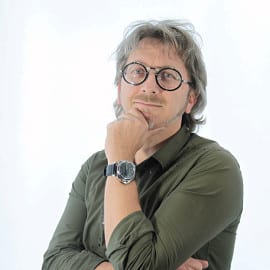 Owner and Chief Innovation Officer Edwin Van der Vennet (pictured right) says, "beMatrix is committed to both corporate social responsibility and corporate sustainability. We have a responsibility to our partners, our families and children to steward our resources and the earth responsibly. As part of our commitment, we have just launched Project C™, which will focus on raising awareness about creative ways to grow our business while shrinking our environmental footprint. This is our biggest attempt yet at taking care of the earth for future generations."
The TCF Center in Detroit is the 17th largest convention center in the U.S. Managed by ASM Global, TCF is a best-in-class center, offering more than 700,000 square feet of contiguous exhibition space. With a mission to be the best convention destination in the world, TCF follows the United Nations Sustainable Development Goals (SDG) format that includes both CSR and ESG.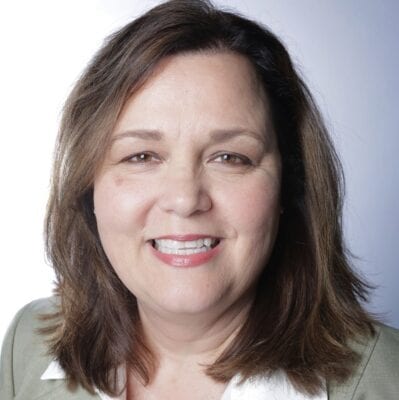 According to Karen Totaro (pictured left), general manager at TCF Center/ASM Global, "It makes sense to follow the template that the rest of the world is following, and try to contribute as much as possible to each goal."
The TCF Center's Green Committee has refocused its program to support the U.N.'s SDGs. Its program now aligns with 14 of the 17 goals outlined by the U.N. in 2017. "The new focus included a redesigned marketing program, green event guidelines that shifts focus from waste diversion to material life cycles, and a new Human Trafficking Policy that trains all stakeholders and outlines reporting procedures," Totaro says.
The Green Committee is busy with numerous initiatives targeted at ESG goals.
Periodic Green Tours of the venue to learn about operations in the engineering department, docks, kitchens, exhibit halls, and the Living Green Roof.
Hosting of free health and fitness sessions such as yoga, Zumba and full-body workouts. These can be integrated into events in the facility at no charge. Local non-profits are on site to give information to visitors.
Meetings with other local facility managers such as the Detroit Institute of Arts, Ford Motor Company and the City of Detroit to exchange best practices in sustainability.
Sustainability presentations at industry events such as IAVM Connect, CESSE, MSAE, USGBC Greenbuild and others to encourage event industry sustainable practices.
During the pandemic, TCF Center shifted from an event center to a community center, providing numerous resources and services to the community.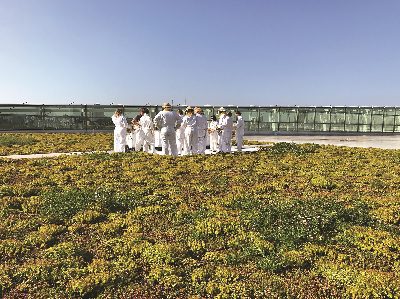 Converted to a COVID-19 field hospital for the State of Michigan in just nine days.
Distributed 10 million pounds of food to local agencies for food-insecure residents in Southeast Michigan in partnership with Food Rescue U.S.
Meals, showers and other services were extended to the homeless of Detroit in partnership with the Pope Francis Center and the City of Detroit.
Became the largest Detroit COVID-19 vaccination site as a drive-through facility in its Atwater Garage.
Partnered with the City of Detroit, Cranbrook Art Museum and the Detroit Riverfront Conservancy to sponsor a large-scale, hands-on public art installation that recognizes the depth of loss over the past year, such as lost loved ones, lost homes, lost jobs and lost hope. The installation in TCF Center was presented to the public on August 31 and will remain in the center for one year.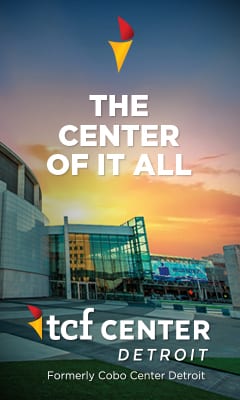 When asked what is the "why" that drives the TCF Center's CSR/ESG agenda, Totaro says, "Working together in cooperation with our regional partners, we are committed to providing outstanding experiences for our guests and sustainable operations for our citizenry."
Bottom line, corporate sustainability is good for business. According to a report by professional services firm Marsh & McLennan entitled "ESG as a Workforce Strategy," ESG performance can have a positive impact on employee satisfaction and workforce retention, providing a major competitive advantage for companies.
Similarly, a report by the NYU Stern Center for Sustainable Business and Chief Executives for Corporate Purpose (CECP) revealed that investors and other stakeholders look for ESG initiatives in the companies they consider investment-worthy and expect ESG reporting in their communications.
The recent impact of COVID-19 on the meetings and events industry —and society at large—underscored how corporate sustainability measures can help minimize the effects of big social problems. We are now living in an era when people expect businesses to engage in practices that promote economic growth, environmental stewardship and social responsibility. With an eye toward continuous improvement, corporate sustainability helps companies to build brand reputation, increase revenue and attract investment while also protecting the planet and optimizing opportunities for others.
H.K. Wilson is a writer, former ECN columnist (The Green Piece) and a passionate advocate for the environment. She resides in Orange County, Calif., where she drinks lots of organic coffee, is neighbor to a famous mouse and counts her riches in sand dollars. Connect with her at WordsWithInk.com.
This story originally appeared in the Nov./Dec. 2021 issue of Exhibit City News, p. 26-29. For original layout, visit https://issuu.com/exhibitcitynews/docs/ecn_nov-dec_2021