The highlight of EXHIBITOR2014, held Mar. 16-20 at Mandalay Bay Convention Center in Las Vegas, was not the glitz and glamour of the exhibit booths, but rather the quiet concept behind their designs that stood out from more than 200 exhibitors. Among the most memorable exhibit designs this year were Hill & Partners, MG Design, Kubik and Derse.
Deciding on a more branded approach, according to Creative Director Mark Holme, Hill & Partners utilized its branded environment to promote the core product offerings.
"We design places and spaces all about your brand," said Holme. "These include everything from custom, rental, corporate and non-traditional environments."
According to Holme, when Hill & Partners designs a branded environment, it looks to current trends in retail, fashion, interior spaces, product design and event design, which can all have an impact on a successful solution. Materials and finishes can also play a large role in the fit and finish of what the firm designs. Understanding who the client is – their culture, products and brand as well as having simple cohesive messaging – is key to success.
"Imagine your branded environment as a 30-second commercial about your company," explained Holme. "The environment can speak to a market position in any given industry, evoking one's culture, values and brand aesthetic. It can be a cohesive message without words. People draw impressions from how a company's brand is represented. The tradeshow floor is an extension of the brand."
This year, the firm's design focused on how the limited exhibit space can transform into a branded space that appears open while utilizing a double-deck structure. By creating multiple entry points and integrated technology throughout the environment, the exhibit felt receptive and welcoming. The use of lighting and textures along with pops of brand colors invited attendees to enter the space and build a more conversational relationship.
The 'Branded Environment' as Holme relates to it was more like a corporate showroom environment than a traditional exhibit structure.
Never repeating the same theme twice, the design team at MG Design drilled down into the finer details at EXHIBITOR2014. Cleverly incorporating "MG" into its theme every year, the initials of late founder Michael Grivas Sr., the exhibit design firm challenged attendees to look at things differently with "Experience Magnified."
Segmented into separate demo areas, each station engaged attendees with a physical object metaphorically representing a different focus. With all three stations together conveying one part of the overall messaging, the functional booth made use of every inch of the 20 by 30 space.
Using case studies on its own successful booth designs as examples, MG Design shared tactics on revamped booth layouts, repositioned booth spaces and full rental exhibits.
Daring attendees to "Look Deeper," MG Design placed exhibiting goals under an actual microscope to more closely examine existing assets and potential opportunities. A telescope aimed upwards enticed attendees to "See Further" than the day-to-day tasks to realize and seize otherwise overlooked possibilities. Displaying industry statistics on pre, during and post show engagement was an oversized magnifying glass suspended in the air at the "Think Bigger" station of the booth.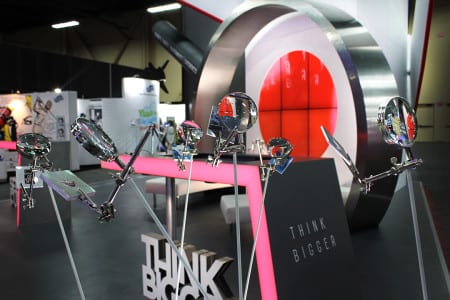 "Magnifying Gardens" revealed even more engagement by inviting attendees to peer into individual magnifying glasses to view messages providing additional exhibiting tips and tricks.
To fully demonstrate the power of analyzing exhibiting goals, MG Design offered tasty treats from actual clients. This included Oreo cookies paired with milk from clients Mondelez International and Organic Valley; almonds alongside hot chocolate from clients Blue Diamond and Bay Valley Foods; and LU Petite Ecolier chocolate biscuits served with espresso from clients Mondelez and Kraft.
Both interactive and educational, the booth design offered insights through active engagement.
One size does not fit all at Kubik, which brought the story of Goldilocks to life at its booth. Providing a visual representation of its firm's size and blend of offerings, Kubik captivated attendees with a heartwarming childhood tale.
To distinguish itself from smaller companies as well as corporate giants, Kubik characterized a grown-up Goldilocks as a marketing manager in charge of planning events and tradeshows.
Three stations set up along the perimeter of the booth contained assorted cooking pots. At each, Goldilocks encounters a different problem and must choose among three various-sized firms, represented by corresponding sized pots. In each scenario, like in the beloved children's fable, neither the smaller company nor the corporate firms were a good fit for Goldilocks, leaving the medium-sized Kubik as the perfect partner.
Using witty wordplay to demonstrate different situations not only captured the audience, but also symbolized the message in each story.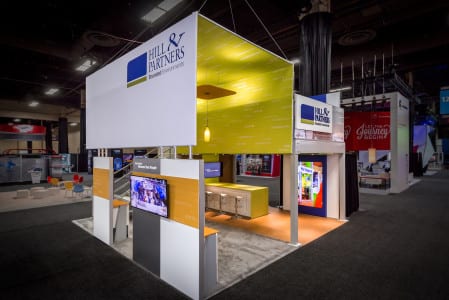 "Kubik offers our clients and partners the best of both worlds. Large company capability and reach, paired with the attention and service that comes from being a family owned/operated business," said Adriano Almeida, creative director, Kubik.
Completing the look were two graphic panels resembling the roof of a cabin, a flat screen TV featuring footage of a burning fireplace as well as modern rocking chairs tactically placed around the "fire."
Bringing its clients' successful exhibits to the EXHIBITOR2014 show floor, Derse outdid itself with real-life examples of its design team's "purposeful creatives."
According to Eric Preston, vice president of sales and marketing, Derse, the face-to-face marketing company considers achieving business objectives the top priority of any client program. Once goals are established, experience, engagement, creative and measurement strategies are then developed and aligned to accomplish the desired outcome.
By working backward from the desired effect to drawing up the blueprint itself, Derse guarantees that its design conveys meaning to attendees and value to the exhibitor.
"Good creative grabs attention, but great creative is also purposeful and measurable," Preston said. "You need design with a purpose. It's about making a difference in our clients' businesses and making sure they're having the right conversations with the right people."
Derse's 'Seed Idea' for EXHIBITOR2014 was "Engagement Involves…," highlighting the importance of audience engagement for successful face-to-face marketing. Displaying a variety of client engagements this year, each one called for attendee interaction.
One display involved a digital "slingshot" via an iPad that helped its health care client increase dwell time for better sales lead management and improve on the traditional survey for more accurate information. Fun and functional, the forest-themed exhibit connected to the company's marketing campaign and returned three times more results to the exhibitor than previous years, proving that Derse designs truly captivate.