Johnson City, Tenn.-based Creative Energy, an AdAge Small Agency of the Year, has announced the promotion of Hannah Howard to the position of associate creative director. Howard has been with the agency for six years and has quickly risen through the organization.
A native of Nebraska, Howard began her career in corporate marketing and design for the University of Nebraska—Lincoln. She joined the Creative Energy team in September of 2015 as a freelance studio artist, then quickly moved through the ranks o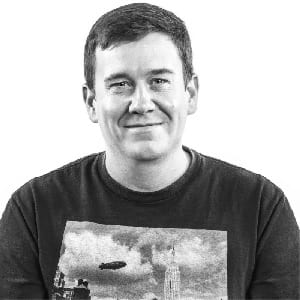 f junior to senior art director after joining the company full time.
"Hannah has been such a valuable member of our creative team over the past several years," says Will Griffith (pictured left), VP of creative services at Creative Energy. "She's been an integral part of implementing our cult brand philosophy with some of our biggest clients. We are excited to have her take on these new responsibilities of leading client teams and overseeing the work they produce. I'm confident there are great things ahead for her and our agency."
When asked about her experience at Creative Energy, Howard says, "The thing that I immediately loved about the dynamic at the agency was the variety, and quality, of work the team was able to do. There were so many daily opportunities to grow my experience and contribute to the messaging for big brands that I respected. That continues today, with regular challenges that the team takes on with energy and collaboration to bring the best solutions possible for clients. There's just something about the culture at Creative Energy that allows magic to happen in a fun way with great people."
In her tenure with the agency, Howard has played an important leadership role in many campaigns that have garnered international acclaim. She has worked on projects that have gone on to win American Advertising Federation recognition, Graphis awards, inclusion in Lürzer's Archive, and helped the agency earn a gold Small Agency of the Year award from AdAge.
"Drama for Your Mouth was the first big national television campaign I had an opportunity to work on," says Howard. "Working on the Garner Foods' accounts [Texas Pete® Retail, Texas Pete® Foodservice and Green Mountain Gringo®] has been an educational and rewarding experience. Through the partnership with their marketing team, I've had the opportunity to develop multiple award-winning campaigns that were also some of the most effective, including 'Sauce Like You Mean It', 'Check Out Our Backside' and 'Drama for Your Mouth'."
As the newest creative director, Howard will lead her own creative teams on marketing and advertising projects for a variety of clients—providing guidance, feedback and insights to ensure that the client's needs are met effectively and efficiently.
Creative Energy is a communications agency, focused on creating cult-like followings for brands across: Brand & Business Strategy, Design & Identity, Advertising, Media Planning & Buying, Digital & Social Media, Integrated Content & Video Production, Public Relations, Research, Analytics & Social Listening. Based in Johnson City, Tenn., they're proud to lay claim as "the destination agency located in the very heartland of adventure." Founded in 1992, Creative Energy works with global, U.S. and regional brands across many industries. For more info, visit www.creativeenergy.agency.