by Tim Rogers, Czarnowski
For more than 70 years, multidimensional marketing agency Czarnowski has helped the world's largest brands showcase their services and products at major events and trade shows. With 24 offices and six production facilities worldwide, Czarnowski offers end-to-end event marketing solutions, including everything from booth design and construction to creative development and visualization.
However, it can be difficult for some prospects and customers to understand the full scope of Czarnowski services. So, the company aimed to use ExhibitorLIVE 2018 at the Mandalay Bay Convention Center in Las Vegas to feature all its solutions in a compelling and creative way. The end result was an eye-catching and inviting 20 x 30-foot booth that artfully combined advanced technology with vintage fixtures.
"We do many things well, but, at the end of the day, we're storytellers," says Dillon Nagle, Czarnowski's director of marketing. "And we have a wide variety of solutions we can deploy to tell our clients' stories. At ExhibitorLIVE, we wanted to create a welcoming space where visitors could see these solutions first-hand and learn how we can help them communicate effectively with their audiences."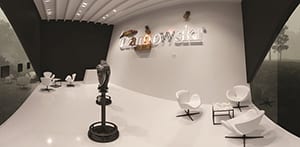 The architecture of Czarnowski's booth told a story in and of itself. Designed as an open box–with matte black fabric walls that surrounded a brilliant white interior–the booth reflected Czarnowski's effort to open itself up and allow visitors to explore all it offers. The open box architecture also made the booth uniquely approachable. While Czarnowski salespeople staffed the booth, visitors could approach and explore without having to hand over information or pass through any kind of sales "gate."
"We let our clients and their stories lead every engagement and dictate the solutions we deploy," says Josh Damesworth, brand strategist at Czarnowski. "Our booth reflected this philosophy. Our salespeople guided visitors as they navigated the various features of the booth on their own, gravitating toward the capabilities and features that most aligned with their needs."
The booth also featured two casual seating areas for visitors to rest, chat and learn more about Czarnowski.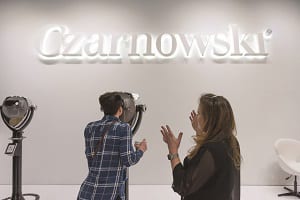 While the sleek design of the booth drew in many visitors, four authentic viewfinders in the middle of the booth kept them there. Though they looked like any viewfinder you'd see in a national park, the team at Infusion Studios, Czarnowski's visualization department, developed and installed faceplates that held Samsung Gear VR headsets and Samsung phones, which powered a virtual reality experience.
Visitors who looked through the viewfinders saw four triggers that allowed them to activate animations of stylized characters (lovingly dubbed "Czarbles" by the team) building the Czarnowski logo in ways that demonstrated each of the company's overarching capabilities: strategic planning, creative development, engineering and fabrication, and logistics and on-site operations.
"When you see a viewfinder, it immediately reminds you of family vacations and beckons you to look through it," says Jordyn Curley, a 3-D artist at Infusion Studios/Czarnowski and developer of the VR engagement at ExhibitorLIVE. "Behind this familiar exterior, however, visitors saw a cutting-edge virtual reality engagement. We capitalized on the irresistibility of these fixtures to take visitors on a self-guided tour of Czarnowski's capabilities."
Czarnowski's visualization team worked closely with booth designer Chris Schwab to flawlessly match the design and build of the booth in virtual reality, making the back wall of the booth seamlessly come alive for viewers. They also used live-action motion capture to animate the stylized characters in the video. Additionally, viewers could turn each of the viewfinders 360 degrees to see the exhibit hall transform into different scenes (a forest, an underwater garden, a desert and outer space). The entire experience ran off of an app that Czarnowski developed to ensure consistent playback and quality.
"We wanted to give visitors an immersive and educational experience," Curley says. "The VR engagement was a powerful way to remind visitors that while Czarnowski is skilled at booth design and construction, we also bring creative capabilities that leverage the latest in technology to the table. With this full array of capabilities, we can help companies tell powerful, experiential stories to their customers."
To complement the viewfinders, Czarnowski mounted iPads on the exterior of the booth. These iPads offered bird's-eye views of the virtual reality animations shown through the viewfinders and included brief written descriptions of different elements of the company's capabilities.
The visible, yet unobtrusive use of technology allowed Czarnowski to feature and explain its creative capabilities without letting the technology overwhelm the company's messages.
"Too much technology, or technology engagements that don't correspond with an exhibit's message, can be distracting and almost seem like a gimmick," Nagle says. "Our team did an excellent job balancing technology with design in the booth. As a result, we successfully demonstrated that Czarnowski can tell a content-driven story, in addition to an architecturally-driven story."
Of course, every booth installation is a challenging process with many moving pieces. For the ExhibitorLIVE 2018 booth, however, Czarnowski benefited from executing the entire project using internal resources. Czarnowski handled everything from the development of the virtual reality engagement to the 3-D printing of logos in-house. This team effort led to a more efficient, streamlined and successful process. Overall, the company generated nearly twice as many leads at ExhibitorLIVE 2018 as it did at the 2017 show.
"ExhibitorLIVE 2018 was an immensely successful showcase of our brand," Nagle says. "With a perfect balance of nostalgia, modern architecture and high-tech capabilities, the booth successfully demonstrated our A to Z solutions in a way that attracted attention and
Tim Rogers is a marketing specialist with Czarnowski. He has worked in the marketing services industry for more than 20 years and has experience in marketing strategy, 3-D design and photography. For more info, visit www.czarnowski.com.

Project credits
Production Design & Execution: Danielle Rodrigues (Project manager)
Exhibit Design & Construction: Chris Schwab (Designer)
Exhibit Installation & Dismantle: Dave Elton (Project manager)
Media: Jordyn Curley (3D artist)
Automation Engineering: Josh Damesworth (Brand strategist)
This story originally appeared in the July/August issue of Exhibit City News, p. 46. For more pictures and original layout, visit http://issuu.com/exhibitcitynews/docs/ecnflipbook_julyaugust2018_web?e=16962537/62860459