Denver's Old West History Lives On
by Jeanne Brei
Denver is ranked as the fourth most walkable downtown in the nation but you can still ride the free shuttle bus on the 16th Street Mall—home to some of the most popular places to visit in Denver, like Union Station, Larimer Square (a trendy block of Victorian buildings with shops, cafes and restaurants pictured above), the D&F Tower (a two-thirds replica of the Campanile of St. Mark's in Venice that was the highest building west of the Mississippi when it was built in 1909) and the LoDo (Lower Downtown) Historic District. Lined with 200 trees filled with nearly a million twinkle lights and 50,000 flowers, this festive, mile-long pedestrian mall was designed by renowned architect I.M. Pei with a gray and pink granite pathway to resemble the pattern of a diamondback rattlesnake. It has a guided tour for Adults Only-Adventure where you can hear the stories and myths of Denver's early residents like cowboys, gunslingers and desperados and see what used to be brothels and opium dens and hear ghost stories. LoDo's filled with turn-of-the-century warehouses, now home to 90 brewpubs, sports bars, restaurants and rooftop cafes. Stop by Rockmount Ranch Wear for a snap-button Western shirt at the store where they were invented; browse at the Tattered Cover Bookstore or sip a handcrafted beer at the Gov. John Hickenlooper's Wynkoop Brewing Company.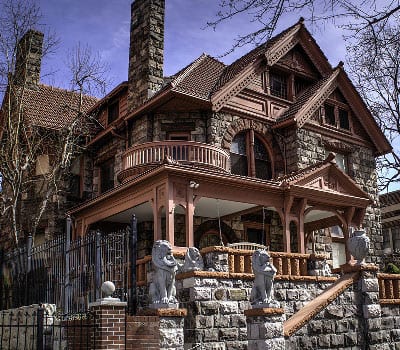 Close by is the State Capitol with free weekday tours and the prestigious Capitol Hill neighborhood with its many Victorian mansions. Historic Denver, Inc., rescued the home of Titanic survivor Margaret Tobin Brown in 1970 and began major restoration efforts in order to return the home's interior and exterior to its original Victorian grandeur. Guided tours of The Molly Brown House Museum (pictured left) reach an average of 45,000 visitors a year, sharing the story of Margaret "Molly" Brown and Denver history. The museum hosts teas, luncheons, dinners and theater events such as Victorian Horrors (in October).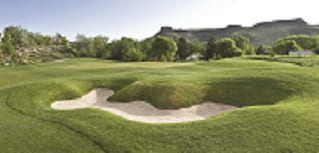 The Fossil Trace public golf course (pictured right) opened in 2003, about 64-million years after the first dinosaurs walked where holes 11-15 now sit. Located in Golden, just 15 minutes from downtown Denver, it's been voted the "Best Golf Course in Denver" twice. Triceratops footprints and well as other prehistoric creature's fossils can be viewed by the 12th green.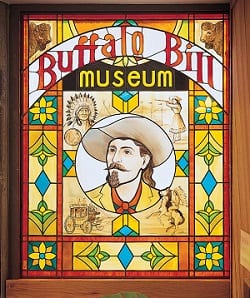 The Buffalo Bill Grave and Museum opened in 1921 high atop Lookout Mountain with exhibits on Buffalo Bill's life (as a Pony Express rider, army scout, buffalo hunter and showman), the Wild West shows, Indian artifacts including Sitting Bull's bows and arrows, Western art and firearms. For those with strong nerves, drive to the museum on the hairpin Lariat Loop Drive and then continue to I-70, exit 254, to see a live herd of 40 buffalo in a natural setting—the Buffalo Herd Nature Preserve is the only city-maintained herd in the country (20 miles west of Denver).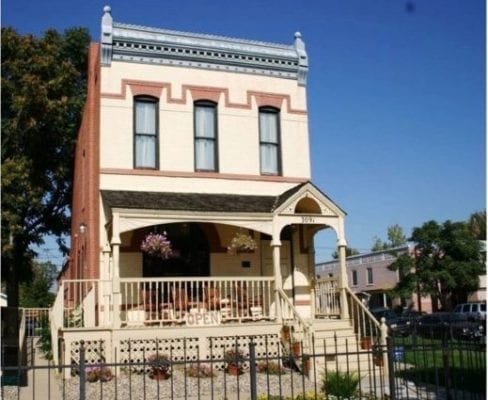 For decades, Hollywood westerns depicted a Wild West that was populated almost entirely by white people. The Black American West Museum (pictured right), located in the former home of Colorado's first black woman doctor, puts this myth to rest permanently by highlighting the prominent role blacks played in the settlement of Colorado as miners, soldiers, homesteaders, schoolteachers, ranchers, blacksmiths, cowboys and lawmen.
Molly Brown House Museum, 1340 Pennsylvania St., Denver, 80203; (303) 832-4092; mollybrown.org
Fossil Trace Golf Course, 3050 Illinois St. Golden, 80401; 303.277.8750; fossiltrace.com
Buffalo Bill Grave and Museum, 987 1/2 Lookout Mountain Rd., Golden, 80401; (720) 865-2160; buffalobill.org
Black American West Museum, 3091 California St., Denver, 80205; (720) 242-7428; bawmhc.org
This story originally appeared in the September/October issue of Exhibit City News, p. 84. For original layout, visit https://issuu.com/exhibitcitynews/docs/ecnflipbook_septoct_2019_web