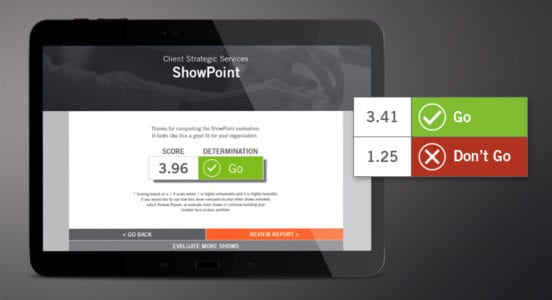 Derse today released ShowPoint, an online scorecard that helps marketers confidently evaluate their trade show schedule. ShowPoint is the company's first direct-to-consumer online product.
Derse has helped their clients save hundreds of thousands of dollars and achieve KPIs by recommending the trade shows that best match their business goals. Using this same principle, Derse has developed the online tool, ShowPoint.
For marketers responsible for trade show management, ShowPoint's algorithm determines whether a trade show aligns with their face-to-face strategy. Users can get an immediate assessment of a show in four simple steps:
Identify the show
Rank show objectives
Enter show data
Review your show score
The tool prompts users to enter show-specific questions based on the objectives they entered. ShowPoint then produces, in real time, a fitness score of 1-4 and a recommendation of "Go" or "No-Go."
"ShowPoint enables marketers to make smarter choices for their face-to-face marketing program," said Meagan Porter, vice president of Client Strategic Services. "As we position ourselves to be the sought-after leader in our industry, we want to make ourselves easily accessible for marketers who seek strategic consultation. We are proud to offer this online, on-demand solution."
Derse is a complete face-to-face marketing agency and exhibit builder with more than 465 employees and six full-service divisions. Ranked in Advertising Age's World's Largest Agency Companies and Top 10 Experiential/Event Marketing Agency lists and named as a B2B Top Shop by Chief Marketer, Derse brings a Smarter Wins approach to exhibits, events and environments for client programs in more than 50 countries.
For more information contact Derse Client Strategic Services at 800.562.2300. Experience Derse at www.derse.com.