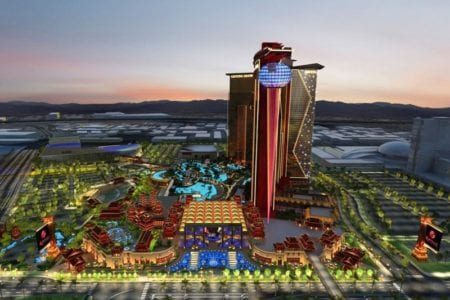 Despite setbacks that initially stalled the project's progress, a new 3,000-room resort property is on track to open on the northern end of the Las Vegas Strip by 2019. The complex, dubbed Resorts World Las Vegas, will occupy the footprint formerly inhabited by the Stardust and Westward Ho operations, both of which have been closed for over a decade. The 88-acre parcel was originally acquired by the Malaysia-based Genting Group in 2013 after Boyd Gaming abandoned redevelopment of the property during the Recession. Genting Group officials said at the time that they expected to open a 3,100-room Chinese-themed resort by 2016, but a sluggish economy put those plans on hold.
However officials now say that construction will begin over the summer, completing first a casino, a 56-story hotel tower, and a 50-foot-tall replica of a Chinese lantern that will raise and lower as the property's landmark feature. Additional rooms, a convention center and theater, and other resort amenities are slated to be added in phases after the initial structure is finished.
The Genting Group is an international corporation with resorts in New York, Singapore, the United Kingdom, and the Philippians. The Las Vegas project is expected to cost upwards of $4 billion when completed.