Dubai Business Events (DBE), the city's official convention bureau, has signed eight Memorandums of Understanding (MoUs) with entities across the public and private sector, formalizing and reinforcing collaborations that are set to attract more conferences, congresses and meetings to Dubai and ensure that, while business events globally may have been impacted by COVID-19, in the longer term they will continue to be strong drivers of tourism and economic development for the city, as well as critical pillars for knowledge and scientific advancements.
The MoUs will further strengthen DBE's Al Safeer Congress Ambassador Programme, which has grown to become a strong network of more than 350 members and continues to play a vital role in elevating Dubai's status as a knowledge hub in key sectors and industries. With the presence and involvement of locally-based experts and key opinion leaders being critical to bidding for and winning international conferences, DBE will work with teams at the partnering organizations to identify events that could be brought to Dubai and to collaborate with them on the bidding process and ultimately provide assistance in hosting them and ensuring they leave lasting legacies for all involved parties.
The entities to have signed the MoUs are:
Dubai Customs,
Arab Association of Petroleum Professionals,
Emirates Nursing Association,
Mohammed Bin Rashid University of Medicine and Health Science
Meanwhile, the Roads and Transport Authority (RTA), Institute of Electrical and Electronics Engineers – UAE Section, Mohammed bin Rashid School of Government and RIT University in Dubai have all renewed their MoUs with Dubai Business Events.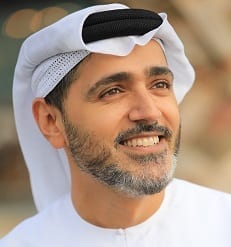 Issam Kazim (pictured left), CEO of Dubai Corporation for Tourism and Commerce Marketing, says, "While the global Covid-19 pandemic may have impacted international visitation and business events, DBE and the rest of Dubai Tourism has been working tirelessly to ensure that the city is able to recapture its momentum as the world adapts to the new normal and travel resumes. A core part of our success as a destination in recent years has been the steady growth in business events, and these MoUs between DBE and entities across Dubai underline our commitment to bidding for and winning events from a wide range of sectors and industries. Our Al Safeer Congress Ambassador Programme has made great strides in recent years in building a community of like-minded individuals and organizations, and we look forward to developing our relationships with these new partner entities—and build on the achievements with existing ones—as we collectively work together to develop Dubai's knowledge economy and bring more events that contribute to its growth."
Established in 2010, the Al Safeer Congress Ambassador Programme is a DBE initiative that aims to tap into the expertise and network of UAE-based scientists, academics, industry leaders and government representatives to help attract international business events to Dubai. The MoUs signed through the Al Safeer Congress Ambassadors Programme fall in line with DBE's overall commitment to elevate local entities and help enhance their global networks. These partnerships also serve as a mutually-beneficial relationship to DBE and member partners, offering knowledge sharing and networking opportunities, in addition to driving new event bids and attracting international business events to the city.
Kazim adds, "While we have already created a broad network spanning across the city and multiple sectors to build a strong community of advocates, we are eager to welcome more entities and individuals into the Al Safeer Congress Ambassador Programme. More than ever before, as associations around the world emerge from a challenging period, they will be looking for compelling propositions from host cities for their business events, not only through their destination offerings and infrastructure, but through demonstrable commitment to the development of their respective professions and sectors."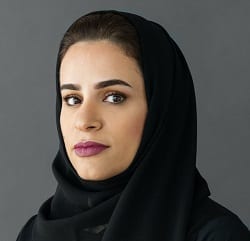 Moaza Al Marri (pictured right), executive director, Office of the Director-General and Chairman of the Board of Executive Directors of Roads and Transport Authority, says: "We are pleased to renew our partnership with the Department of Tourism and Commerce Marketing and to enhance our cooperation framework in attracting business activities and international conventions to Dubai. We believe there are considerable potentials for us to boost the ability of Dubai in hosting global events. Through its existing partnership with DTCM, RTA will lend support to activities relating to convention ambassadors, thanks to its extensive experience and strategic links with global partners in the roads and transport industry, be it public or private entities."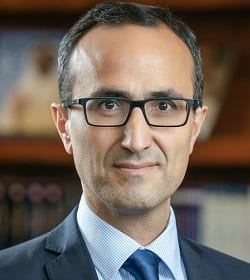 Professor Zaid Hani Baqain (pictured left), deputy vice chancellor for international relations at MBRU and dean and professor in Oral and Maxillofacial Surgery at Hamdan bin Mohammed College of Dental Medicine says, "We're very excited to partner with Dubai Tourism to attract scientists and healthcare professionals from around the world to attend conferences and congresses on our premise. Our strategic collaboration will support in developing, attracting, and organizing international meetings and conferences in Dubai. He continues, "At MBRU our mission is to advance health in the UAE and the region through an innovative and integrated academic health system, that's nationally responsive and globally connected. Dubai Tourism shares a very similar mission of building a world leading destination, and together we will push Dubai to new frontiers when it comes to scientific congresses. We're excited to host future congresses and we look forward to this collaboration with Dubai Tourism."
Rayed Alarashi, AAPP board director, says, "We are very happy to sign this important MoU with Dubai Business Events to strengthen our relationship with them and support efforts to bring more international conferences to the city and in turn contribute to economic and knowledge growth. This is especially significant as collaborations with international professional bodies to co-host activities in the UAE will be our focus in the coming years.
Waleed Refaay, AAPP executive director and COO, adds: "As a young association it is vital to continue with strategic partnerships with such great organizations, and this will help AAPP to grow and continue its mission of connecting members and the industry to network and share knowledge to solve our industry challenges."
For more info on The Al Safeer Congress Ambassadors Programme, visit https://www.visitdubai.com/en/business-in-dubai/event-planning/ambassador-program.
Dubai Business Events is the official convention bureau of Dubai and aims to further develop and increase Dubai's share of the international business events market in order to grow economic development, jobs and knowledge creation in the emirate. DBE's main goal, as a division of Dubai Tourism, is to establish the Emirate as a premier business event destination by helping organizers of international meetings, incentives, congresses and exhibitions plan and manage every aspect of their event. As a member of BestCities Global Alliance, DBE aims to deliver the world's best service experience for the meeting industry. For more info, visit www.visitdubai.com/en/business-in-dubai.
With the ultimate vision of positioning Dubai as the world's leading tourism destination and commercial hub, Dubai Tourism's mission is to increase the awareness of Dubai among global audiences and to attract tourists and inward investment into the emirate. Dubai Tourism is the principal authority for the planning, supervision, development and marketing of Dubai's tourism sector. It markets and promotes the Emirate's commerce sector, and is responsible for the licensing and classification of all tourism services, including hotels, tour operators and travel agents. Brands and departments within the Dubai Tourism portfolio include Dubai Business Events, Dubai Calendar and Dubai Festivals and Retail Establishment. For more info, visit www.visitdubai.com.