Exhibit Masters is proud to be celebrating their first year anniversary.
We are the only locally owned and operated exhibit service company in South Florida. Partners, Sergio Rosati and Sung Han (Yohan), have collectively serviced the exhibit industry for over 40 years.


When other installation and dismantle (I&D) companies abandoned South Florida for greener pastures, we filled this void by offering exhibitors the highest measure of service imaginable in South Florida. We have achieved that goal. The market size of the region should never dictate the quality of labor in that region. We have worked hard, along with the help of our local union's apprenticeship progra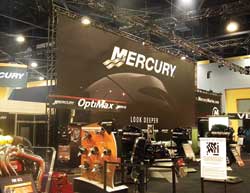 m, to have a skilled and qualified labor force.
While few exhibitors are ever afforded the opportunity to meet the owner of their I&D contractor, at Exhibit Masters, we strive to achieve an unparalleled measure of personal service and client relations. There will be no robotic voices on the other end of the phone, and all messages are personally and promptly returned. We are always on site to support your exhibiting needs. We believe that there is no service like personal service. This is our mission
statement. If that is what you prefer, please give us a call. We are signatory to all local unions in South Florida. Our rates are competitive, and our instinct and drive are of the highest caliber. For the I&D experience of your life, come to our home, South Florida. Along with servicing the entire state of Florida, we also serve most cities in the U.S. and Canada. We have forged personal relationships with a select few EACA members who share our vision and our passion. With Exhibit Masters, you are never alone out there!
Here's what our clients are saying
"As the former vice president of marketing for Boston Whaler, I've worked with Sergio for more than a decade setting up boat shows from New York to Miami. His experience and resourcefulness are unsurpassed. The night before the show opens, invariably some crisis will arise, and Sergio and his team step up to resolve the problem quickly. From on-site fabrication to dry cleaning, don't ask, there is nothing he can't handle. When you've invested thousands of dollars into a show or an event to promote your company, you need a person of Sergio's integrity in your corner to ensure the highest caliber presentation. You can trust Sergio and Exhibit Masters with your company's reputation."
Terry Dunigan, president
Dunigan's People Advertising and Marketing
"You so Rock!!!"
Heather Griffin, owner
The Exhibit Company
"If you ever had stress or concerns during your I&D experience, I know you weren't using Exhibit Masters. They take incredible care of their customers on the show floor. As an exhibit house I have full confidence in their abilities to get the job done for a successful show."
Ann Conkle, vice president
Communication Exhibits Inc.
"One of the best! Hall of fame material!"
Les Bunge, owner and founder
Laser Exhibitor Service
"It's nice to work with two owners who spend more time on the show floor than they spend on a golf course. They are professional, dedicated and thorough."
Rob Langhammer
Exhibit Management Corporation
"Miami has always been a challenging area for logistical support; Sergio and Yohan provide the experience of feet-on-the-ground that you need to succeed. They have supported me well in those national areas that are not normally covered."
Mark Outtrim, vice president, client services Atlanta
EWI Worldwide, Inc.
For more information, visit Exhibit Masters at www.exhibitmastersllc.com.