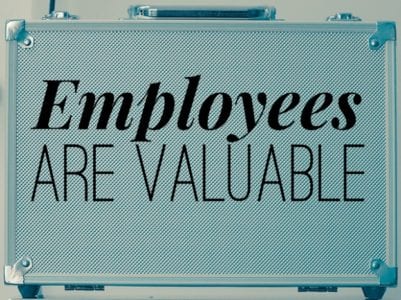 By Philip H. Kemper
Employees are expensive. Yes, they're expensive to hire, compensate and train. But they are the ones who drive your company — not just your product, your technology or the market. Smart managers know this. Further, many experts say that the true cost of replacing an employee is fully 50% of his annual salary. Today, I give you three simple things to do that will go a long way towards making sure that your employees stay right where you want them — with you!
Three Little Things That Can Add Up To Big Things
Right now I'd like to suggest that you "keep it simple" and do only three things with the goal of retaining your employees. As you move along, you may discover other things. But even if you do — right now stick to these three things. If you do, you'll go a long way toward keeping those precious employee assets at your company. And here they are:
Have a Competitive Benefits Package
If your product or technology is state-of-the-art, but your benefits package hasn't been updated in the past few years, you had best change that. If you think that your benefits package is a "gift" to your employees, rethink that. We get calls all the time from disgruntled employees looking to make a job change. Many times their meager benefits package is just what pushes them over the edge to start a job search. For example, three weeks' vacation from the start of employment is now just about standard issue.
Your benefits package should not only be a great recruiting tool, it should be so robust that it delights your employees and keeps competitors from stealing your people. And, there are many benefits that don't actually cost a lot of money but will get you lots of loyalty in return—benefits like: Employee of the Month designations with concert or athletic event tickets as the prize—or preferred company parking for longevity seniority or outstanding performance recognition—or a Friday bonus day off for a "suggestion box" winner. Make this an action item — review this with your HR specialist, or even ask your recruiter to find out what other companies are doing. Make changes right away if you're not competitive.
Compensate Your Employees at Market Value
When you hire a new employee, the market will pretty much determine what compensation you'll have to pay. But what about the employee who has been with you for a long time? Do you know if his compensation is competitive with the market? In many cases, an employee's job may have changed since he has been hired. Maybe he has taken on more responsibility, or maybe he has developed a long tenure with you. Whatever the reason, if you find out the compensation is not competitive, you had best change that immediately. One of the most frequent comments we hear when someone starts a job search is that he feels he is "not making what I'm worth." And, sadly, many times they are right!
Just Say "Thank You"
There are no words you can say that are more important than simply saying, "Thank you," when a job has been well done. People leave their jobs when they think that what they do is not important to the company, when they feel they are not valued and appreciated. And, people who are making competitive salaries will still leave their jobs when they don't feel appreciated.
Thank your employees often — in private and in public. Be sincere in your appreciation and in your words. If this "isn't your style" or you feel awkward saying these words, practice in the mirror until you feel comfortable. Change your style. Do whatever you have to do to communicate your appreciation. As the Nike ad says, "Just Do It!"
If you resolve to keep these three simple, yet important, practices, you will see satisfied employees who will make your company thrive!
Philip Kemper is Founder/President of Kemper Associates, a 39 year old Chicago-based national executive search firm, specializing in Permanent and Contract staffing for Trade Shows and Exhibits, Staging and Equipment Rental, Business Meetings and Events Production, Video, Training and Incentives and more. His more complete bio is on LinkedIn at: http://www.linkedin.com/pub/philip-kemper/2/795/308/. You may view Kemper Associates' website at: www.Kemperassociates.org, and contact Phil with questions or comments, and employment needs at: Kemperassoc@hotmail.com or his private phone line: (312) 944-6551.