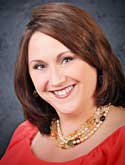 Kelli Zohar-Davis has joined the human resources team at the New Orleans Ernest N. Morial Convention Center (NOMCC), the sixth largest convention center in the nation.
In the newly created position of SPICE Manager, she is responsible for leading and enhancing a two-year old employee customer service program, called SPICE, which stands for serving with professionalism, individuality, courtesy and excellence.


The purpose of the program is to motivate and inspire employees to embrace NOMCC's mission of exceptional service and apply it in every customer interaction. Employees from every level of the organization collaborated to develop ten customer service standards that are the guiding philosophy of the program, which are reinforced daily.
Zohar-Davis is charged with implementing new and innovative ways to educate and engage 300 plus employees, and developing, coaching and motivating the team.
Zohar-Davis has an extensive background in the food service industry and is a certified corporate trainer. She most recently served as the director of training for Sonic restaurants, where she oversaw employee education in forty-three franchised locations in Southwest Louisiana. She also developed training programs as the learning manager for Chili's in Houston, Texas, and was a training operations consultant and incentives manager for McDonald's USA where she provided employee guidance on McDonald's operating standards, management tools and systems to maximize restaurant performance.
Prior to working in the food service industry, Zohar-Davis honed her passion for education as a teacher in the Pasadena, Texas school district. She holds a B.A. in English from Sam Houston State University, and a Bachelor of Hamburgerology degree from the McDonald's Corporation, which is equivalent to an associate degree in restaurant management.
"Kelli has all the skills we were looking for, and more, in our very first SPICE manager," said Bob Johnson, president and general manager, NOMCC. "The program is the cornerstone of our culture at NOMCC, and her training background, enthusiasm and creativity will no doubt'raise the bar' and take us to the next level."
With the hiring of Zohar-Davis as SPICE manager, the NOMCC further solidifies their commitment to a culture of customer service excellence, and is poised to cultivate participation with internal and external partners.
To promote the SPICE program to employees and beyond, NOMCC made a music video called Raising the Bar, and regularly holds motivational, educational and social events for employees and local hospitality industry partners to encourage the SPICE culture in their workplace.
Within her first month, Zohar-Davis coordinated an event called Enjoy the Ride, which was attended by approximately 500 employees and local hospitality industry workers. The event featured motivational speaker Steve Gilliland, who spoke about to how to re-ignite passion and maintain enthusiasm and focus.