Employees at Ernest N. Morial Convention Center in New Orleans engineered creative designs for the facility's annual "CANstruction" food drive, donating 1,142 pounds of food.
Each department was challenged to come up with the most creative design using non-perishable food items. Employees donated from their personal pantries and pooled their own money and resources together to build canned goods masterpieces.
Some of the creative ideas included an oak tree made out of packages of Camellia red beans and split peas; a model of a swordfish using tins of sardines and tuna; and a three-dimensional alligator using cans of green beans.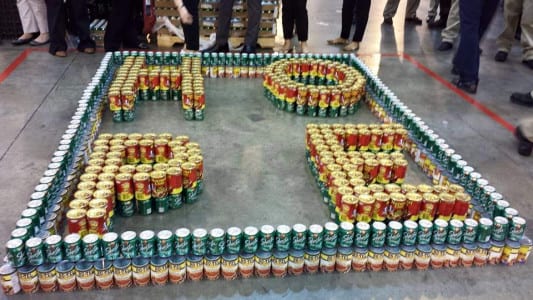 The entries were judged by the contest's beneficiary, Giving Hope – NOLA, a non-profit dedicated to helping those in need. The organization also runs the Food Pantry of New Orleans.
Judges declared the winning design, an elaborate display that spelled out "HOPE" using cans of chili and tomatoes along with soda, constructed by the Food and Beverage Department.
Food items were boxed and delivered to Giving Hope – NOLA. The organization estimated that the employees' donation valued nearly $2,000.