Exhibit City News was on hand for show setup for E3 at the Los Angeles Convention Center June 15-17. Hosted by the Entertainment Software Association, the E3 Expo is touted as the "world's most exciting platform for interactive entertainment software and hardware news and launches."


While walking the show floor, we asked exhibitors and other set up staff what restaurants they like to go to when working the Los Angeles Convention Center. All of the restaurants touted are within walking distance of the convention center and many are within the new L.A. Live entertainment complex, which is adjacent to the convention center. Easy access was a big plus for all of the folks below. Park the car once and leave it until you go home. At $12 a day to park at the convention center, with no in and out privileges, walk ability is good.
L.A. Live is home to an eclectic array of eating, hospitality and entertainment venues, including a dozen upper echelon restaurants. Rock'N Fish, a seafood, steak and spirits institution with Asian and regional American influences, received a high-five from several of our peers.

Frank Adams
Studio Manager
GameSpot.com
"The Rock'N Fish is where it's happening. I love the marinated rib eye and roasted teriyaki chicken. It also has a great beer selection and they serve it in really tall glasses. La Palm is another great place if you want steak done right."
La Palm, 1100 South Flower St.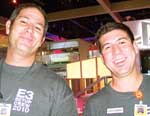 Yagel Berkovitz (L)
Dan Machado
Certified Journeymen, Local 831
Expo Services/GES
"On the high end, it's Morton's. Love the service, which is always high class, and the quality of the meat is top-notch. When we don't have much time, it's Mariscos (catering truck), which is parked just one block west of the West Hall. The shrimp tacos and burritos are the best around. You get tons of shrimp that is charred on the grill just right." Although there isn't any information on Marisco's, we're told that if you ask most any I&D worker where to find it, you will be pointed in the right direction.
Morton's, The Steakhouse, 735 South Figueroa St.
Frederique "Freddie" Georges
Owner
Jean Powell
Vice President
Freddie Georges Production Group
"We love that L.A. Live has been developed so beautifully. It is so convenient. Also, Zucca offers fabulous Italian food and the service is great. Zucca usually closes at 9 p.m., but recently they stayed open late to accommodate our party of 10. We also really enjoy Takami. It's hip, trendy, and offers a fabulous rooftop view of the city and has great service and unique food."
Zucca Ristorante, 801 South Figueroa St.
Takami Sushi & Robata Restaurant, 811 Wilshire Blvd., 21st floor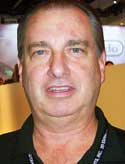 Allen Steffens
Account Executive
3D Exhibits
"Fleming's is always a good choice. It's convenient, within walking distance to the convention center, and of course, the food is always excellent. Another really good option is 24, a Wolfgang Puck establishment, in the Ritz-Carlton on the 24th floor. It has great sushi. I love the hamachi rolls, really tasty."
Fleming's Prime Steakhouse & Wine Bar, 800 West Olympic Blvd., Suite A135.
WP24 by Wolfgang Puck, 900 W Olympic Blvd.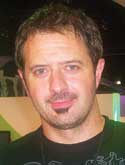 Jim Wylie
Co-Founder
Envy Create LTD
"As busy as we are, our favorite restaurant is our production room, tucked away on the second story of the X-Box exhibit for E3. I also enjoy Fleming's bone-in filet and Rock'N Fish's fresh Mahi Mahi and sweet potato fries.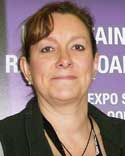 Robin Murphy
CEO & Founder
Colt Strategies
"I really enjoy Rock'N Fish. It's in the L.A. Live area. It's great because it has seafood and meat dishes, but also vegetarian dishes which works for me because I don't eat any meat items. It also has Guinness on tap."