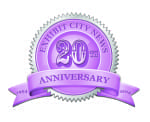 President and Owner Robert "Bob" Hopkins looked back at the company he built in 1983. What stood out clearly to him was that Exhibit Source Inc. (ESi) no longer resembled the company he originally founded.
Clearly, ESi's name didn't change. He wasn't referring to his employees either. While staff increases for major shows occurred, many employees have served the company for nearly 20 years.
These changes weren't as apparent as ESi expanding its Chicagoland headquarters to 100,000 square feet or adding facilities in Las Vegas and Atlanta. The company originally started in a small apartment Hopkins shared with his wife, Marilyn – human resources manager and controller. But all of these things are only a piece of the pie.
No – ESi's major evolution resulted from changes in the economy, the tradeshow industry as well as man-made and natural disasters.
Rising to the occasion in the face of challenges is usually when companies demonstrate just what they're made of, how to sustain themselves and how to best service customers.
While some companies crumbled, Hopkins ensured ESi survived by rolling with the punches. He faced each day with a never-give-up attitude that got him this far and — hopefully, he said, — further in the future.
For companies aiming to achieve longevity, it may help to be aware of what sustained long-lasting companies, such as ESi.
Operating in a global world
In its early days, ESi's clients were mostly U.S. exhibitors who ventured as far as the country's borders. As the tradeshow industry became more global, ESi transformed into an international exhibit production company.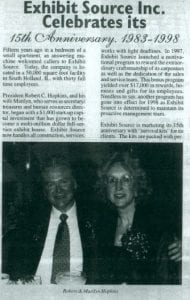 "Holy cow! It's like a new business at this time because of the international influences and nuances that go with it," Hopkins exclaimed. "More than 15 years ago, every other client was international. Now we have more international shows than before. On weekly a basis, we may have 10 international conferences where we are online interacting with people from Germany and Japan. It's more exciting than it was. Nothing is normal."
On his smartphone, Hopkins keeps track of 10 time zones. When the month-long 2014 FIFA World Cup occurred in Brazil, he said he knew not to call German clients during matches. This was no doubt doubly important when Germany won the entire soccer tournament.
In response to ESi's growing overseas clients and taking many U.S. exhibitors to Europe, the company tailored its service offerings accordingly. In Europe, clients prefer full turnkey service. U.S. clients may sometimes want full service. More often than not, U.S. companies hire ESi for certain tasks and order other services on their own.
"We try to be more flexible to meet the needs of all clients. Some clients are understaffed and need us to do full turnkey. We may provide the audio visual for the show for a European client; whereas the U.S. client may say, we could go to Best Buy," Hopkins added.
With the ability to do multiple tasks in house while receiving support from suppliers, ESi engineers and designs rental exhibits and offers audio visual, fabrication, graphics, shipping, storage, installation and dismantle, etc.
Becoming efficient in the wake of challenges
A big difference Hopkins noticed with global and U.S. clients alike came after the terrorist attacks on Sept. 11, 2001. Overnight, the venues in which six or seven ESi crews worked tradeshows in Atlanta, Orlando, Las Vegas and New York went from bustling with activity to ghost towns.
"Before 9/11, international businesses and Fortune 500 companies came to approve your buildings, and if you didn't have a state-of-the-art facility, they didn't want to do business with you," he explained. "Since 9/11, half of the large clients don't visit. Of all those that do visit, they want to see a conservative facility. They want to see you're down to earth and how you have implemented efficiencies into what you're doing."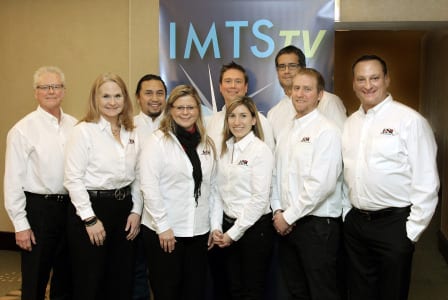 The terrorist attacks and multiple recessions forced ESi to rethink its business model. It needed to become more efficient. For ESi, this meant offering aluminum systems to help customers save money.
"The most change happened in the last two or three years. All exhibitors are trying to cut their costs, and you're feeling the pressure. We always look at economical ways to build," Hopkins stated.
ESi also keeps a well-stocked inventory to avoid outsourcing. This allows the company to deliver solutions for projects at least six weeks out. Every few years, ESi reanalyzes how it approaches its business model. This usually involves determining how much equipment it needs to be more efficient.
"You're only as good as your last show."
One of the reasons ESi is still standing after 31 years is because its employees put in time to better serve customers. They are onsite at tradeshows, attend production meetings and often check-in with clients.
"I always subscribe to an open-door policy. If there are issues or a problem, whether it's a client or employee, I take time to address it. Our success depends on what we bring to clients. You're only as good as your last show," Hopkins stated.
While ESi has joined social media in recent years, it rarely promotes itself. The business grew and gained strength mostly due to client referrals.
Always striving for more, Hopkins makes sure to never become complacent. He keeps up with the latest in printing, audio visual and construction. If he isn't the expert, his expert team backs him.
In the future, Hopkins hopes to once again look back on his company's history. He can envision his company continuing to work on exciting projects and taking more U.S. exhibitors to Asia.