The vice president of Expotechnik, a creator of architecture-supported experiences, was invited to serve on the Exhibits Advisory Board for the annual EXHIBITOR tradeshow from 2015-2016.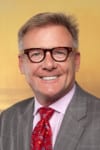 As a member of the Exhibits Advisory Board, Thomas Frisby will brainstorm ideas and submit feedback as well as participate in a key annual meeting with the goal of continuing to improve the attendee and exhibitor experience at EXHIBITOR.
"I've participated in EXHIBITOR Show since its inception, and I'm looking forward to contributing to its growth and success," said Frisby.
EXHIBITOR2015 will be held Mar. 1-5 at the Mandalay Bay Convention Center in Las Vegas