by Andrew Fulton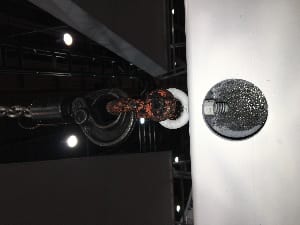 To recap, the crew at the LVCC was ready to start rigging a 100-foot-long, 15,000-pound LED wall but, unfortunately, they were staring at something decidedly "textbook wrong." Ready or not, we just couldn't make a move until the wrong was righted.
The "wrong?" Welded eyebolts. Their integrity had been compromised; we simply could not attach the necessary one-ton electric chain hoists to them—there was no way they'd be able to lift and support that 15,000-pound LED wall.
When I raised the issue about these welded eyebolts, the fabricator wasn't pleased at my refusal to rig this LED wall bumper to them. I knew it was best to defer to the eyebolt manufacturer, so we called Chicago Hardware. We asked them to send us their documentation stating that by welding the eyebolts, they were no longer rated. I needed them to verify that the hardware had been compromised.
Chicago Hardware quickly sent this critical information. It did indeed state that these half-inch shouldered eyebolts that were rated at 2,200-pounds, were not to be used. Not to be used!
Also, we still hadn't seen any structural engineer drawings with necessary details on how the LED wall's bumper was supposed to be built. We insisted on having this material in hand immediately.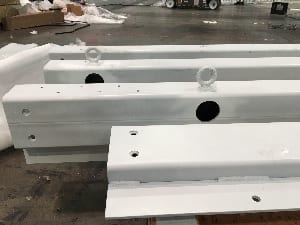 The drawings showed up, and lo and behold, there was our validation. The engineer had eight-inch eyebolts going through the top and bottom of the HSS tube steel, with a washer on the topside underneath the shoulder of the eyebolt, and best yet, a washer and locknut on the bottom.
I suspected that the fabricator made the substitution because he either didn't understand how crucial this issue was, or his shop didn't have the specified eight-inch eyebolts, so he freelanced on the engineer by using eyebolts they had on hand ("two-inchers should be good enough").
I also suspected that since they weren't able to install a washer and nut on the underside of the eyebolt (which was inside the tube), it was also concluded that "welding will work—that'll be good enough."
My final suspicion was this: The company that built the LED wall bumper didn't actually think their fabrication would be scrutinized to ensure that what they built was truly worthy to suspend 15,000-pounds above the unknowing public attending this tradeshow.
Inspection of all rigging parts and pieces is part of my job, there are standards in place for this type of fabrication which must be adhered to—specifically ASME B-30 Standards for Customized Below-the-Hook Lifting Equipment. We could see that the standards were being ignored, subsequently work on this project came to a standstill. Of course, this put other projects behind and needlessly increased labor costs while management was trying to figure out how to solve the problem.
Ideas were tossed around. One, from the fabricator, made the situation even worse. They decided to drill 11 three-inch-diameter holes in the face of the HSS tube steel in front of each eyebolt, so that a nut could be installed on the bottom of the eyebolts. Not only was the fabricator still bypassing their structural engineer's instructions for installation of eight-inch eyebolts, they were also ignoring Chicago Hardware's documentation ("since our eyebolts have been welded, they are no longer rated for rigging, let alone suspending a 15,000-pound LED wall").
There was more to this sub-standard onsite fix. It was also discovered that besides all the rigging points being worthless to begin with, all 11 eyebolts had been welded in the wrong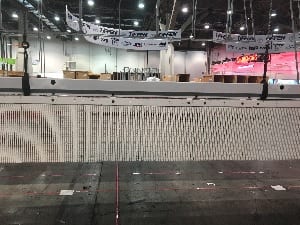 place!
It was turning into a nightmare—an entire day blown and expensive labor just standing around. By this time the fabricator (knowing this fiasco had to be resolved and the job completed), finally asked for direction.
From our road boxes I grabbed 11 Gac-Flex slings rated at 5,300-pounds and 11 shackles rated at 6,500-pounds. These are the same rigging components we use to hang tradeshow lighting rigs, so this hardware was a proper choice for this project.
We went to work rigging the bumper. It was floating in 15 minutes and the LED crew was ecstatic—they were finally able to start their part of the project. But even better than their happiness was our 100 percent confidence that every suspended element in that booth was rigged properly and to the highest standard, including that 15,000-pound LED wall! That's the way we rig!
This eyebolt-LED-wall-saga has taught us several things. But perhaps the most important lesson (besides the education around eyebolt restrictions) is this: Always follow your structural engineer's instructions. He's a highly educated, exceptionally trained member of our team whose job is to help us rig safe, rig right and rig for success.
Andrew Fulton is director of rigging and part owner of Rigging International Group (RIG), a Las Vegas-based Rope Access Company that provides rope access training, rigging, welding, NDT inspection and skilled technicians specializing in challenging work-at-height projects. He is lead production rigger at UNLV's Thomas & Mack Center and manages projects for the Las Vegas PRG office. He is available for consultation and training at andrew@rigintlgrp.com.
This story originally appeared in the Mar./Apr. 2021 issue of Exhibit City News, p. 36. For original layout, visit https://issuu.com/exhibitcitynews/docs/ecn_mar-apr_2021