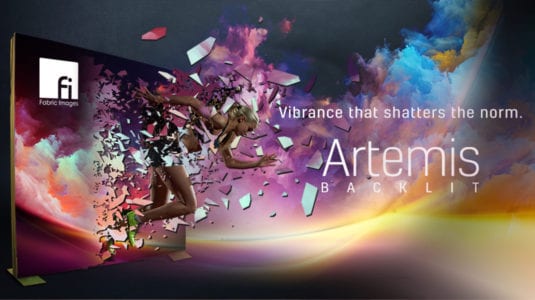 Fabric Images, Inc., a global manufacturer of printed and non-printed tension fabric architectural solutions, announce the expansion of their 3m dye sublimation printing and textile offerings through investments in material technology and textile development. In an ongoing effort to enrich backlit fabric solutions, Fabric Images, Inc. has focused on the development of a high-contrast backlit fabric offering and announces the release of Artemis Backlit.
Since 1992, Fabric Images, Inc has been a premier supplier for fabricating and printing of tensioned fabric architecture for the retail, museum, architectural and exhibit design communities. FI is a family-owned and minority-operated business. They are considered by many to be a leading manufacturer of lightweight, digitally printed fabric tension structures.
Artemis Backlit is a 100% polyester fabric. Its composition allows for superior color imaging utilizing dye sublimation print technology, while the tight weave acts as a diffuser, keeping colors bright and blacks, black when backlit. The high saturation and contrast from light to dark creates a 3-dimensional clarity when lights are introduced from behind. Artemis Backlit takes backlit fabric output to a new level of clarity and definition.
Additional benefits of Artemis Backlit include:
Machine washable
Recyclable under the Fabric Images Inc. Relife Recycling program
Artemis backlit integrates within the Fabric Images, Inc. LED light box system as an SEG application, as well as acting as a solution for custom applications. This affords light box designs to take on any branded personality.
To learn more about Fabric Images, Inc.'s Artemis Backlit and light box offerings, visit www.fabricimages.com.