by Shannon Licygiewicz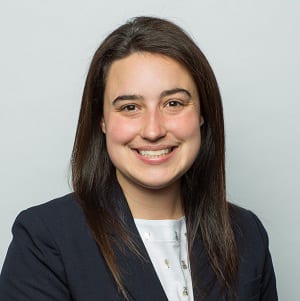 (pictured left), CEM, general manager, Albany Capital Center

As the meetings world begins to resume more in-person events, the art of planning these events has certainly changed. There are so many additional factors that you need to keep in mind to ensure your attendees feel safe and comfortable. Although some of these new practices may seem daunting and different than what we once knew, one benefit is that with each items below your are able to create a variety of unique promotional and sponsorship opportunities—and who doesn't love that?
Below are five tips to keep in mind as you plan your next tradeshow:
Registration: Industry representatives recommend installing multiple registration kiosks for your tradeshow. It is easier to control the flow of attendees entering your event and maintain proper social distancing by having multiple kiosks. Registration kiosks made with Plexiglas allow for quick and easy disinfecting in between attendees and allow for easy installation of hanging Plexiglas barriers between your registration staff and attendees. You also may consider utilizing floor decals or stanchions to indicate where attendees should stand as they wait in line.
Sanitization Stations: Be sure to work with your venue and decorator company on arranging designated hand sanitizer stations at venue entry points, registration and throughout the event space. By providing sanitization stations, your attendees will feel comfortable knowing safety is a top priority. You also may want to consider providing each attendee with mini hand sanitizer bottles or disinfecting wipes to carry throughout the event. If the budget does not allow for this expense, consider offering a sponsorship opportunity and including an organization's logo on the products.
Traffic Flow: Be sure to direct the attendees in a one-way traffic flow pattern. This limits congestion and crossover traffic on the exhibition floor and also will keep attendees on track when moving through the floor. The placement of sponsors throughout the tradeshow floor will be key—as attendees now will not be able to cut over to their favorite booths. This tactic also creates another sponsorship opportunity by using floor decals throughout the event space. This simple form of signage is one all attendees will encounter during the event.
Exhibition Floor Setup: Additional barriers should be utilized for all booths on the tradeshow floor (with a booth size of 10 x 10 preferred) to ensure adequate social distancing measures. Drapes between booths are an excellent tool for outlining boundaries between each setup. If drapes are used, this feature also provides an additional promotional opportunity for the booth's company logo or other branded messaging. The exhibitors should be made aware of all state and government guidelines so each booth is able to adhere to the rules and regulations the events supports. Perhaps carve out larger spaces for aisles as attendees enter and exit the exhibition floor.
Flexibility: The COVID-19 guidelines directed by state health departments and the Centers for Disease Control and Prevention continue to change. Hoping things continue to trend in the right direction but flexibility and communication is crucial as you navigate these times. Keep your attendees and sponsors abreast of what your plans are while also asking fro their feedback will provide you with some invaluable information to assist in your planning efforts. The focus is to keep each other safe and prepare for possible shifts in protocols. While it is important to choose a direction for planning purposes you also need to think about developing back-up A, B and C plans as you coordinate events to accommodate new regulations that may arise.
Rather than cancel or postpone an event, connect with your facility to see what options are available. Chances are they are have several ideas and or creative solutions to share. Due to the limited number of guests currently permitted to attend tradeshows, exhibitors have more space, allowing for greater opportunity to engage with attendees. Maximize these circumstances to make your tradeshow one to remember.
Shannon Licygiewicz is the general manager of the Albany Capital Center. She can be contacted at (518) 487-2009 or shannon.licygiewicz@albanycapitalcenter.com. 
The Albany Capital Center, operated by leading venue manager ASM Global, is a modern, premier event and meeting destination in New York's culturally rich Capital Region that opened in March 2017. Connected to the Times Union Center, Empire State Plaza and Renaissance Albany Hotel via enclosed walkways, the convention center hosts a diverse array of tradeshows, consumer and social events, and meetings for up to 5,000 guests. It boasts 22,500 sq.ft. of ballroom/exhibit space, six meeting rooms with 9,200 sq.ft. of space, 13,500 sq.ft. of pre-function space, state-of-the-art technology, and impeccable dining options. The ACC is conveniently located in downtown Albany and within walking distance of the New York State Capitol, business and warehouse districts, performing arts venues, museums, shops, restaurants and nightlife. For more info, visit www.albanycapitalcenter.com.