(Pictured above: A rendering of the MSG Sphere)
An Overview of Projects Under Construction
by F. Andrew Taylor & Jeanne Brei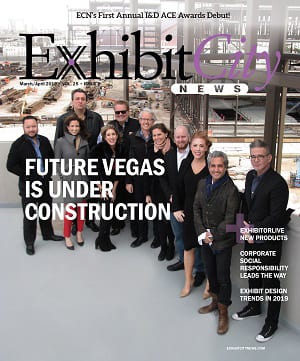 Locals have joked for years that instead of "Welcome to Fabulous Las Vegas," the famous sign on the south end of the Strip should instead say, "Under Construction." Even considering the city's penchant for constant growth and change, it's undergoing an impressive level of expansion of its tradeshow, convention and experiential event spaces.
In all, there is about 2.7 million sq.ft. of meeting, event and convention space under construction right now in Las Vegas, says Chris Meyer, CEM, CMP, VP of global business sales for the LVCVA. And that doesn't include recently completed projects like the Mandalay Bay Convention Center's 350,000-sq.ft. expansion to 2.1 million sq.ft., or MGM Resorts International's 20,000-seat T-Mobile Arena, home of the Las Vegas Golden Knights hockey team, among others.
"There's no other destination on planet Earth that has more meeting or exhibition space combined than we do and we're going to increase that by 21 percent between now and 2021," says Meyer. "This is the single largest capital expenditure on add-on features for properties in our history." Here are a few of the projects currently under development and construction in the Las Vegas Valley—most of them set to open in 2020.
Las Vegas Convention Center Expansion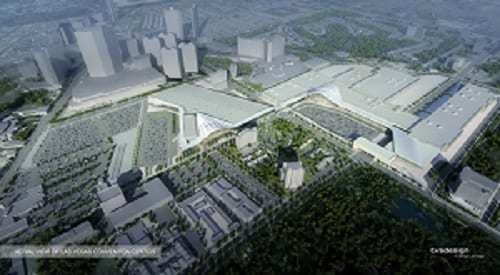 The 60-year-young Las Vegas Convention Center is expanding once again. The design was unveiled last year and the footprint includes land that was previously the Riviera and Landmark casinos.
"This is one of the most important days in the history of the LVCVA, said Rossi Ralenkotter, LVCVA CEO just four months before he retired. "These drawings show a modern, innovative design that is as iconic as our vibrant city. Southern Nevada's economy is driven by tourism and this expansion will propel our convention center forward to enable us to maintain our status as the number one tradeshow destination in North America."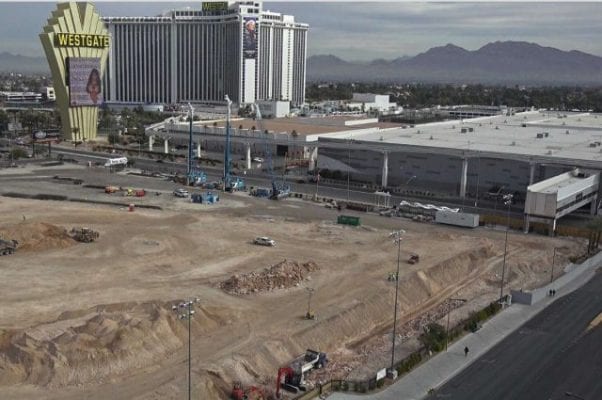 The LVCC District Expansion (Phase Two) is a $935 million expansion project that will add 1.4 million sq.ft. to the current convention center facility, including at least 600,000 sq.ft. of new, leasable exhibit space. Late in 2018, the LVCVA's Board of Directors finalized the selection of tvsdesign / Design Las Vegas to provide design services for the expansion project.
Phase Three will be the complete renovation of the existing 3.2 million-square-foot facility, with a projected completion date of 2023. The phased approach was implemented to ensure that no business will be displaced during the construction and renovation.
Each year, Las Vegas hosts approximately 22,000 meetings, conventions and tradeshows. In September last year, the LVCVA Board of Directors approving the guaranteed maximum price (GMP) agreement that allowed the project to break ground.
"This is an incredibly important and exciting time, not just for the LVCVA but for the entire destination," says Steve Hill, LVCVA CEO. "We're delighted to join a boom in development that's on a scale that we haven't seen in more than a decade. We've been the No. 1 trade show destination in North America for 24 consecutive years, but we must continue to be innovative and upgrade our offerings if we're going to maintain that top spot. This expansion and renovation is our commitment to our clients and our community to foster growth and continue to deliver the excellent service and amenities that have made Las Vegas the world's premier destination."
The expansion is slated for completion by December 2020, in time to welcome CES in 2021.
Caesars FORUM Conference Center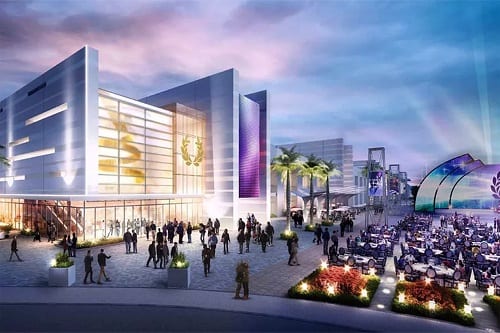 Caesars Entertainment has begun construction on the 550,000 sq.ft. Caesars FORUM Conference Center (not to be confused with The Forum Shops at Caesars across the street). It is being built on the land that was formerly the parking lot behind The Linq and the High Roller. The project, designed by Friedmutter Group, an architectural firm with offices in Las Vegas, Newport Beach, Calif. and Macau, is set to have 300,000 sq.ft. of flexible meeting space and the two largest pillarless ballrooms in the world. The space is set to have direct access to the Harrah's Las Vegas,The LINQ and the monorail via a covered sky bridge. Combined with the directly connected Flamingo Hotel, more than 8,500 hotel rooms will be connected to the conference center. A walkway over Linq Lane will allow access to the retail and restaurants and entertainment at The Linq Promenade. The conference center's 100,000 sq.ft. outdoor plaza should be a unique location for an opening reception or for breaks between sessions.
The project is scheduled to be completed in 2020.
Wynn Convention Center Expansion
Following the departure of its namesake, Wynn Las Vegas drastically changed its plans for expansion, hitting the brakes on the $3 billion Wynn Paradise Park project that was to replace the 130 acres of fairways and greens of the golf course with a 38-acre lagoon surrounded by a convention center, a 1,000-room hotel tower, a small casino, a white sand beach with activities like water skiing, paddle boarding and parasailing, and extensive dining and nightlife options.
Instead, they've decided to reopen the golf course and they're going full steam ahead with the planned first phase of the project, and will more than double their current meetings and event space with a new, 280,000-sq.ft. convention center under construction just north of Sands Avenue and east of the Wynn Las Vegas tower. The two-story facility will offer sweeping views and plenty of natural sunlight via floor-to-ceiling windows. The grand entry rotunda will lead to 18 rooms of various sizes, including a pillarless, 83,000-sq.ft. ballroom. Outdoor space will feature prominently, including several terraces with pool or garden views on each level, and a 20,000-sq.ft. outdoor pavilion. The meeting rooms and ballrooms will feature the latest technology, and the ballrooms will have the tech infrastructure to act as performance theaters. Another feature is a 2,500-sq.ft. hospitality lounge with a 72'x9' LED video wall. The new facility is going green, as 100 percent of its power will come from the new, 160-acre Wynn Solar Energy Facility.
As for the golf course, they're bringing back Tom Fazio, who was the original designer of their golf course, to design a new 18-hole golf course connected to the Wynn and Encore and have the course back in back in action before the convention center opens. The high-end course, the last of its kind of the Las Vegas Strip, had playing fees of up to $500, and its 2017 closure cost Wynn Resorts 16,000 rounds and between $10 million and $15 million of domestic casino business.
The company is also planning to develop a 38-acre lot across Las Vegas Boulevard in the next two years (currently nicknamed Wynn West on the land that had been the New Frontier and had been slated to become the never-built Alon). Initial reports suggest another hotel tower, but the project is still in the early planning stage and it seems unlikely that some sort of meeting or convention space wouldn't be part of the mix.
In combination with the existing 275,000 sq.ft. at the Wynn Las Vegas and Encore Las Vegas, the property will now offer more than 550,000 sq.ft. of meeting and event space. There will be a total of 57 meeting rooms and four pillarless ballrooms ranging in size from 20,000 sq.ft. to 83,000 sq.ft..
The new convention space, along with the 18-hole, Tom Fazio-designed golf course are both set to open in late 2019.
The Expo at World Market Center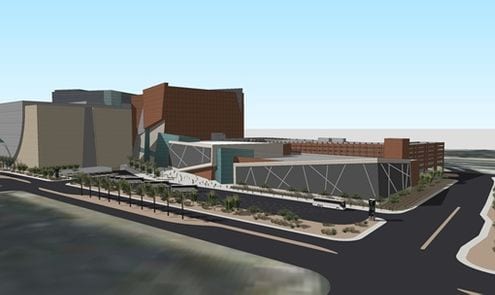 International Market Centers, owners and operators of World Market Center Las Vegas, broke ground on construction of The Expo at World Market Center Las Vegas, a new 315,000 sq.ft. exhibition facility, scheduled to open in summer 2020 on the World Market Center Las Vegas campus in downtown Las Vegas.
The new Expo at World Market Center Las Vegas will feature 194,785 gross sq.ft. of exhibit space, which is divisible into two halls—North with 97,684 gross sq.ft. and South with 97,101 gross sq.ft.—which can accommodate up to 1,000 booths. The Expo at World Market Center Las Vegas will feature an expansive lobby area, registration area, onsite shuttle bus depot attached parking garage and two permanent "grab and go" food service areas.
"IMC is making a $90 million investment in the creation of The Expo at World Market Center Las Vegas, a new state-of-the-art, purpose-built facility," says Robert Maricich, CEO of IMC. "We're delighted to cooperate with the city of Las Vegas and the state of Nevada to bring this new exhibition venue to Las Vegas. Our use of local labor, at 'prevailing wage rates' will make this project a win-win for the exhibition industry and the city of Las Vegas."
Construction is scheduled to begin fully in April and the grand opening is expected for IMC's Summer 2020 Las Vegas Market, a semi-annual marketplace for the gift and home furnishings industries.
Mayor Carolyn Goodman says, "According to the Las Vegas Convention and Visitors Authority, in 2017 the exposition industry generated $58.8 billion in economic benefit to Southern Nevada. With the addition of this new facility, Las Vegas now offers the exhibition industry a total of 4,214,047 gross sq.ft. of exhibit hall space at four facilities—the Las Vegas Convention Center, Sands Expo, Mandalay Bay and The Expo at World Market Center Las Vegas."
The Expo at Las Vegas Market will be the new permanent venue for presentation of temporary gift and home decor exhibits at IMC's semi-annual Las Vegas Market, which showcases 4,000+ gift, home decor and furniture resources in five million sq.ft. of permanent showrooms and temporary exhibition space. During the Las Vegas Market, IMC plans to use the lobby of the Expo at World Market Center Las Vegas for attendee and exhibitor registration, making the new facility the gateway to its entire marketplace. The Expo's contiguous positioning with Building C also will improve attendee traffic flow between Las Vegas Market's permanent showrooms and temporary exhibits, which IMC expects will drive new resources to campus and enrich the pipeline for permanent showroom presentations.
Outside of the January and July Las Vegas Market dates, The Expo at World Market Center Las Vegas will host tradeshows, as well as corporate and private events.
Maricich says, "Currently, there is approximately 200,000 sq.ft. of available conference and exhibition space in downtown Las Vegas in several locations, but the largest single venue, at 85,000 sq.ft., is smaller than The Expo at World Market Center Las Vegas. This new Expo Center will address demand for modern convention and tradeshow space that currently is limited in the downtown area."
The MSG Sphere
The new project, which will dramatically change the skyline of Las Vegas, is being built in partnership between The Madison Square Garden Company and Las Vegas Sands Corporation, just east of the Venetian. The project is designed by Populous, an architecture firm with offices around the world. A new Las Vegas monorail station will be built to serve the MSG Sphere and The Venetian. The spherical music venue is set to have an 18,000 person capacity with a sound system built to deliver sound through the floorboards. Bars, private suites, a museum and retail space are also planned at the venue.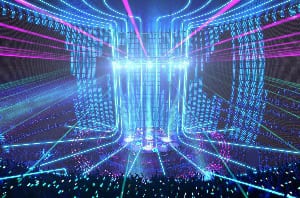 The most unusual feature of the project will be the LED screens on both the interior and exterior, which will allow for spectacular displays inside (pictured right). The exterior of the venue is set to feature a 360-degree IMAX display which will allow those who are outside of the venue to see what is going on inside.
While its primary use will be as a music venue, each of the seats will be equipped with high speed internet access making it a unique venue for meetings and presentations. Well, not quite unique. An identical venue is set to be built in London.
The Las Vegas MSG Sphere is set to be completed in 2021.
Circa Resort & Casino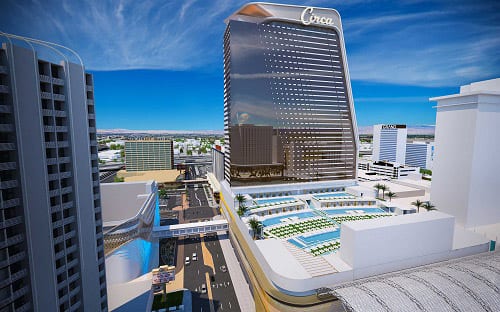 It's been many years since a casino has been built from the ground up on Fremont Street, the resort corridor of old Las Vegas. Circa Resort & Casino is being built on the block at the west end of the Fremont Street Experience, replacing The Las Vegas Club, the Topless Girls of Glitter Gulch and the Mermaids Casinos. Neon sign enthusiasts will be happy to learn that Vegas Vicky, the cowgirl who shared the street with Vegas Vic, will be preserved and on display in the lobby in the new casino. The casino is being designed by Steelman Partners, an international architectural firm headquartered in Las Vegas (and pictured on this month's ECN cover). Appropriately, Circa will have 777 guest rooms. five restaurants, a two-level casino and, according to owners Derek and Greg Stevens, "the largest sports book in Las Vegas." The rooftop deck and amphitheater with six swimming pools and a 125-foot screen are likely to be the site of many special events.
It is expected to open in December 2020.
Resorts World Las Vegas
The Genting Group plans to open the new casino and resort on the 87-acre former site of the Stardust Casino and the long-stalled Echelon Place. Like the Circa Casino, it is designed by Steelman Partners. Resorts World Las Vegas is set to be a $4 billion integrated resort with a Chinese theme. The goal is to keep the look authentic while offering all the modern luxury amenities visitors to Las Vegas expect. The property is set to have 100,000 sq.ft. of gaming space, retail locations and a top-tier nightlife venue.
Of more interest to the exhibition, convention and experiential event industry is the 150,000 sq.ft. of convention space and the 3,200 seat theater. It is in easy walking distance from the Las Vegas Convention Center, in fact, it's almost literally a stone's throw due west of the new expansion.
It is set to open in 2020.
The Drew Las Vegas
And just next door to the LVCC expansion, the Las Vegas' Fontainebleau casino project, which stalled in 2009, is getting another chance. Marriott International plans to turn it into a 4,000-room resort and casino called The Drew Las Vegas that will have more than 500,000 sq.ft. of convention and meeting space.
It will be a combination of Marriott's EDITION brand and The Strip's first JW Marriott. Marriott already manages about 20 hotels in the Las Vegas area under its various brands.
The 68-story blue glass tower, designed by Carlos Zapata Studio, is the second tallest building in Nevada, after the Stratosphere. The property has been empty since 2009 and was originally intended to house a 3,815-room resort, but The Drew Las Vegas will offer more than 4,000 rooms and suites in two towers set on the 24-acre property. There are plans for up to 20 restaurants in the resort, as well as a re-imagined pool area.
Steven Witkoff, chairman and CEO of the Witkoff Group, which bought the property last year and partnered with Marriott to bring it to life, told the Associated Press there are plans for a pedestrian bridge to the nearby Las Vegas Convention Center, which is currently undergoing an expansion.
"The Drew Las Vegas will become a landmark property for Marriott International," says Tony Capuano, executive VP and global chief development officer of Marriott International. "The resort will give our more than 100 million loyalty members the chance to enjoy our brand of hospitality in one of the most exciting and popular cities in the world, whether the visit is for a convention or a leisure trip."
Two Blackbirds Hospitality will oversee the launch and operations of The Drew Las Vegas, which will have a casino, luxury hotels, convention facilities, entertainment, nightlife, retail and dining venues.
It is set to open in 2020 [Editor's Note: This date was pushed back to second quarter of 2022 in April 2019.]
The Las Vegas Stadium (now Allegiant Stadium)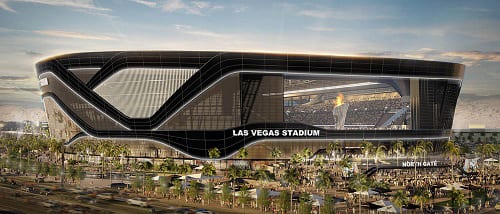 Stadiums in the Las Vegas resort corridor were a long-time pipe dream of Las Vegas developers, but when the T-Mobile Arena opened in 2016, it proved it could be done and that resort corridor arenas made great places for special events for conventions goers. The Las Vegas Stadium is being built just west of the Strip behind Mandalay Bay Hotel & Casino and just west of I-15, the major freeway that generally hinders the expansion of the resort corridor westward. While some might consider transportation to the new facility problematic, previous conventions and special events have transported caravans of buses north to The Las Vegas Motor Speedway, more than 15 miles from the resort corridor.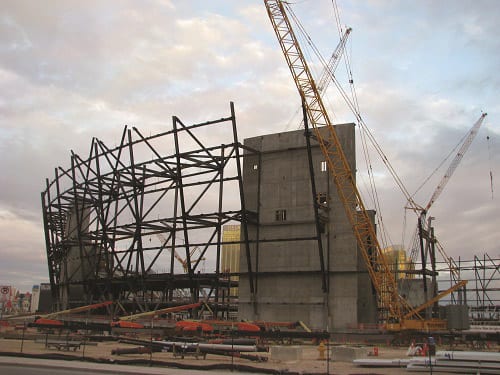 When it is completed, it is slated to be the new home of the NFL's Raiders (barring Oakland fans attempts to block the move), along with the UNLV football team and presumably, many convention and exhibition-related special events.
Designed by MANICA Architecture, a Kansas City, Mo.-based architecture firm, the 10-level, domed stadium is set to hold 65,000 seats and have a silver and black exterior and large, retractable, curtain-like side windows facing The Strip. It is also set to have a clear roof made of Ethylene tetrafluoroethylene (ETFE), a plastic designed to have high corrosion resistance and strength over a wide temperature range, an important factor with the city's triple digit summers.
It is set to open in 2020.
With this many makeovers, we may not even recognize Las Vegas in the next Roarin' '20s decade.
This story originally appeared in the March/April issue of Exhibit City News, p. 28-29. For original layout, visit https://issuu.com/exhibitcitynews/docs/ecn_flipbook_marchapril2019?e=16962537/67925242