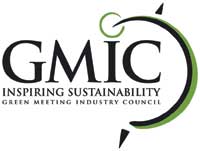 The Green Meeting Industry Council (GMIC) launched its first international chapter. The GMIC Italia is the first chapter formed outside of the U.S. and of this international community devoted to the development of sustainable best practices for the global meetings and event industry.


The founders and board members of GMIC Italia are; Fulvio Bettini, partner of the B2B promotion agency Nebe, past president of MPI Italia Chapter; Stefano Ferri, communication and marketing consultant; Annamaria Ruffini CMP, owner of the incentive house Events In & Out, immediate past president of Site Italy Chapter, and Maria Cristina Terenzio, consultant in meeting design and intercultural communication. The board will be expanded during the first general assembly of the chapter, scheduled for fall 2011
Annamaria Ruffini, CMP was appointed president of GMIC Italia for 2010-2012.
"Our goal with the GMIC Italia chapter is to support and be a resource for meeting professionals in Italy," said Ruffini. "We believe it is critical to provide case examples of the economic and creative aspects of meetings and incentives in a manner that demonstrates respect for nature and people, which is typical of the Italian entrepreneurship. Green is, after all, an integration of social responsibility and cultural sharing. This is what we aim to do from this day forward."
GMIC Italy is one of many international development efforts of the U.S.-based association. GMIC currently has five U.S. chapters in addition to development activities in the Netherlands, other regions of Europe, Canada and Mexico.
Beyond global chapter development, GMIC is involved in the ISO20121 sustainable event standards development process, the Global Reporting Initiative Event Sector Supplement, and the APEX/ASTM Environmentally Sustainable Meetings Standards training and certification program, in partnership with the Convention Industry Council.
"We are proudly aware of the GMIC international programs and actively support our American and foreign colleagues who have encouraged and guided the development of our chapter," said Ruffini. "I am confident to find the same high support among the Italian and European operators to become involved in our efforts."