True Fit premiered a Hill & Partners, Inc.-customized branded environment at the 2013 Shop.org Annual Summit, a digital retail event held Sept. 30-Oct. 2 at McCormick Place in Chicago.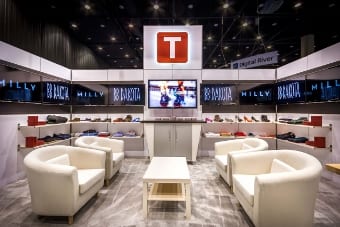 "It is always rewarding to bring a new client to a premier event such as Shop.org, and it was particularly gratifying that we were able to so effectively depict the True Fit brand and its innovative technology," said Michael McMahon, president and CEO, Hill & Partners, Inc., a creator of portable branded environments.
True Fit is a global leader in fit personalization software, managing the world's top apparel, footwear and consumer fit data to help consumers, brand and retailers unlock their online footwear and apparel market.
Hill & Partners designed and managed a custom rental branded environment for True Fit that featured high-level messaging. This drew attendees into an adapted retail space outfitted with technology to chronicle True Fit's history, mission and vision.  Clean lines paired with an eye-catching retail display created an environment that captured attention.  The strategically designed environment served as the ideal platform to convey the way in which True Fit seamlessly integrates its product offering into today's marketplace.
To complete the essence of the environment, Hill & Partners produced content for three individual video reels that played simultaneously, synchronized across nine monitor displays.  This required vigorous testing to ensure all video reels were of the exact same length, that each frame ran concurrently and timing was completely without flaw.  Ultimately, the movement and messaging created by the custom digital graphics contributed to an effectively enhanced experience for all visitors within the environment.