Out of three shortlisted destinations — Gdansk, Poland; Prague, Czech Republic; and St. Petersburg, Russia — International Congress and Convention Association (ICCA), a global meetings organization, named the host of the 56th ICCA Congress in 2017.
Prague was revealed as the winner during the ICCA Mid-Year meetings at IMEX in Frankfurt, Germany, from May 20-22.
"As always, this has been another tremendously tough bidding competition between highly ambitious destinations, conducted in a wonderful ICCA spirit of friendliness and fairness, with all of the candidates showing creativity, professionalism and commitment toward ICCA's strategic business objectives, including our keenness to further develop the association's membership in Eastern Europe," said Arnaldo Nardone, president, ICCA.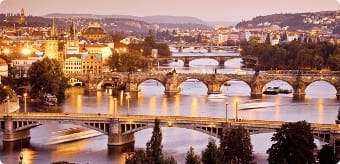 "With ICCA never having previously held our Congress in the Czech Republic, I have no doubt that our friends in Prague will put on a wonderful experience for our members, and that knowledge and expertise will be transferred in both directions, from our global experts to local meetings professionals and vice versa."
The bid presentations of the shortlisted destinations traditionally take place during the ICCA board meetings the weekend before IMEX. Candidates are required to address ICCA's strategic development objectives, to identify innovative ways to boost delegates' business opportunities as well as to address a rigorous list of financial and logistical criteria.
"ICCA delegates are possibly the toughest clients any destination can host. They are seasoned professionals, notoriously difficult to surprise or impress, but I have absolutely no doubt, based on the creativity and commitment shown by the Czech team, that they will be given an unforgettable experience in 2017," said Martin Sirk, CEO, ICCA.
Mayor of Prague Tomas Hudecek presented the bid in Frankfurt alongside senior Czech meeting professionals.
"We want to inspire ICCA delegates with the story of our city's success in the international meetings market, which has occurred not just because we are a great cultural and tourist city, but because we have placed international meetings at the heart of our economic development and knowledge economy strategies," said Hudecek. "Bidding for this prestigious congress has helped us to forge a stronger and more creative team, involving public and private sector organizations all across our country, and we are honored that ICCA we are honored that ICCA has placed its trust in us to deliver an outstanding event."
ICCA's future Congress destinations are:
2014 Antalya, Turkey
2015 Buenos Aires, Argentina
2016 Kuching, Malaysia
2017 Prague, Czech Republic