By Ray Smith, Exhibit City News
From the LVCVA Boardroom
Traffic is tough enough already in Las Vegas, a labyrinth of clogged streets that often traps drivers like a fly in a spider web. It's getting worse with the approach of the Formula 1 Las Vegas Grand Prix, roaring into the desert city, evolving as a major sports destination from Nov. 16-18. Terry Miller, the head of Miller Construction Management, updated the Las Vegas Convention and Visitors Authority board of directors on progress in building the 3.8-mile track that encompasses the resort corridor, including three temporary vehicle access bridges at Flamingo Road, Audrie Street, and Top Golf.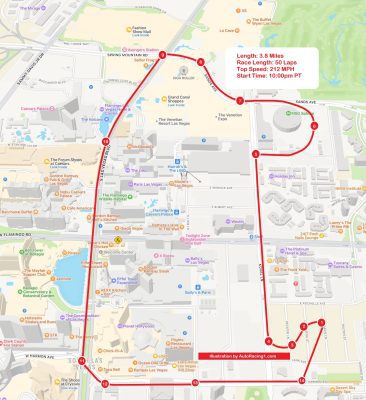 The next couple of months won't be pretty, Miller concedes at the September 12 monthly board meeting. "We know there's going to be a lot of interruptions on our roadways," Miller says. "We appreciate everyone's patience." The biggest project is the Flamingo Road bridge over Koval Lane, which will be installed during a 10-day period from Oct. 15-25. The intersection will be completely closed for five days and partially closed for the other five days. "As we build it, it'll be disruptive to the intersection," the construction manager says. Miller is working with hotel and casino properties inside the track's parameters to provide mobility and parking for employees. The Las Vegas Convention Center has offered some parking space, along with 24-hour operation of the monorail. Pickup and drop-off sites for Uber, Lyft, and hotel shuttles have also been identified. Most of the work, including the installation of concrete track barriers, takes place at night with rolling lane closures. "We're getting more granular with what happens every day now," Miller says. Construction costs are estimated at $400 million.
CONVENTION IMPACT
Steve Hill, LVCVA president and chief executive officer, admits the Grand Prix track construction makes it a little tougher to get around, causing some delays, but says it's not affecting convention attendance. Even though July's numbers declined by 16.8 percent from a year ago to 270,300, year-to-date convention attendance is up by 25.1 percent to nearly 3.5 million. Average daily room rates have increased by 11.5 percent to $180.87, and room nights occupied climbed by 9.2 percent to about 27.1 million. Meanwhile, the Las Vegas Convention Center is undergoing a $600 million renovation, creating a featured entrance on the east side of the South Hall. That's where the Las Vegas Loop starts, picking up conventioneers coming from the bronze and platinum parking lots. "Construction work has to happen," Hill says, "and we're planning around that."
One positive takeaway from the LV Grand Prix is that it comes during the slowest time of the year in Las Vegas, with no major shows scheduled at the convention center. SEMA, with attendance around 130,000, takes place from Oct. 31 to Nov. 3. After that, it's a barrage of events coming to Las Vegas in the next few months, including the National Finals Rodeo, NBA In-Season Tournament, Vegas Golden Knights, CES, and Super Bowl LVIII.
Ray Smith is a retired journalist who covered conventions, tourism, and real estate development in Las Vegas for 20 years. Previously, he was a sports reporter, writer, and editor in California. He majored in journalism at San Diego State University.