Sept. 15, 1935 – Jan. 20, 2022
Freeman EVP, ESCA past president, EDPA's Hazel Hayes winner, IAEE Pinnacle Award winner & Event Industry Hall of Fame inductee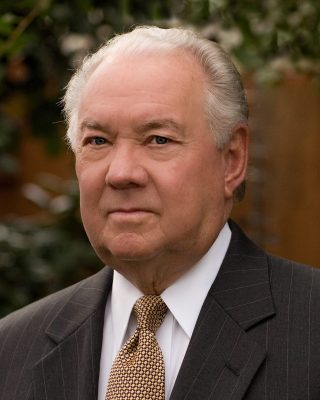 Industry legend Don Sealy Vaughn grew up in Texas, graduating from Odessa High School in 1954, marrying his high school sweetheart, Barbara, while attending Texas A&M University-Corpus Christi and getting his BBA, Business and Human Resources in 1958. He attended college on a basketball scholarship and was president of several campus organizations, student council, Circle K Club and Business Club. He received a Distinguished Alumni Award in 1987.
His passion for getting involved and making things better (and receiving accolades along the way) continued as he was executive vice president, corporate event sales management with Freeman from 1974-2005, retiring after 31 years but continuing to work by joining the meeting and convention industry's biggest shuttle bus company (CMAC) and then spending 16 years with The Augusta Group. He also held executive roles with the National Association of Home Builders, the Astrodome Astrohall Stadium Corporation, the Houston Convention and Visitors Bureau, Billcom Exhibitions and Vaughn, Ducate & Associates.
Doug Ducate, former CEIR CEO, says, "Don Vaughn was an early advocate of the need to promote the use of exhibitions to bring products to market. As a gifted speaker he seized opportunities throughout his storied career to deliver that message to groups both within and outside the industry. He had a unique career in the industry first as an exhibition organizer, then a major facility manager and finally an executive with the largest general service contractor in the industry. That combination enabled him to see situations from various points of view and find balanced solutions to industry issues. He was a great friend, and I will miss him."
"He believed strongly in the need for an umbrella organization and became involved in the Convention Liaison Council, now known as the Events Industry Council," Ducate adds. "During his time as chair (1985-1986), the organization introduced both the Certified Meeting Professional designation and the Hall of Leaders program. It was fitting that he was inducted into the organization's Hall of Leaders in 1997. Again, the organization's highest-level award, but this award is the pinnacle of all the pinnacles!"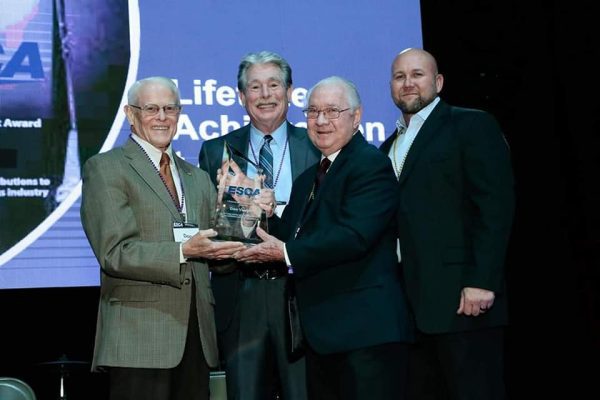 CEIR CEO Cathy Breden says, "Anything Don said he was going to do, he did. He threw himself in 100 percent. He believed in the power of exhibitions and he was agnostic when it came to the associations he served (CEIR, EDPA, ESCA, HCEA, IAVM, IAEE, PCMA, MPI). IAEE recognized him with its highest level of recognition in 1981 with the William Hunt Eisenmann Award (Pinnacle Award), and he was also recognized by the Experiential Designers and Producers Association with the Hazel Hayes Award, Healthcare Convention and Exhibitions Association with the Distinguished Service Award, the Exhibition Services and Contractors Association (pictured left) with the Distinguished Service Award and Lifetime Achievement Award in These are the highest-level awards for these associations."
Breden continues, "Don was one of the founders of what is now the Center for Exhibition Industry Research (initially formed as the Trade Show Bureau) and this is how I came to know him. The Trade Show Bureau was initially created to promote the importance of the exhibitions industry to the U.S. economy, which led to the CEIR Census and CEIR Index … he was an industry legend, an icon of integrity, a servant leader and an all-around good person. While you may not realize it, his work in the exhibitions industry leaves a legacy that touches us all."
In his online guestbook, Geri Shaffer wrote, "Mentor, colleague, friend, super hero, industry guru, amazing human, and one in a million. He wasn't the loudest voice in the room, but almost always the wisest. He would sit in industry meetings for hours on end and not contribute a single word while others jockeyed for attention. As the meetings would conclude he would provide just a few pearls of wisdom, and left the rest of us thinking "why didn't you say something sooner?" Alas, he knew when to interject, and when to let people pontificate (or grandstand). Love this amazing man and am grateful for all his teachings. So grateful to the entire family for sharing him, unselfishly, with all of us all for so many decades. Mourning his loss but celebrating the vast impression he left on all our lives."
He is survived by his wife of more than 60 years, Barbara, his daughter, Connie Vaughn Waldorf (Mark) and numerous friends. A celebration of his life was held Jan. 29 at the First Presbyterian Church of Grapevine, Texas. In lieu of flowers the family requests donations to the Don Vaughn Memorial Fund, CEIR Foundation, 12700 Park Central Drive, Ste 308, Dallas, TX, 75251 or via the CEIR Foundation website. To learn more about Don's industry contributions, watch this Hall of Leaders video.
To share a memory or send condolences, visit his online guestbook at https://www.legacy.com/us/obituaries/name/don-vaughn-obituary 
An excerpt of this tribute originally appeared in the Apr./May/June 2022 issue of Exhibit City News, p. 85. For original layout, visit https://issuu.com/exhibitcitynews/docs/ecn_q2_2022