by Cynthya Porter
With an economy that continues to blossom at a pace faster than global economists predicted, Colombia has become the new darling of sales missions from the U.S. to Latin America, with everything from pork to medical equipment rising in popularity among the South American country's consumers.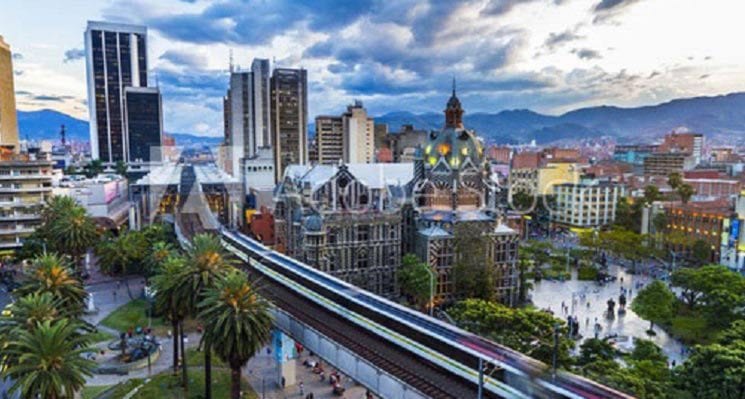 Particularly strong in 2019 were the retail, wholesale, transportation and financial industries, with the gross domestic product growing by 3 percent overall while transportation surged as much as 4.8 percent in some quarters and the financial industry grew by 4.6 percent in others.
The net result is that a veritable caravan of trade missions are taking place from the U.S. to Colombia, where things like pork, tourism and automotive are growing in popularity in an economy that is the fourth largest in Latin America. The U.S. is Colombia's largest trading partner and bilateral trade between the countries reached $27 billion in 2017.
Given the strong performance and buoyant forecast, for U.S. exhibitors, business-to-business shows in cities like Bogota and Medellin represent a new frontier for trade relationships. For example, the U.S. pork industry is taking note that Colombia is the largest growth market for the U.S. behind China, and the U.S. Export Meat Federation has been facilitating visits from U.S. pork industry leaders to major Colombian business centers to establish deeper ties recently.
Colombia has been recovering gradually from recession-era struggles, outpacing even the U.S. and Brazil in its above-expected consumer growth. Unlike its counterparts, interest rates have been stable with little indication that cuts or hikes are needed to stabilize the economy.
In particular, Florida-based companies are taking note of the South American country's steady progress, as Florida accounts for approximately 27 percent of all U.S. trade with Colombia—a higher figure than any other U.S. state or territory. Officials say more than $4.2 billion in goods was shipped from Florida alone to Colombia in 2017, with bilateral trade at $27 billion. Helping the trade relationship between countries was the elimination of some 80 percent of tariffs between countries thanks to a 2012 trade agreement.
Face-to-face marketing efforts including sales missions, tradeshows and seminars aimed at educating Colombian buyers about U.S. products are all furthering the trade relationship, though recent unrest in Colombia's politics has dampened some efforts. Citizens of Latin America's fourth most populated country have taken to the streets lately to protest policies of the right-winged government. Economic reforms, labor issues, claims about corruption, and the concerns of indigenous people are prompting protests that have occasionally turned violent in the nation's largest cities.
Even so, economists predict the Colombian marketplace is poised for continued growth that may be slowed but not stalled by political unrest, given that the country is considered to have one of the most healthy and thriving economies in Latin America. Recent improvements at convention centers around Colombia expect to capitalize on that increasing interest from North America in doing business with the country.
Cynthya Porter is a 70-time award-winning journalist recognized by national and international associations for her journalistic expertise in tradeshow topics, travel writing, photography and news. She has covered the exhibition industry since 2011 and, though she makes her home in the Midwest, she travels the world in search of interesting stories and photographs.
This story originally appeared in the January/February issue of Exhibit City News, p. 52. For original layout, visit https://issuu.com/exhibitcitynews/docs/exhibitcitynews_janfeb_2020