Conference programs at the Malaysia-based Kuala Lumpur Convention Centre have been given a new dimension.
The venue introduced multicultural themed food and beverage (F&B) presentations for its popular 'Day Conference Packages (DCPs) with a Difference' and 'Sundown Hour Packages' with a range of Asian-influenced mocktails and cocktails for TenOnCall (TOC) clients.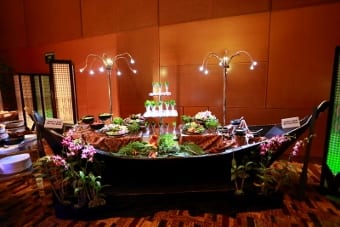 DCP clients looking to add color to their conference can now choose a Malay, Chinese, Indian, Muhibbah or Western theme for their half- or full-day program.
"The carefully crafted and tailored themes incorporate gastronomically inspired menus designed to excite, inspire and stimulate the creativity of participants," said Angeline Lue, director of sales and marketing, Kuala Lumpur Convention Centre.
Besides the themed menus, which have been created by the Centre's 51-strong culinary team, the packages include creatively tailored décor and appropriately attired staff.
The latest 'DCPs with a Difference' come with free-flow coffee and tea for the duration of the event and chilled juices during coffee breaks. The new value-adds are in addition to existing DCPs offerings of 'Snack on Arrival,' unrivalled IT and audio-visual support, free Wi-Fi, a 10 percent discount for standing lunches and more.
To take one's meeting program to a relaxing conclusion at the day's end, TOC 'Sundown Hour Packages' can be chosen. Offering a combination of sweet and refreshing mocktails and cocktails with Asian-inspired names the likes of Asian Alchemy, Asian Negroni, Sencha Spice and more, the TOC 'Sundown Hour Packages' include free-flow beverages for two hours, a basic PA system and sound technician on standby for a minimum of 50 guests and above.
According to Lue, the Centre is always looking "to enhance the guest experience and Malaysia's rich multicultural heritage proved a fantastic inspiration when we started thinking about upping the game on our already popular Day Conference Packages and TenOnCall offerings.
"This, combined with our Culinaria initiative, which places special emphasis on our F&B in order to stand us out from our competitors, provided the perfect opportunity to expand our DCPs and TOC products to give clients more presentation choices in the execution of their meetings and their participants," Lue added.