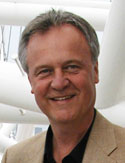 Larry Kulchawik, senior vice president and director of international programs, announced Feb. 10 he will retire from day-to-day client activity in a move that will allow him to focus on other interests while still being a trusted company resource.


Kulchawik will continue as an advocate of the exhibits and events industry, supporting efforts by the Chicago Chamber of Commerce to provide marketing services to international companies who wish to establish a presence in the United States.  He will also work with the International Federation of Exposition Services (IFES) to publish a series of booklets outlining the regulations and rules of tradeshow engagement in international environments such as China, the Middle East, India and Russia.
"Larry is a leader and an expert," said Gene Faut, president of 3D Exhibits. "His contributions to our industry have impacted us all for the better. This is a logical transition which allows us to still call upon his expertise for years to come."
Those interested in 3D Exhibits can visit www.3Dexhibits.com or email ngenarella@3dexhibits.com.