By Haley Freeman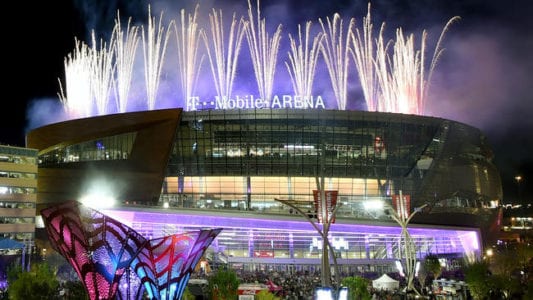 Las Vegas has finally gone and done it. After decades of planning and debate, the city unveiled its state-of-the-art, multipurpose sports and entertainment arena on the sexy South Strip on April 6, 2016. The 650,000 square foot T-Mobile Arena, co-owned by AEG and MGM Resorts International, has not only forever changed the iconic Las Vegas skyline, but has also made it possible for this city to play host to a new array of world-class sporting and other events in high green style.
AEG and MGM Resorts are companies dedicated to environmental sustainability, and each is applying its exceptional conservation standards to operating and maintaining this extraordinary venue. T-Mobile Arena was designed and built to meet LEED Gold certification requirements and is a true asset to the Las Vegas community.
MGM Resorts and its 62,000 employees worldwide live up to the motto, "A Greener Business is a Better Business," by implementing the Green Advantage program throughout all 16 MGM properties. The company promises to:
Understand our impact on the environment and implement best practices to reduce it
Ensure that environmental responsibility is a priority at all levels of our organization
Support sound public policy that creates positive environmental change
Develop and support business partnerships with companies that share our passion for the planet
Never be complacent with our accomplishments, but always strive to do more
Green Advantage focuses on five core areas: energy and water conservation; green building; recycling and waste management; sustainable supply chain; and outreach and education to lower the carbon footprint of its operations at resorts, restaurants, retail spaces, meetings and conventions. Since 2010, MGM Resorts has reduced its emissions by over 60,000 metric tons of CO2e – the equivalent of removing more than 12,000 cars from the road for a full year. As a host to millions of visitors each year, MGM Resorts embraces the opportunity to positively influence guests by providing education about the environmental benefits available at its properties and encouraging guests to participate in green practices during and after their stay.
Likewise, AEG's corporate environmental sustainability program, AEG 1Earth, guides AEG company policies, measures the environmental impact of AEG's activities and supports the ongoing development of environmental initiatives. AEG was the first company of its kind to issue a voluntary environmental sustainability report in 2010. By means of its 2020 Environmental Goals, AEG Ecometrics system, and education and communication initiatives, AEG demonstrates both eco leadership and accountability at its 76 owned and managed venues worldwide.
The T-Mobile Arena showcases a sleek architectural design with dazzling neon enhancements and opulent facilities equipped with the luxe amenities Las Vegas is known for, including multiple private suites and loge boxes, premium balconies with spectacular views of the arena complex and the Strip, as well as two dedicated VIP entrances and premium locker facilities, dressing rooms, green room and services to accommodate sports and entertainment events. The two-acre outdoor Toshiba Plaza is beautifully appointed for pre-event functions and special events, and a wide array of food/beverage selections are available throughout the complex, including gluten-free options.
The T-Mobile Arena is grandly equipped to host NBA and NHL teams, concerts, boxing, mixed martial arts, award shows and other major events, and it delivers sustainability with characteristic Las Vegas style.
Green Quote: Before anybody ever thought of the famous tagline, "What Happens Here Stays Here," Duwamish Chief Seattle, a courageous advocate for the environment and Native American land rights, is credited with crafting a cleaner, greener version: "Take only memories; leave nothing but footprints."