Online nominations for Hospitality Heroes now open
The Las Vegas Convention and Visitors Authority has launched Hospitality Heroes, a year-round recognition program celebrating hospitality workers who help make Las Vegas a world-class destination. To nominate a Hospitality Hero, visit www.lvcva.com/hospitalityheroes and submit the online nomination form.
By celebrating the accomplishments of an elite group of hospitality workers, the Hospitality Heroes program will aim to showcase the tourism industry's commitment to service as well as its strength and resilience, which is more significant than ever as the destination rebuilds and recovers.
The 13-year-old program began as a week-long recognition to support National Travel and Tourism Week, but has been re-imagined and enhanced to celebrate hospitality workers and share inspiring stories year around. Outstanding employees who work at resorts or in other areas of hospitality can be nominated by their employers or peers via an online nomination process. Winners will be recognized each quarter and will be selected by an independent committee of business and community leaders from the Vegas Chamber, the Latin Chamber of Commerce, the Urban Chamber of Commerce, the Las Vegas Asian Chamber of Commerce, the Henderson Chamber of Commerce and the University of Nevada School of Hospitality.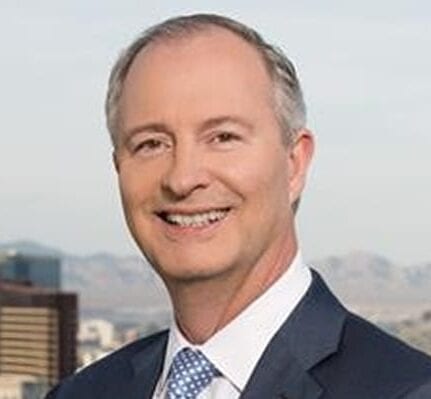 "The dedication and hard work of our hospitality workers is what keeps this great destination running," says Steve Hill (pictured right), LVCVA CEO and president. "It is important that we celebrate those who represent the best of Las Vegas for our millions of visitors each year."
Nominees must be with their current employer for a minimum of one year if applicable and be in good standing with their employer. Nominations will be accepted in the following categories:
• Helping Hand Award – Hospitality workers who give back to their community through community service
• Industry Award – Hospitality workers who provide exceptional guest service
• Legacy Award – Hospitality workers with longevity in the industry
• Visionary Award – Hospitality workers whose careers have resulted in a significant or inspiring outcome
• Resilience Award – Hospitality workers who played a pivotal role in helping their community and/or employer function and/or recover during the pandemic
Winners will be recognized at their place of employment and during the LVCVA's quarterly Board of Directors meeting and will also receive a gift bag from the LVCVA.
The LVCVA looks forward to honoring its first Hospitality Heroes at its Board of Directors meeting on April 13. For more info on the LVCVA or the Las Vegas Convention Center, visit LVCVA.com or VegasMeansBusiness.com.
The Las Vegas Convention and Visitors Authority is charged with marketing Southern Nevada as a tourism and convention destination worldwide and with operating the 4.6 million sq.ft. Las Vegas Convention Center. With nearly 150,000 hotel rooms and more than 13 million square feet of meeting and exhibit space in Las Vegas alone, the LVCVA's mission centers on attracting leisure and business visitors to the area. The LVCVA also owns the Convention Center Loop, an underground tunnel designed by The Boring Company to transport convention attendees throughout the 200-acre LVCC campus in all-electric Teslas free of charge. It also owns the Las Vegas Monorail, an elevated 3.9-mile system with seven stops throughout the resort corridor. Both transportation systems will operate when conventions reconvene. For more info, visit www.lvcva.com, www.visitlasvegas.com or www.vegasmeansbusiness.com.