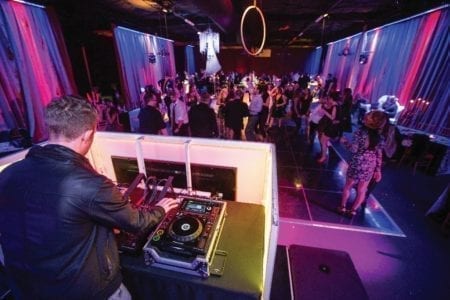 A One-stop Shop That Can Create a Most Amazing Event Experi-ence, Start to Finish
What is Last Minute Venues?
Last Minute Venues is a venue selection company owned by Melanie Bash and Molly Hoisington. We partner with hundreds of spaces in Las Vegas to bring our clients events that fit every budget, request, and space. Our clients are busy enough trying to put together their marketing material, building their booth, and setting up meetings. We send them several options based on what they are seeking.
What type of venues do you represent?
We represent several restaurant and nightclubs, but beyond that, we have former celebrity mansions, industrial space, out of the box meeting space, event spaces, and reception spaces. There are so many hidden gems in Las Vegas and we are here to show all the great spaces. A lot of spaces are not advertised, but they do rent out for private parties. When a venue such as a restaurant closes in a hotel, many will still book the space for private events.
What are some things people need to know before they start looking for a venue?
The most important place to start is budget. Set the range of what you want to spend per person or overall. Las Vegas has venues that can range from $50-250 a person. When a client sends a request without a range of budget, it just wastes their valuable time if we send options out of range. After setting a budget, it is important to know the goal of your event. Do you want a high energy party, a WOW factor, a view of The Strip or an elegant event? After we get the first two ideas, we can send several options with pricing.
What about when a client wants to just rent a hospitality suite and bring their own food?
We get this question from a lot of clients. Renting a hospitality suite can seem like the greatest way to save if you have fewer than 50 guests. However, most hotels are very strict about only using their food and beverages. It is not worth having your networking event or reception get shut down right in the middle. There are some great spaces that are out of the box and are cost effective. Last Minute Venues has venues that rent parts of their semi-private space for very low minimums. You can enjoy a great event and also have access to the rest of their venue if guests want to stay longer.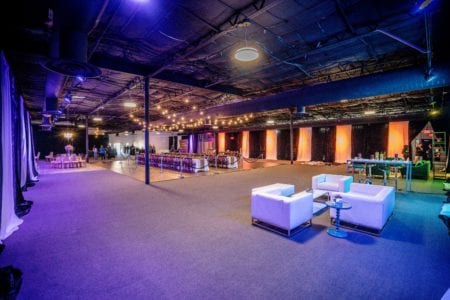 After the client finds a location, what do you feel is the next best step?
There are several things that need to happen next, in no particular order: selection of the food and beverages; or deciding if you want reception-style with passed appetizers or stations for guests to help themselves. Think about what type of event you want and really imagine everyone at the event and what would be best. For example, if the guests are coming from the tradeshow floor after a long day, the last thing they might want is to chase a tray around or wait on the server to come back with a tiny bite of shrimp. Once you have decided on the food and bar flow, it is important to go over a few things with the venue. Always ask about signage. Do they provide any for free, what are the requirements to place signs, and do they have digital screens? Is there any place else you might be able to brand that is free or do they charge? After branding and signage has been decided, move onto linens and décor. Start with what they offer free, but ask about everything – linen, centerpieces, DJ, lighting, and audio-visual. If you still have budget, bring in entertainment, more décor, cigar-rollers or something fun to really make it a night to talk about.
How does Last Minute Venues create an everlasting experience for parties on a tight budget?
We have been fortunate enough to have thrown several hundred events in the past 15 years. Because of this we have a database and knowledge of venues that will work with a client's budget. We can offer food stations at a lower cost and find unique venues that create a memorable event. We partner with each client to find out their specific goals and expectations for their event so we may send them some great options within their price range. Each of our venues has something wonderful to offer that will create an event that guests will talk about for weeks to come.
How can you use easy decor to make your event design have a wow factor in the party venue?
Creating a unique lay out can grab guests' attention the moment they enter. Having the buffet in the middle of the room shaped as an X and up-lit with gobo lights really pops; this will set your event apart from the rest.
Use color to tie in items in the event – linens, plates, chairs, skirting etc. Contrasting colors make rooms stand out; you can use standard black linens from the hotel and bring in bright yellow flowers or lighted branches for an inexpensive look.
Food display can be done in creative ways and add an exciting element to your event. Edible items can be used as cool centerpieces on buffet stations and tables.
Art displays can be used to create a classy and elegant look for your event. Many local artists would love to have a showcasing opportunity at no additional cost to your budget.
Utilize natural elements in your event design to keep costs down such as branches, or wildflowers. These elements are lower in cost than traditional floral arrangements.
Discount fabrics can add color and unique ambiance to your event. Draping can add so much to the space and can also create an intimate atmosphere in a large space.
Lighting – with all the new lighting options, you can create a dramatic room for a lower price than taking a theme and using standard décor.
If in a venue, see if they will offer any specialty linens or upgraded linens at no charge.
Ask hotel or venue to add centerpieces at no cost.
Pipe and drape a room and use up-lighting.
Use no cost social media; create hash tags and encourage guests.
These ideas can give you some great ways to create a beautiful event that is affordable and unique.
How is Last Minute Venues connected to other party vendors in servicing the clients' needs?
Last Minute Venues has partnerships with event party vendors who are able to give our clients VIP special pricing to meet all needs. From caterers, to decor, to staging, lighting, DJ's, entertainers and all other services, please visit lastminutevenueslv.com. To book any of our unique venues please contact Melanie@lastminutevenueslv.com, Molly@lastminutevenueslv.com or call 702-497-9169.