Exhibit industry professionals often attempt to build the value of their brand by using booth themes, promotional tie-ins and integrated marketing messages. These tactics engage audiences on a personal level and promote attendee recognition after the show.
This year at EXHIBITOR2011, many exhibit companies set the benchmark by creating value for their brand with a themed booth as the focal point of the campaign. The overall branding and marketing made some of these themed booths standout more than the others. The following is a sampling of those exhibits.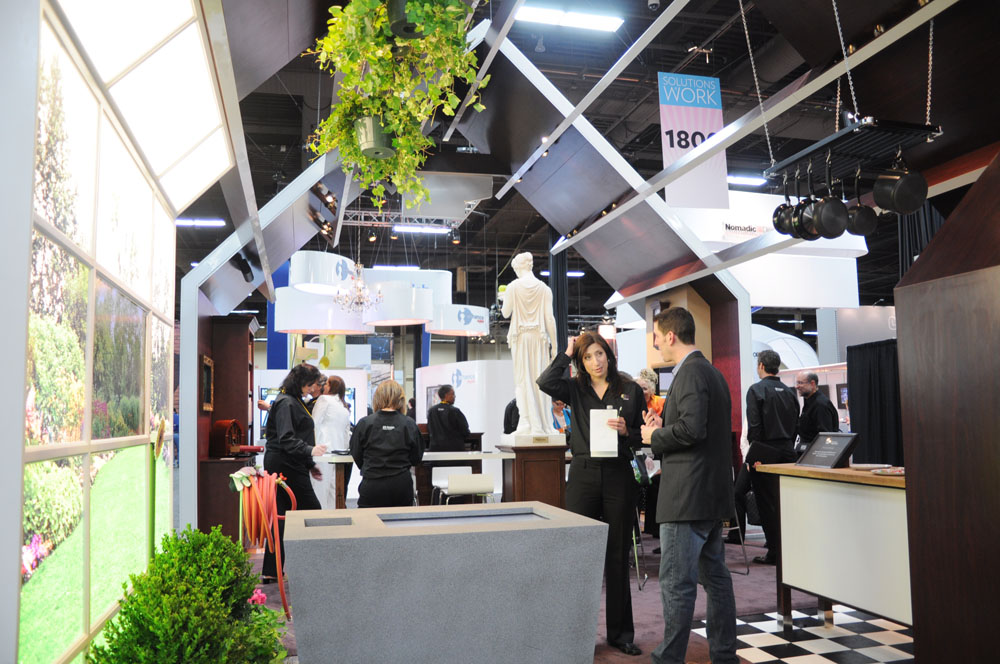 MG Design
Theme: Take the Mystery Out of Integrated Exhibit Technology
MG Design focused its theme around a Mansion of Mystery exhibit, based on the premise that exhibit technology options are often a mystery to exhibit managers. According to a pre-show mailer, attendees who visited the MG Design exhibit would learn how MG Design takes the mystery out of creating powerful tradeshow exhibits.
MG Design's exhibit resembled the interior of a mansion with multiple rooms that showcased a different type of technology exhibit managers should consider incorporating into their exhibits or marketing programs.
"Our exhibit provides a clear look at new and exciting technology options and the benefits of using these technologies while illustrating how to integrate them into a powerful exhibit experience," said John Patten, president of MG Design. "We want attendees to take a fresh look at how technology can be used to enhance lead and data capture; tailor and target content for attendees; and provide enhanced brand experiences."
Upon entering the Mansion of Mystery, attendees start a personalized tour of discovery based on "hot buttons"-issues they identify as important to them. Using Radio Frequency Identification (RFID) technology to tag the attendee and their hot button topics, MG Design's staff gives the attendees a hands-on tour of the showcased technologies – RFID, QR/Mobile, Augmented reality, social media – and how they can incorporate the technologies into their exhibit as MG Design did with its Mansion of Mystery.
MG Design used pre-show direct mail and email to promote its Mansion of Mystery. On the second day of the show, the company sent out a Twitter posting that invited attendees to "Tweet Up" at its exhibit for "Tweet Cups," pink-frosted cupcakes with a question mark for decoration.
MG Design specializes in corporate and retail branding environments, strategic marketing and logistics management.
Live Marketing
Theme: The New Rules of Engagement
"Our clients are always asking us, what is the best way to engage customers face-to-face and online," said Kristin Veach, vice president of marketing, client marketing services for Live Marketing. "How, in this ever-changing world do they pull together face-to-face, digital strategies and virtual events? How do they incorporate social media into effective engagement programs? With these questions in mind, we created the theme The New Rules of Engagement."
During exhibit presentations, the Live Marketing team introduced attendees to five different trends in engagement; face-to-face, social media, technology, online and pre- and post-event engagement. The presentations and other in-booth activities were also streamed live to the company's website. Presentation attendees also received a small box of Godiva chocolates. To promote its attendance at EXHIBITOR2011, Live Marketing implemented an integrated marketing campaign consisting of pre-show and post-show direct mail and emails, launching an EXHIBITOR2011 microsite, press releases and a social media campaign.
Live Marketing is an integrated engagement marketing agency.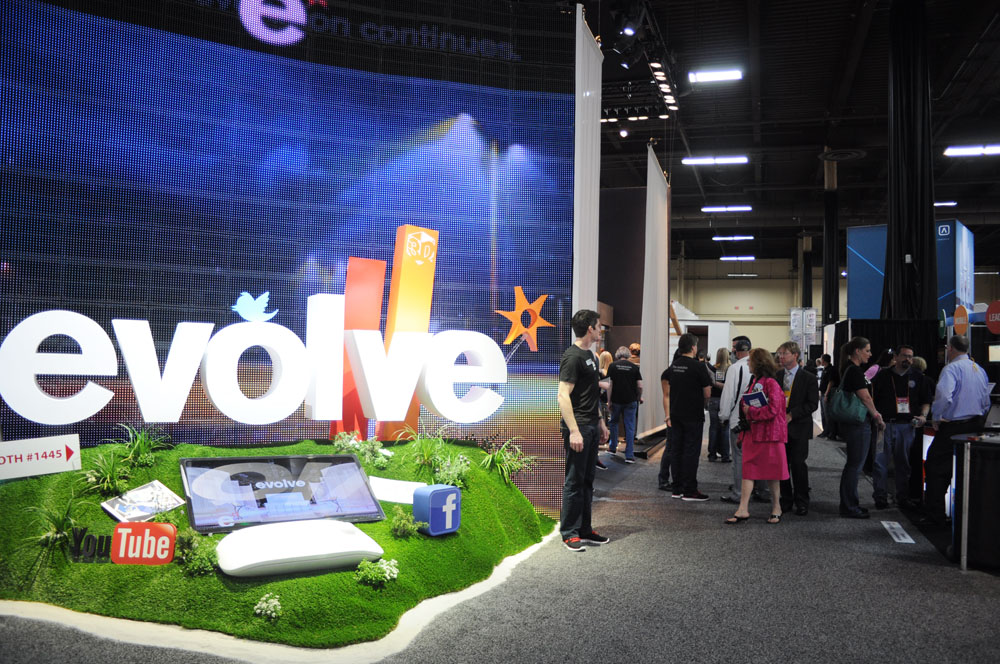 3D Exhibits
Theme: Evolve in Unexpected Ways
3D Exhibits, Inc. offers exhibit design, rentals, construction, and fabrication services and event planning, trade show and integrated marketing campaigns, live marketing and tradeshow program management.
"We unveiled a new theme this year, Evolve in Unexpected Ways, as a continuation of evolution," said Nicole Genarella, vice president of marketing for 3D Exhibits. "Our theme last year was Evolve Your Approach, and evolution does not end after one year. In the tradeshow industry, things are constantly changing and adjustment is essential. 3D Exhibits continuously evolves in unexpected ways to handle the obstacles that our customers face by delivering innovative solutions that make our customers stronger, smarter and better positioned to succeed in the marketplace."
3D Exhibits' EXHIBITOR2011 program components and activities included technology demonstrations, social media integration, guerilla marketing and integrated data capture.
There were also two contests. An "@3D_Exhibits Twitter hashtag giveaway" encouraged show attendees to follow 3D Exhibits and include the hashtags #evolve3D and #exhibitor2011 in their Tweets for a chance to win prizes. A second contest, "3D Exhibits Microsoft Tag Tour," encouraged live and online participants to scan 3D Exhibits' Microsoft Tags to win iTunes gift cards or one of three "unexpected" grand prizes worth $500.
"We gave one (prize) away a day, a $500 donation to a charity of your choice, a $500 Mandalay Bay poker chip and a $500 Amazon gift card," said Genarella. "We wanted to give them something unexpected; unexpected in that each day it was a different giveaway."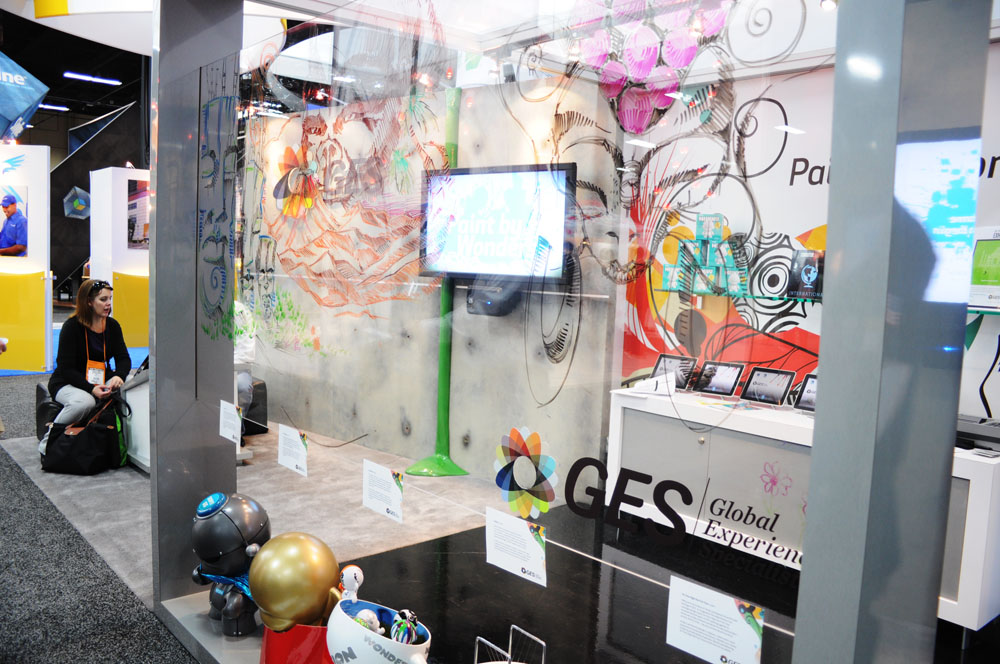 GES
Theme: Paint by Wonders
For EXHIBITOR2011, GES created a multi-faceted attendee experience beginning from the moment attendees arrived at McCarran International Airport and continuing to the show floor. GES' overarching theme of "Paint by Wonders," was supplemented by its exhibit which was themed the "Artist's Loft."
The GES Exhibit provided personal and creative activities to engage the attendees, including letting attendees "Paint by Wonders" through an interactive, multimedia experience using touch-screens.
A full-color photo and story of a GES project was revealed as attendees 'painted' the image with the touch of their fingers. The exhibit also offered an artist who painted on the exhibit's panels throughout the show.
"Our booth offered attendees a high-touch, personal and inspiring experience illustrating GES' passion for service and results," said David Saef, executive vice president, strategy and marketing for GES.
GES also provided EXHIBITOR2011 attendees complimentary transportation from McCarran International Airport to Mandalay Bay, Excalibur, Luxor and the Four Seasons hotels the first day of the conference. GES' representatives, holding balloons and signage, were present near airport escalators and exits to direct guests to the shuttle. The day after GES' VIP event at Jack Gallery in Mandalay Place, their 18-inch employee-designed "Munny" figures disappeared on a "H
ang Over" style adventure.
Attendees were encouraged to reply to Tweets sent by GES that included picture clues showing where the Munnys were located. When they replied, they let GES know where they thought the Munnys were hanging out. Those who guessed correctly received a gift when they stopped by the exhibit. A Munny doll is a blank figure that can be decorated using pens, pencils, markers, paint, and other supplies.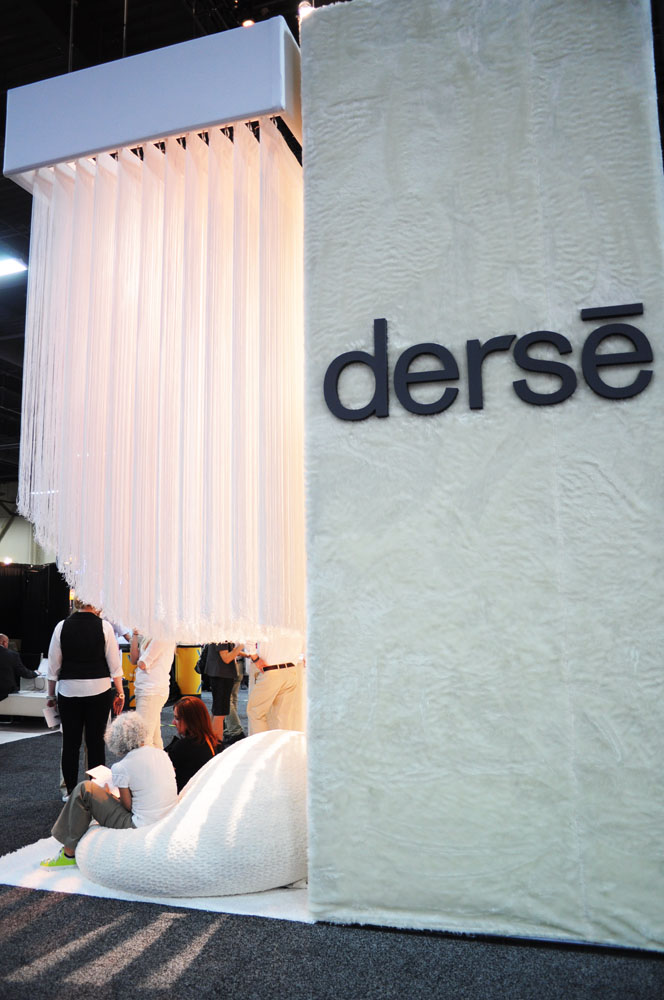 Derse
Theme: Step Outside Your Comfort Zone
"Stepping outside your Comfort Zone can be, well, uncomfortable," said Derse's EXHIBITOR2011 press release. "At Derse, we think this is a pretty common reaction to the new face-to-face marketing landscape, but the fact of the matter is, nestling into a comfort zone (i.e. relying on familiar tactics and solutions) can prevent companies from achieving the results they are being held accountable for."
"Our theme was developed to show attendees that doing something different doesn't have to be scary," said Heather Rosenow, vice president of marketing for Derse.
Throughout EXHIBITOR2011, Derse staff members guided attendees through their exhibit, first making them comfortable by offering them a comfy chair and chocolate chip cookies.
Once an attendee was comfortable, the attendee was escorted out of the "comfort zone" and into a dark tunnel, guided by a Derse team member and a flashlight. Once on the other side, attendees were exposed to strategies that may have been outside of their comfort zone, but that were focused on delivering meaningful results. Attendees were also invited to sit on a seat of screws (sharp side up) and offered wild hibiscus flowers to munch on as a way of showing the attendee that it doesn't always hurt to try something different.
As a gift for visiting the Derse exhibit, attendees were given a ticket to ride X-Scream, high atop the Stratosphere Hotel. Located 866 feet up, the X-Scream dangles riders weightlessly above the Las Vegas Strip. Attendees were told that if they brought back a validated X-Scream ticket, they would receive an additional giveaway, a pair of "instant underpants."
Derse is a face-to-face marketing agency that assists clients with exhibit sales and managing their tradeshow, marketing environment and event programs.
ExpoDisplays
Theme: I Lost 6,400 Pounds & CFOs Love Weight Loss Too
"What we are trying to convey to attendees with our slogans, 'I lost 6,400 pounds' and 'CFOs Love Weight Loss Too,' is that in comparison to the traditional custom display, using our MultiQuad display, one could conceivably lose that kind of weight, which relates to tangible savings in terms of shipping and drayage," said Jay Burkette, vice president of sales for ExpoDisplays. "In this product line (MultiQuad), the displays weigh about 20 percent of what a custom display weighs. Obviously someone is looking closely at the bottom line within a tradeshow program, and if you can show a quantifiable reason, how you can save money every time you use the exhibit, the CFO, or whoever is tracking the bottom line, will be happy."
MultiQuad is a portable exhibit system consisting of interchangeable aluminum frames and magnetically-attached "quads" that give exhibitors the freedom to change configurations and finishes in seconds, Burkette explained.
Prior to EXHIBITOR2011, ExpoDisplays sent out a pre-show mailer, "Redeem for Green," which invited attendees to redeem the mailer for $10. "Redeem for Green" is ExpoDisplay's exhibit recycle program where, instead of paying to send an exhibit to the landfill, the exhibitor sells the frames back to ExpoDisplays for up to 20 percent of the exhibit's current manufacturer's suggested retail price.
ExpoDisplays is a full-service custom exhibit house offering design and fabrication of custom tradeshow exhibits, mall kiosks, museum exhibits, showrooms and retail environments.
Aleta Walther is a marketing communications professional and freelance writer with several years' experience as a corporate exhibit manager. Contact Aleta at aleta@prwriterpro.com or http://prwriterpro.com