The 20,000 square metre expansion of the Melbourne Convention and Exhibition Centre has officially opened making it Australia's largest convention and exhibition space.
The AUD 205 million addition increases MCEC to a total size of 70,000 square metres. New facilities include The Goldfields Theatre, a 9,000-square-metre multi-purpose event space with a retractable 1,000 seat theatre and new exhibition halls. There are also new meeting rooms, an outdoor terrace, banquet space and the Goldfields Cafe and Bar.
The expansion is part of a larger South Wharf expansion project in Melbourne that includes a new 347-room Novotel Melbourne South Wharf that is fully connected and integrated with MCEC.
"The opening of the new MCEC expansion further cements Australia's innovative event delivery capabilities," says John O'Sullivan, managing director Tourism Australia. "Currently there is an unprecedented level of infrastructure development underway in Australia meaning we have the business event venues, accommodation, technology and service providers that can make any event a success, from a small incentive group to one numbering in the thousands."
The expansion coincides with the introduction of a specialized MCEC production team who offer services in audio, rigging, lighting, vision, multimedia, network systems and production management.
MCEC also recently announced they have joined forces with reputable Melbourne organizations to support the development of a wind farm, of which construction is now underway in regional Victoria. The intention is for the wind farm to supply the projected electricity for the 20,000 square metre expansion.
"Customer experience was front of mind when planning the design–we wanted to ensure our facilities suited the needs of our customers, rather than constraining them to fit within our space," says MCEC Chief Executive Peter King.
MCEC Celebrates Opening with Game-Changing C2 Labs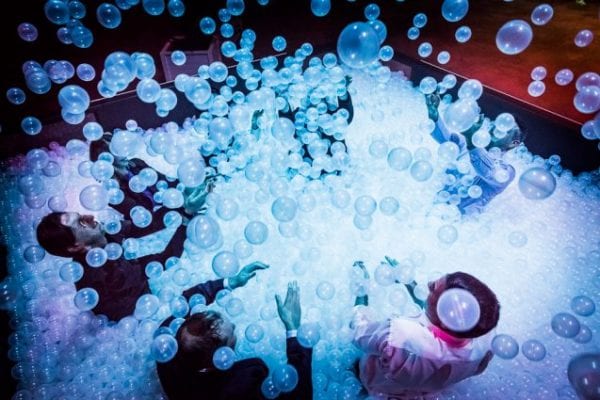 The Centre celebrated the opening of its expansion with a series of events designed to showcase its new spaces, including a chance to experience the interactive C2 Labs that are now available through its world-first partnership with C2 International.
Signature C2 Labs, including Cloud, In the Dark, Pool and Barometer, were demonstrated to customers, industry and media over two big days. The showcase marks another important milestone for MCEC, with the C2 Labs now available for customers to integrate into their events.
CEO King says MCEC's relationship with C2 would inspire customers by providing highly customizable and unique experiences at MCEC. "This exclusive partnership is a differentiator in the competitive and contested market in which we compete both internationally and domestically," says King.
C2 Labs bring to life C2's mission to challenge conventions and explore a new approach to business events through immersive workshops, brainstorming sessions, performances and festivities.
Martin Enault, C2 Asia Pacific CEO, explains, "Our immersive experiences are proven to re-energize and re-tool leaders, allowing them to find creative solutions to real-world problems."
Inspired by the idea that creativity is fundamental to driving commercial and economic change, the C2 Labs at MCEC challenge delegates to collaborate, take risks, flex their ingenuity and leave their comfort zones behind. This progressive approach to conferencing, meetings, incentives and exhibitions sets the stage for reshaping the future of business events.
The aim of each signature C2 Lab is to put imagination at the forefront. Thinking outside the box is no longer a theoretical exercise. Sky, one of the C2 Labs, literally suspends participants six metres in the air so that the change in perspective supercharges blue sky ideas.
C2 Labs at MCEC
Sky
Imagine being suspended in a chair ten meters above the ground. This sky-high brainstorming experience gets participants' feet off the ground and challenges them to capture stratospheric ideas.
Cloud
In our fast-changing times, fear of the unknown quickly clouds decision making. Participants navigate uncertainty in a fog-filled dome to find ways to deal with chaos in business and society alike.
Pool
In the pool, participants dive into fond childhood memories, barriers fall and new ideas take shape. The perfect scenario to start a conversation on the future of business.
In the Dark
The lights are out. In a pitch-black inflatable room, participants engage in a guided discussion. This is where unexpected outcomes come to light.
Blueprint
What can business people learn from construction and urban planning? By combining design-thinking and building blocks, Blueprint gives participants the chance to tackle complex systems, one brick at a time.
Cake
What happens when you bring together chefs, foodies and participants to assemble a gigantic cake? The experience of preparing and measuring ingredients, mixing, layering and decorating calls for culinary collaboration that demonstrates the value of teamwork.
Barometer
Designed to highlight our commonalities and diverse perspectives, Barometer captures the collective conscience of an entire room on topics that polarize opinions.
Lab to Go
Lab to Go proposes that participants pool resources, insights and expertise to find concrete solutions to timeless business challenges. The Lab puts this thinking to the test, giving teams of strangers the tools to solve a series of practical puzzles.
For more info, visit mcec.com.au/c2​. For more info on Business Events Australia, visit  www.businessevents.australia.com