Despite the snap 7-day lockdown, tickets for THE LUME Melbourne went on sale.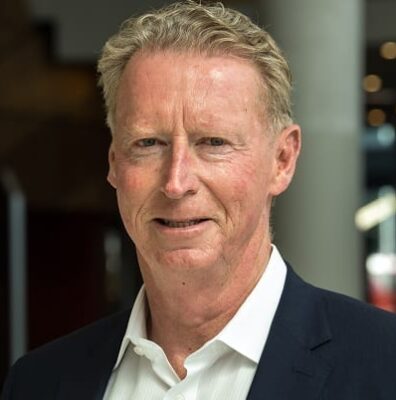 Peter King (pictured left), chief executive of Melbourne Convention and Exhibition Centre, said MCEC is thrilled to be using the venue in exciting new ways. "This partnership is possibly the most exciting opportunity we have been involved with for a long time. It is literally world leading experience technology that we can use with our own industry partners along with providing a much-needed new attraction for Melbourne. THE LUME is another way MCEC is using our space in unconventional ways, to ensure we keep innovating, evolving and making an impact where it counts. This partnership provides an opportunity to bring people back to Melbourne and is helping to drive economic activity back in the heart of our city."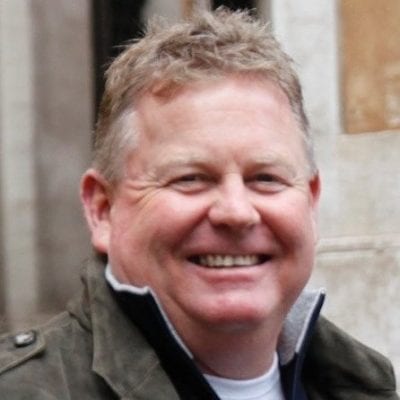 The founder of Melbourne-based creators, Grande Experiences, Bruce Peterson (pictured right), anticipates an excited reception to the opening of THE LUME Melbourne on September 1. "2020 and the impact of COVID-19 created enormous challenges globally, but due to the nature of our experiences, over 1.5 million visitors across Australia, Asia, NZ, USA and the UK have been engaged in our multi-sensory, contact-free immersions into art," says Peterson. "2021 continues to throw curve balls, and this lockdown will be impacting so many people, particularly across the arts and entertainment industry, but this is the new world we live in and come September this will be the perfect way to celebrate togetherness with Van Gogh. We are thrilled to establish this iconic, new, cultural attraction to join Melbourne's beloved art scene."
The inaugural experience for THE LUME Melbourne, proudly presented by Lexus, is an epic adventure into the life and works of Vincent van Gogh.
THE LUME Melbourne ran pop-up projections at iconic Melbourne locations to signal Vincent van Gogh's imminent arrival into the city. Projections of Van Gogh's artworks are merely a tease of what's to come. A reimagining of 3,000 paintings, sketches, letters, photos and floral works burst to life as part of this extraordinary multi-sensory experience opening at THE LUME Melbourne on September 1.
THE LUME Melbourne is in a league of its own for immersive experiences. With a 3,000+ sqm gallery space soaring four stories tall, brought to life with state-of-the-art technology, THE LUME Melbourne offers a brand-new type of sensory encounter for anyone wanting a meaningful, shared and exciting way to explore art.
"We can't wait to welcome visitors on September 1 to THE LUME Melbourne after what might be a long and challenging winter for us all," Peterson says.
THE LUME Melbourne, Australia's newest cultural attraction, showcases the world's finest art on an epic scale. Explore, play, dance and marvel as every surface becomes an animated canvas. Masterpieces spring to life from floor to ceiling, providing visitors the unique opportunity to immerse themselves in the artistry and world of Vincent van Gogh, through the eyes of this renowned artist.
Be surrounded by his shimmering Starry Night while indulging in the flavors of 19th century France at their reimagined Terrace Café 1888. Paying homage to Van Gogh's Dutch heritage as well as the inspiration he found in Paris and regional France, the menu reflects classic French café culture with a nod to Dutch cuisine. Curated tastes, evocative aromas, captivating imagery and a stirring soundscape weave together seamlessly to create a one-of-a kind visitor journey.
The gallery also includes a dedicated mirror infinity room packed with hundreds of sunflowers and a life-size recreation of Van Gogh's famous Bedroom in Arles for selfie enthusiasts.
Sessions at THE LUME Melbourne run from 10am weekdays and 9am weekends, 364 days a year. Sessions will run into the evenings, perfectly suited to corporate as well as family and social events. Prices start from $39 for adults, with free admission for children under four. Those looking to book are encouraged to do so quickly as sessions are expected to sell out. Bookings opened June 3 at Ticketmaster or www.THELUME.com
Van Gogh at THE LUME Melbourne is presented by Lexus. At the core of the Lexus Brand is a dedication to evoking all senses in harmony, perfectly in tune with the multi- sensory experiences provided by Van Gogh at THE LUME Melbourne where, from start to finish, visitors are surrounded by a vibrant symphony of light, color, sound and fragrance.
THE LUME Melbourne would like to acknowledge the support and investment by City of Melbourne and Victorian Government designed to boost jobs and businesses in the events sector. City Reactivation Event Grants, as part of The Melbourne City Recovery Fund, were announced earlier this year and one such grant was awarded to THE LUME Melbourne to support jobs and visitation.
Melbourne Convention and Exhibition Centre is the home of unconventional. As they explain, "At MCEC we do things a little differently. We bring fresh ideas and imagination to every event. We happily turn concepts on their head to make each experience momentous. We welcome events of all shapes and sizes, from meetings and conferences to exhibitions, concerts and galas, whether in-person, virtual or hybrid. And our city is our inspiration. Melbourne is on show at MCEC—in the architecture and design, food and hospitality, location and views. Discover the difference at MCEC." For more info, visit mcec.com.au
Grande Experiences, the creator and producer of THE LUME Melbourne and Van Gogh Alive, is a world leader in the creation, design, production, promotion and installation of large-scale exhibitions and immersive experiences with broad cultural appeal along with engaging, entertaining and educational content. From concept to completion Grande Experiences creates visually and technically stunning masterpieces and presents them around the world. Its experiences have been displayed 200+ times in over 150 cities, in 32 languages, across six continents enthralling audiences of more than 18 million people. Grande Experiences also owns and operates Museo Leonardo da Vinci, a prestigious permanent museum in central Rome, Italy and plans to open THE LUME at The Indianapolis Museum of Art later this year. The LUME Melbourne acknowledges Aboriginal people as the traditional custodians of the land on which we live and work. The LUME Melbourne acknowledges and respects the history, culture, diversity and value of all Aboriginal and Torres Strait Islander people and is committed to working respectfully to honor their ongoing cultural and spiritual connections to this country. For more info, visit grande-experiences.com