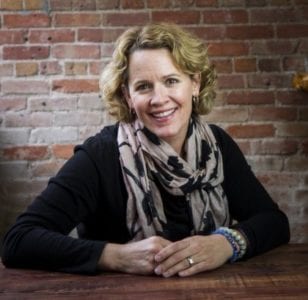 The DMC Network is delighted to announce that Melissa Murray (pictured right), CEO of Mosaix Group and DMC Network affiliate partner for Charlotte and Asheville in North Carolina, has been named as the recipient of the 2017 Woman Entrepreneur, Best in Business Award by the Asheville Area Chamber of Commerce.

The Woman Entrepreneur, Best in Business Award recognizes women who demonstrate the transformation of a dream into the reality of a product or service. Each year the person chosen is someone who exhibits the willingness to take risks, has extreme personal drive and focus, perseveres in the face of adversity, and whose innovation and business acumen are second to none – all traits of a strong entrepreneur.

Speaking of the recognition, managing director of the DMC Network, Dan Tavrytzky, said, ''When choosing the right partners for the DMC Network, we look to create a community of 'go-getters' – people with drive, vision and creativity. Melissa's drive was clear from day one of our working together. She has built Mosaix Group from a single person entity into a multimillion-dollar corporation over the last 16 years and we are delighted to be able to celebrate her hard work through this wonderful recognition.''

Murray commented, "Mosaix Group has been the ultimate passion project of my career. I'm a people person, and the meetings and events industry is all about people and relationships. To be able to create a successful brand that allows me to work with fabulous clients and an outstanding staff every day is a dream come true. I am truly honored to be included with so many other talented and successful women.''

Mosaix Group delivers a full-spectrum of corporate events and meetings defined by quality, collaboration, and creativity. Events are produced with meticulous planning, utilizing state-of-the-art resources and strategies that blend innovation and service, and are executed on time and on budget. Covering North Carolina, with a particular focus on both the Charlotte and Asheville areas, and with more than 100 years of combined event design work in the conference planning, incentive trip and special events industry; the team has a myriad of award-winning events under their belt. Attention to detail, unique service offering and one-of-a-kind experiences are the sweet spots of Mosaix Group – through their expertise they will develop your vision and turn your ideas into a reality. For more info, visit www.mosaixgroup.com

The DMC Network brings connection to a community of accredited, owner-managed DMCs whose unsurpassed local relationships, knowledge and expertise offer peace of mind and consistent program delivery. Unique in the industry, the DMC Network is an LLC of the top-performing, independently owned DMCs operating throughout the U.S., Mexico, the Caribbean and Central America. With an average of more than 25 years in business and more than twice as many accredited DMCs as any other DMC consortium or company, each DMC Network member delivers unsurpassed knowledge of their market and a confidence that they are a sound, professional organization that consistently exceeds clients' expectations. With an insider's knowledge, the DMC Network makes it effortless for their clients to produce meetings and events around the world. For more info, visit www.dmcnetwork.com.