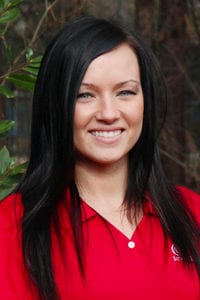 Momentum Management, a nationwide labor services company, announces a job transition for Christina Ledford from account coordinator to account manager.
Christina started her career with Momentum Management in early 2016 as an account coordinator where she was responsible for estimates, service orders, learning the Momentum Management proprietary database system and also working in a team support role where she assisted all sales team members to make sure that no details were left unnoticed.
"Christina's move to the account manager role was a perfect transition for her and for our exhibit house customers," said General Manager Rick Bellerjeau. "Her stability and dependability in the area of customer support, as well as her organizational strengths and ability to thrive in a fast pace environment allowed her to glide into the coordinator role with ease.  These assets will only strengthen in this new role of manager which includes overseeing show floor activity and enhancing communication among clients, the show floor and within the Momentum Management family.  We are grateful to continue to have the opportunity to add excellent and skilled individuals to this growing company."
"Momentum Management is a company that truly takes pride in its core values and demonstrates those daily," said Ledford. "Being given the opportunity to grow within Momentum Management is an honor – Momentum is a place where you want to belong."
Momentum Management focuses on all aspects of labor services including, installation, dismantle and supervision for our exhibit house partners at trade shows, in addition to permanent installations and private events.  Momentum Management's strategic approach is to become an extension of our exhibit house partners in order to enhance the overall value delivered to their customers.  More information about Momentum Management is available at www.momentummgt.com.