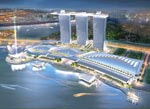 Although many tourists, business travelers, local retailers and job seekers are eagerly awaiting the opening of the Marina Bay Sands Hotel Towers in Singapore in early 2010, it is the hotel's integrated convention facilities that are creating buzz among international exhibit and meeting professionals.


"Marina Bay Sands will be a unique MICE (Meetings, Incentives, Conventions and Exhibitions) destination in the region because it offers the most accommodating convention and exhibition facilities – the Sands Hotel, Las Vegas-style gaming, world-class shops, celebrity chef restaurants and the best entertainment – all under one roof," said Paul Stocker, executive director of sales for Marina Bay Sands. "Importantly, Marina Bay Sands is strategically situated in the central business district of downtown Singapore and just 20 minutes away from the airport."
The $5.5 billion Marina Bay Sands is being developed by Marina Bay Sands Pte. Ltd., a subsidiary of Las Vegas Sands Corp. Las Vegas Sands Corp. is a powerhouse among hotel, gaming, and resort development companies and is headquartered in Las Vegas. The corporation owns The Venetian Resort Hotel Casino, and the Sands Expo and Convention Center, both in Las Vegas, and Venetian Macao Limited, a developer of multiple casino hotel resort properties in The People's Republic of China's Special Administrative Region of Macao.
"Marina Bay Sands Expo and Convention Centre will leverage Las Vegas Sands' global network of established MICE industry players and its extensive offering of world-class exhibition and convention facilities and leisure options," as stated in a corporate fact sheet. "Marina Bay Sands will attract hundreds of thousands of meeting and convention visitors to Singapore. Marina Bay Sands will work to bring events from key sectors such as banking, finance, infocomm technologies, digital media, biomedical sciences, transportation and logistics."
The Marina Bay Sands Expo and Convention Centre will consist of:
• More than five floors of space
• A flexible convention center offering 250 meeting rooms with capacity for more than 45,000 attendees
• Anexhibition hall which can accommodate about 2,000 exhibit booths
• A grand ballroom, which can be configured into 16 meeting rooms, has a seating capacity for 6,600 individuals for a banquet, 7,000 for a stage performance or 11,000 for an auditorium-style event
• When not on the tradeshow floor or attending seminars or meetings, convention and meeting attendees will have no problem finding ways to spend free time.
Located along the Marina Bay waterfront, the 55-story, three-tower, Marina Bay Sands will also offer 2,600 opulent rooms and suites, a breathtaking rooftop SkyPark, a museum consisting of a blend of art and science exhibits, an outdoor event plaza, a 4,000-seat theater for concerts, Broadway musicals and more; 300 stores in a mix of international luxury brands, a plethora of dining options – from cosmopolitan cafes and world-class dining to restaurants helmed by celebrity chefs; and a casino with Las Vegas-style gaming, including the exclusive Paiza Club for premium players.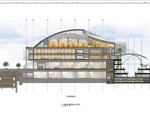 The ambitious multi-tower design will be topped with a 2-acre rooftop Sands SkyPark which provides 360-degree view of Singapore's skyline, neighboring Malaysia and surrounding Indonesian islands. The SkyPark is being touted as a tropical oasis in the sky with beautifully sculptured gardens, bars, restaurants and three linked swimming pools. The garden in the sky will feature 250 trees and hundreds of plants. An engineering marvel, the Sands SkyPark is expected to be the world's largest public cantilever and capable of accommodating 3,900 people.
Marina Bay Sands to host 2010 UFI Conference
Although the Marina Bay Sands convention and exhibition facilities are still under construction, UFI Congress organizers tapped the Singapore mega resort as the host location for its 2010 conference.The 77th UFI, Global Association of the Exhibition Congress, is scheduled for Nov. 10 – 13. The congress is expected to attract delegates from more than 50 countries who will share their professional views on the course of the industry, exchange ideas and network via a series of activities planned for the three-day conference.
"Hosting this important international congress in Singapore was an enthusiastic choice of our association," said Vincent Gèrard, managing director of UFI. "Singapore last hosted the UFI Congress in 1994. We are delighted to be able to return again to a location which is an outstanding representative of the MICE industry."
UFI members are responsible for the management and operation of more than 4,500 exhibitions and 181 exhibition centers around the world. UFI promotes, serves and represents the trade fair industry worldwide and is present in 83 countries. UFI members are responsible for the management and operation of more than 4,500 exhibitions and 181 exhibition centers around the world. Members include leading show organizers and fairground operators, national and international professional associations and industry partners.
The Singapore Association of Convention and Exhibition Organizers and Suppliers (SACEOS), the trade association representing the MICE industry in Singapore, will spearhead the organization of the UFI Congress.
"We are very proud and honored to host the UFI Congress, one of the global industry's most prestigious events," said Edward Liu, president of SACEOS and chairman of the organizing committee. "The UFI Congress presents a wonderful opportunity to expose the international delegates to the facilities in Singapore and the capabilities of the local exhibition industry players. Such an event will play its part in attracting more organizers to host events in Singapore."
For more information on the Marina Bay Sands Expo and Convention Centre visit www.marinabaysands.com. For more information on hosting meetings or other events in Singapore, go to www.visitsingapore.com/mice/ or www.visitsingapore-usa.com.
Aleta Walther is a marketing communications professional and freelance writer with several years experience as a corporate exhibit manager. Contact Aleta at aw@waltherstewart.com.