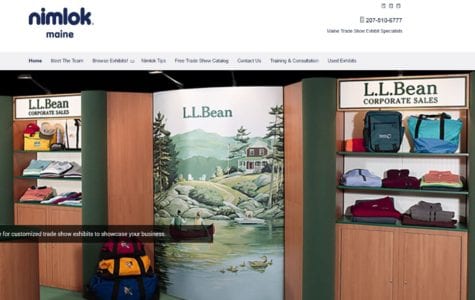 Nimlok, a division of Orbus Exhibit & Display Group, is happy to announce that Nimlok Maine, the expert exclusive Nimlok distributor in Maine, launched a new website. The new website boasts a modern and well-designed layout focused on educating visitors on Nimlok Maine's exhibit and displays expertise.
Nimlok is a global leader in delivering face-to-face marketing experiences, including trade show exhibits, event environments and permanent solutions for branding spaces. Now in its fourth decade, Nimlok works via a network of 200 partners in 56 countries to provide strategy and execution in custom modular design, construction, installation, dismantling and storage of trade show displays.
"Our website has always been an important way for us to teach our visitors about our capabilities and services," said Ken Janson, CEO of Nimlok Maine. "The redesigned website has a new, more streamlined look and feel and improved functionality to ensure a more engaging experience for our users."
Nimlok Maine's new website will be regularly updated with company news, trade show training tips and trade show marketing resources.
Learn more about Nimlok Maine's offerings by visiting its newly launched website at www.nimlok-maine.com.