by H. K. Wilson
As we continue our journey to recovery in 2021, we are constantly gathering new insights about ourselves and our industry. We are learning what we are capable of, how to adapt to new demands and where the next opportunities will be. This week, Bizzabo is shedding light on these questions with the release of a new study, while Orbus and Volan are pivoting to supply COVID-related solutions. Henry Ford's words are proving true: "If everyone is moving forward together, then success takes care of itself."
Bizzabo Releases 2021 Virtual Event Benchmarks
Virtual events exploded in 2020 as brands and event marketers sought to navigate COVID-19.
Bizzabo, the world's leading event success platform, recently released its 2021 Virtual Event Benchmarks, with data gleaned from nearly 2,000 virtual events that took place between July 1-October 31, 2020 and from polling 400 event professionals. This explosion of virtual events shows these industry stats will be invaluable to organizers as they plan virtual events in 2021.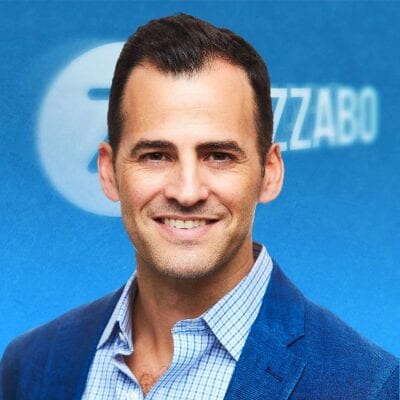 "Virtual events are helping forward-thinking business leaders and marketers break down the barriers of place, cost and time, and navigate the coronavirus pandemic," says co-founder, CMO & CCO of Bizzabo Alon Alroy (pictured right). "We're releasing these benchmarks to help leaders and organizations better understand how their peers are approaching virtual events and ultimately deliver more impactful experiences."
Between March and June, 80 percent of virtual event registrations were free, and that number remained consistent throughout the year. With a lower cost barrier of entry, it appears that one of the benefits to organizers from the shift to virtual events is greater audience reach.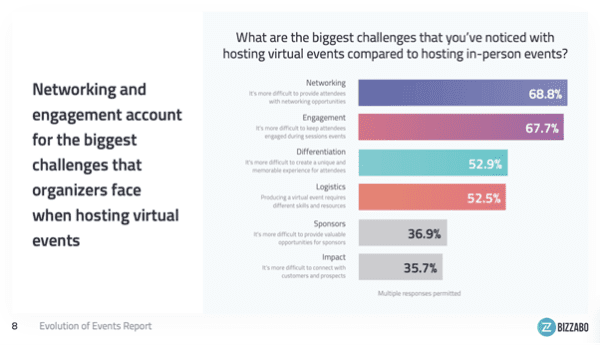 While many events have been free, paid virtual events are not necessarily cheaper. In fact, paid virtual registrations create ample opportunities for event planners to create innovative pricing models for their virtual experiences. During the last six months of 2020, the average price paid for virtual events was $443, compared with $378 in the second quarter of 2020.
Conferences are the most popular virtual event type, accounting for 43 percent of all digital events covered in the research. The second most popular event type is Meeting and Networking, making up 23 percent of virtual events. Networking is one of the main things attendees ask for in events, and going virtual hasn't changed that. Event organizers are looking for ways to create networking opportunities for their audience in the virtual world.
There are multiple ways to facilitate connection at a virtual event, like setting up roundtable discussions based on similar interests or creating slack groups where attendees can network with their industry peers.
Internal events are also being held online, accounting for 13 percent of virtual event types. Internal events are ideal in a virtual format since they tend to be more intimate, making it easy to use interactive features such as Q&A or live polls.
For more of Bizzbo's findings, visit: https://welcome.bizzabo.com/evolution-of-events-report.
Orbus Introduces Scalable Vaccination Booths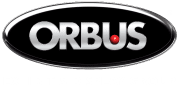 In response to the requests for vaccination centers around the country, Orbus has introduced a scalable vaccination booth system that provides privacy and is easy to assemble and disinfect. The Modular Vaccination Booths are scalable from single to multiple booths to accommodate small or large spaces.
Modular Vaccination Booth Features:
Booths are 8ft W x 8ft H x 8ft D, made with aluminum extrusion profiles & white rigid infill panels
Panels can be printed to incorporate logos and messaging
Detachable peel & stick vinyl signs are also offered as a less expensive option
Easy to assemble, wipe clean and disinfect
Made in the U.S. and manufactured quickly
To order, call (630) 226-1155, or visit: www.orbus.com.
Volan Technology Unveils Contact Tracing Solution at ALHI's Annual Staff Meeting 
Volan Technology, the leader in AI-based safety and contact tracing software, revealed its groundbreaking solution for in-person meetings at the yearly Associated Luxury Hotels International all-staff meeting in Austin, Texas on January 28-29 at the Fairmont Austin.
The group of 50 attendees, who serve as the global sales and marketing extension to a portfolio of more than 300 of the world's most distinguished hospitality brands, were among the first to experience the Volan Positioning System (VPS). As the most accurate and private corporate contact tracing and analytics tool on the market, and the first micro-location position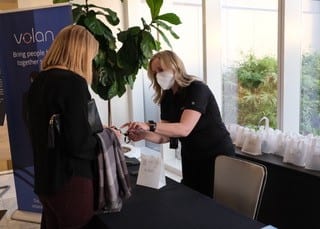 ing technology built on Bluetooth 5 mesh network standard, VPS gives meeting planners instant access to highly detailed reports for groups of any size.
Delivering a product that achieved the highest level of privacy was paramount in Volan's design. Random ID numbers are assigned through an encrypted iOS app to which only designated administrators have access. All passwords and personal information are managed by the meeting planner or company leader which means Volan does not collect individual data or have any access to attendee or employee personal information.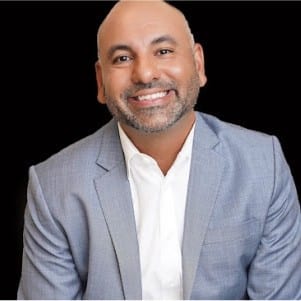 Tony Yousfi (pictured left), Volan Technology's vice president of hospitality sales, has worked with major brands such as ARIA Resorts & Casino in Las Vegas and says, "Meetings and conventions have been enormously impacted this year, and we believe this is the solution the industry has been looking for. Our easy-to-install technology not only provides critical contact tracing data in seconds, but also advanced analytics that help exhibitors reach top prospects and meeting planners to access data for planning future gatherings."
For more info, visit volantechnology.com.
Upcoming stories in this series will feature companies and individuals who have pivoted or created new products to survive these difficult and challenging times. Please email us at newsdesk@exhibitcitynews.com for inclusion in future stories in this series.