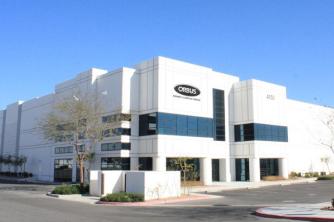 The Orbus Exhibit & Display Group, one of North America's trade suppliers of display, exhibit and event solutions, has expanded its U.S. presence by opening a new full-service facility just outside of Las Vegas, Nev., to serve the Western U.S. with faster and more economical shipping.

The company anticipates providing greatly improved savings in time, transit and shipping costs to clients located in Western states, which include Arizona, Colorado, California, Idaho, Montana, Nevada, New Mexico, Oregon, Utah, Washington and Wyoming. This facility, located just 10 miles just north of the Las Vegas strip, will carry and fulfill hardware and graphics for the full line of Orbus products. Clients in Western states will continue to be served by the same superior sales staff and client service teams they've been accustomed to working with.
By opening a new facility just outside of Las Vegas, Orbus will be able to supply products and graphics to clients in the entire continental US with FedEx Ground service in three days or less.
"We are thankful for the opportunity to expand into this region," said Aaron Kozar, Vice President of Orbus West Coast Operations. "The West is one of the largest markets for our current client base and my hope is that our experience, along with our remarkable client service, will help us grow well beyond our existing presence in this key area."
Orbus has been serving clients across the U.S. from its two Chicago-based facilities, but recently had the opportunity to open a third and completely new facility to serve clients in Western states with even better turnaround times and shipping rates.
Orbus signed a five-year lease for the 56,073 square foot facility and created over 50 jobs in distribution, manufacturing and printing as a result.
History
Orbus was established in April 2001 in a modest facility on South Michigan Avenue. It launched with a staff of three and two primary products. By the spring of 2002, the line expanded to 22 products with a growing need for graphic services. As a result, Orbus merged with Paul Person Graphics, a Chicago-based tradeshow inkjet print house. The new and improved business relocated into a facility on the Northwest side of Chicago.
By January 2003, the Orbus graphics department was fully established and providing graphic services that coordinated with a range of over 50 various display products. Orbus later introduced an unbranded catalog with the first edition of The Exhibitors' Handbook.
With over 100 products and trade customers in almost every major U.S. city, Orbus had established a solid reputation and foundation.
In 2005, with over 60 employees and a continually increasing product range, Orbus made plans for relocation.
March 2006 marked an agreement for a newly-constructed facility in Bolingbrook, Ill. By summer, Orbus had been recognized as one of America's top five market leaders by several trade publications and leading tradeshow authorities. SignPro Systems was launched in November 2007 as Orbus' first step into the modular signage industry. In 2009, Origin was launched as a provider of full custom modular exhibit solutions.
May 2010 marked a major expansion for the company with the addition of 150,000 square feet for custom manufacturing. The expansion gave the company a total capacity of 300,000 square feet and at the time, the company employed over 175 team members. Additionally, its product line grew to include over 300 products.
July 2011 marks another expansion for Orbus Exhibit & Display Group with the addition of over 56,000 square feet for product and graphics distribution outside of Las Vegas, Nev. At the current time, Orbus employs 250 team members and looks forward to continued growth in the future.