This stylish small portable speaker comes in handy in so many ways, especially being on the road a lot.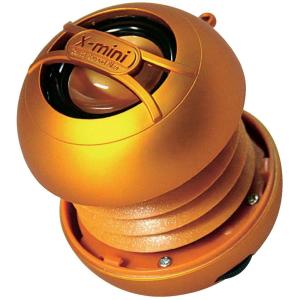 This bouncy, pocket size speaker fits easily in any handbag or traveling case. It holds up to 20 hours playback time, and has a built-in volume control with a bass xpansion system. It outputs 2.5 watts RMS and features frequency range of 150Hz to 20 kHz.
The X-mini UNO Capsule has an on/off switch with a power indicator on the side of the capsule. It is also compatible with mobile phones, laptops, tablets, portable game stations and media players. Coming in six colors – orange, red, black, blue, green and gunmetal – the speaker includes a carrying pouch and charging cable.
Prices range from $26.99 – $39.90
For more information, visit www. X-mini.com
Products provided by manufactures for review in no way influences reviews, comments or opinions.