As Charlie Palmer Steak celebrates its 15th year, the man himself reveals what brings him to Las Vegas, why he stays and how a home economic class turned a high school football player into one of the most important figures in American food.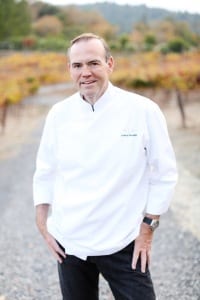 You were one of the early arrivals on the Vegas dining scene. What brought you here?
What else? Luck. After fulfilling a dream by opening Aureole in New York when I was only in my late 20s, I still had the energy and interest to do what other young men did: Go west. I was drawn by the promise of Las Vegas. Although it was originally just a green valley stopover in the desert for Spanish traders, Las Vegas has become the largest city founded in the 20th century and I wanted to be part of that excitement. Today Vegas still has its frontier town feeling and I think it's fun to be where the unexpected is still a daily occurrence.
What is it about a steakhouse that works so well in Las Vegas?
Because it's another American "big idea"—generous portions, robust flavors, bold wines. I love the expansiveness: That people usually choose a steakhouse when they want to celebrate. And I mean all sorts of people from global businessmen and girls' weekend visitors to extended families. Charlie Palmer Steak has always been a favorite place for my own family, including my four boys. And of course, there's the steak itself: We've come full circle in this country when it comes to meat and I support those small producers who are focused on giving us cleaner, more fully flavored beef.
What about the people who don't want steak?
First of all, "steakhouse" doesn't just mean a place that serves steak. "Steakhouse" is actually a menu style. There was a time –before small plates –when you could only order a composed plate from a kitchen, meaning the chef made the decision about what side dishes came with your entrée. But the "steakhouse concept" is what separated main courses from sides, giving you the freedom to mix and match your meal. And we extend that sense of choice throughout the entire menu with modern seafood dishes that are quite special, like our Sweet and Sour Calamari with radish and frisée salad and the fun of our Ritz Cracker Stuffed Lobster, as well as succulent slow-roasted chicken, punched up with preserved lemon. It's a classic with some zing. The Charlie Palmer Steakhouse menu is designed for sharing, reflecting a wide range of flavor, so everyone can make a contribution to the communal meal.
Every article mentions the amazing wine tower at Aureole. But is there something about the wine at Charlie Palmer Steak that you want readers to know?
Absolutely. Just as the menu offers something for everyone, the wine list, presented with the 2011, 2012 and 2013 Wine Spectator Award of Excellence, has the same broad reach. We've got all the steakhouse favorites like California Cabernets, 1er Cru Burgundies and Bordeaux, as well as Italian selections from Barbarescos to Multepulcianos. But as a wine lover, I also collected a robust selection of cult producers and niche winemakers from around the world—Oregon to Argentina and New Zealand to Tasmania—as well as many acclaimed Sauternes, dessert wines and sherries for a lengthily sweet finish, plus an expansive list of wines by the glass.
What is the story about that high school home economics class?
Well, I grew up in a small farming town in upstate New York and I was just starting a job as a dishwasher at a local inn when my family's next door neighbor—who was the high school Home Economics teacher—offered me a bribe: If I took her class, I could eat everything we made. I was a big, growing guy, already six feet tall and a linebacker, and always hungry. There was a lot of great food coming out of her kitchen that made its way into our house, so it didn't take much more convincing. Soon after I started taking the class, I began to read cooking literature and think about cooking as a career. At the time it wasn't a question of being a chef. The word chef didn't come into it. Whether you cooked at a restaurant or a diner, you were essentially a laborer. My older brothers, who are engineers and in the lumber business, kind of looked at me like, "You're going to cook? What are you talking about?" They all eat in my restaurants now. Now they like the idea.
Do you ever get a chance to eat anyplace else in Vegas?
It doesn't take much effort to find an interesting place to eat in Las Vegas as chefs from all over the country are represented in all styles of restaurants. At night, I like to stay close to my own restaurants in the Mandalay Bay and Four Seasons, but during the day I slip out to my friend (and former pastry chef) Megan Romano's pastry shop Chocolate & Spice. Her croissants are buttery, light and flaky – total perfection. If my staff needs me, they know where to find me and now, so do you.