PMMI, an association and show producer, anticipates this year's PACK EXPO at Las Vegas Convention Center from Sept. 28–30 will be the largest-ever!
Alongside the Las Vegas debut of Pharma EXPO – produced in partnership with the International Society for Pharmaceutical Engineering (ISPE) – the event, bolstered by optimistic reports on the U.S. manufacturing sector, will bring together more than 2,000 exhibitors showing their processing and packaging innovations to 30,000 attendees in over 800,000 net square feet of exhibit space. Registration for the record-breaking event is now open.
PACK EXPO and Pharma EXPO 2015 will help manufacturers from more than 40 market segments capitalize on current growth by providing access to the latest solutions for enhancing the efficiency, flexibility, automation, sustainability and productivity of their supply chains.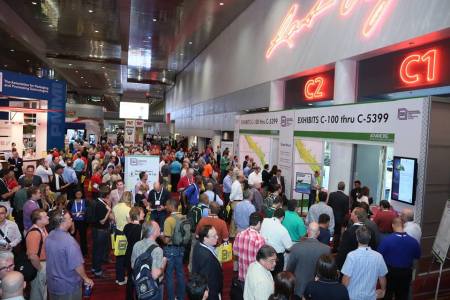 "By connecting manufacturing professionals and suppliers representing so many different market segments, PACK EXPO events play a critical role in driving manufacturing forward," said Charles D. Yuska, president and CEO, PMMI.
Past attendee Chay Vue, engineering director, Sargento, described his PACK EXPO experience in similar terms.
"The breadth of equipment and exhibitors at PACK EXPO is amazing; it is truly all-encompassing. I'm able to look for new technologies, discover innovations and seek out equipment to retrofit and modernize our production lines. All the vendors and suppliers are here for me to meet," Vue said.
The benefit of co-locating PACK EXPO and Pharma EXPO lies in the common challenges and solutions industries face, Yuska noted.
He added, "PACK EXPO and Pharma EXPO offer a unique opportunity to find inspiration and 'cross-pollinate' ideas across applications and industries."
Veteran PACK EXPO attendee Paul Davis, a project engineer with Hearthside Food Solutions who was at PACK EXPO International 2014, said the co-location takes PACK EXPO to a new level.
"I've attended at least a dozen PACK EXPO shows," said Davis. "The addition of Pharma EXPO is definitely a highlight. So many technologies in pharma are applicable to food and vice versa. That synergy is great."
To help attendees make the most of their time at the co-located events, PACK EXPO Las Vegas and Pharma EXPO 2015 will include a variety of customer-centric features designed to direct them to the technologies they need.
Pavilions include The Processing Zone, a hub for processing innovations, and The Brand Zone, a showcase for materials and containers to shape brands. Attendees from the baking and snack, beverage and confectionery sectors can network with peers and suppliers at their respective industry-specific lounges — The Baking–Snack Break, The Beverage Cooler and The Candy Bar.
They can also gain strategic insights on material and equipment trends, regulatory challenges and best practices to advance operations with free on-floor educational programming at the Innovation Stage, exhibitor booths, the Center for Trends & Technology, sponsored by Rockwell Automation and its PartnerNetwork, the Food Safety Summit Resource Center and ISPE's world-class conference program.
"Pharma EXPO 2014 more than met my expectations. I was looking for new technology that will help us improve our processes, and I definitely appreciated the diversity of companies exhibiting," said Onté McClendon, senior engineer, Merck.
PACK EXPO Las Vegas and Pharma EXPO 2015 open on Sept. 28. For more information and to register, visit packexpolasvegas.com.
Registration for PACK EXPO Las Vegas and Pharma EXPO is $30 through Sept. 14 when it increases to $100.