While U.S. exhibitors moving into overseas markets is no new concept, international exhibitors are also showing interest in exhibiting abroad. The Latin American region is fast developing with its eyes on Asian, European and U.S. territories for continued growth. As an exhibit designer, Irene Albarran shares the history of her family's business and how it helped shape the landscape of the exhibition industry in Mexico.
How did you get started in the exhibition industry?
I graduated as a designer from the Iberoamerican University. In 2005, I helped found Expoquarzo S.A. I started with this company as a general manager in Guadalajara and then took charge of the graphic production area. I was instrumental in the renovation of the corporate image of the company.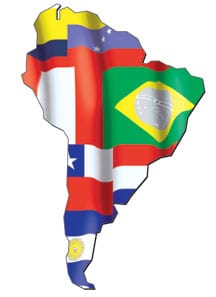 Later on as a marketing manager, I specialized in the portable systems design integrating commercial perspectives, production and design.
Presently as the general director, I procure development and in-depth investigation and acquisition of new technologies and market trends focusing on the possibility of an international expansion with sustained growth.
Expoquarzo was founded in 1976 by my father, Eduardo Albarran. He was one of the pioneers in the industry in Mexico and he was one of the main supports for the Mexican Association of Fairs, Exhibitions and Conventions (AMPROFEC).
The company started in the graphics and scenography for the tourism tradeshows in Spain, Germany, Italy and the U.S. (FITUR, ITB, ITME, IAEM and DEMA). Through the years we incorporated varied solutions for exhibitors and started fabricating stands and pavilions. We also have worked with our own system (Genius) and acquired the knowledge and technology to work with systems, such as Octanorm.
In the 1990s, we entered into the portable displays such as demoset (counters) and also X-Tend Pro (pop-up structures).
Presently we are launching Innovaset, a high-quality finish personalized counter that can be installed in less than a minute.
We have incorporated all these systems in projects that also include permanent displays, signaling, furniture and graphics. This has placed us as one of the companies with the largest inventory and options in Mexico.
Our infrastructure includes a showroom, top of the line cutting, lamination and thermoforming equipment, and also fixed and flexible plotters that provide us the ability to create unique designs.
What is the present market condition of the tradeshow industry in Latin America?
In my opinion, the industry is growing more than ever; there are (sic) a lot of opportunities and the need to achieve international standards. Our customers in the Latin American region are seeking the international markets at a higher rate than ever before.
In the last decade, there has been a substantial growth of venues although the tradeshow events are still not at [the same level] with such growth there has been interest recently in hosting international shows. Therefore I feel that there has been an increase in the external investment in our markets.
In relation to the Latin American market, there are many that still present problems due to customs. This has resulted in the strengthening of local alliances and strategic partnerships that are becoming more solid in the last years.
Certainly brands in those countries will have to adapt their technical requirements to be in concordance with local finishes and materials quality.
Are there any key differences between the U.S., European, Asian and Latin American tradeshow formats?
I have seen that the U.S. format differs from all others, since syndicated labor and a high specialization at the individual level. Pricing seems to be substantially higher due to this format. Exhibit houses have the tendency to [outsource] and they focus more on the coordination and design. However, I have seen some brands, such as Nimlok, Skyline and others, that integrate production in their operations. The great majority of stands are made of fabric and structure, which is a tendency that is now entering the European and Latin American markets.
In Mexico (for example) we do the design, production, graphics, plans, electrical, install, rigging, coordination of services at the venue. We as a fabricator of portable displays have [it] all in-house; however, many companies are now outsourcing here and that is showing a clear trend towards a U.S. format.
What is your personal prediction about the global integration of the industry?
I think that the Latin American companies are getting stronger at the global level. There are many associations in existence and new alliances between exhibit houses; at least in Mexico there is a need to standardize and have more specific data related to the industry. There is no specific information about the industry and this includes square meters, visitors, ROI of the exhibitors, etc. I am personally committed with AMPROFEC to collaborate in the standardization of data and the implementation of certifications and professional training for exhibit related activities.
My expectation is that companies, [and] local and international associations participate with the expectation that the growth that is being experienced becomes positive for the region.
Is the Latin American market entering a new era of accelerated growth in relation to other markets?
A lot of companies are turning their heads to Latin America and I feel there is the potential and the demand of a great market (companies and international events) in combination with the offer (local companies that are acquiring international standards, reliability and quality).
In my opinion, the Latin American market is composed of a deep ingenuity and a natural competitiveness. If we organize, we can achieve a more sustained growth.