Shepard, a leading national event services provider, launched a new website to provide the event community with a new access point to resources and solutions that assist event organizers in delivering successful experiences. The dramatically enhanced website offers a fresh, intuitive, innovative, and content-rich experience.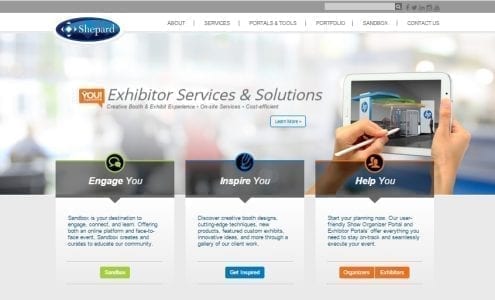 "We built our business, and have been successful, by listening to our customers and developing strong personal relationships," said Carl Mitchell, president, Shepard. "However, we would be remiss not to evolve with new trends in business practices. So, we are adapting with the incorporation of innovative solutions to provide stronger customer service and resources; and also better educate our community on who Shepard is, the services we provide, and what we stand for as a business."
Shepard boasts that the biggest enhancement to the website is the Sandbox communication hub, an area of the website that offers a continuously-updated blend of created and curated educational content, serving as a 365-day resource for show organizers and exhibitors to learn and engage.
"The Sandbox section closely aligns with our customer-centric way of doing business, "said Richard Maples, executive vice president of sales, Shepard, "and enables us to continue providing educational resources to help them produce better events with a more engaging and innovative delivery vehicle—and that's our main business goal—our customer's success. Show organizers don't always have the time to troll the internet searching for trends and innovations, so we built a resource that not only generates new resources, but also streamlines industry-related and professional development content into one central location."
The website also provides integration to social media platforms, including their recently launched Instagram account, and enhanced contact forms for fast, easy access to customer service and sales associates.