(Pictured above: the American Exposition Services team)
by Cynthya Porter
The world of general service contractors (GSCs) may seem eclipsed by Freeman and GES, the industry's undisputed titans, but the reality is that there are hundreds of smaller GSC companies out there vying for variously-sized pieces of the tradeshow and event pie. And the truth is that there is plenty to go around, with more than 30,000 events happening annually by most counts, from tiny conferences to behemoth affairs across the country. In fact, most of those gatherings wouldn't even raise a blip on the GES or Freeman radar, making all the other GSC players on the field absolutely essential.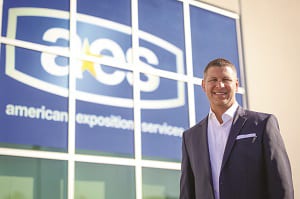 But how is one to choose between them, or even understand what sorts of things set them apart? The answer is simple, several small- to mid-sized contractors say, and here's a hint: It isn't price. "What kind of relationship will you have with your partner in this project and what will your exhibitor experience be?" says Mark Staples (pictured right), president of American Exposition Services in Sacramento, Calif. "Realize that price isn't everything. I believe a lot of the smaller, independent contractors set themselves apart based on their service model. Once they acquire business, they tend to gain the loyalty of their clients through relationship and value served."
Patrick Fitzpatrick, chief operation officer at SER Exposition Services, couldn't agree more. "A good choice is less about price and more about service," he says. "If we get a show from a competitor, we know something may have happened there because this tends to be a very relationship-based industry."
Those relationships don't begin and end with show organizers—they actually start much higher up the chain with venues. "We get a lot of referrals from buildings and sales people. Half of the work is getting on the short list for venues and so we spend a lot of time with facilities building relationships," Fitzpatrick says. And he doesn't mean by inviting them to coffee dates; he's talking about things like keeping insurance up to date, enforcing employee drug testing and anti-harassment training, and following their rules all the time. "You can't screw anybody over ever," he says. "You get to make an honest mistake once, and that's it."
The relationships built with other GSCs is just as important, says Richard Curran (pictured left), CEO and president of Florida-based Expo Convention Contractors. "I have been involved with the Exhibition Services & Contractors Association (ESCA) for almost 20 years now," he says. "I have harvested relationships that have been crucial to our success through this organization." Because his firm produces shows across the U.S., Curran says forming partnerships with GSCs that are local in new or less familiar destinations is key to having perfect events. "Being able to rely on a local expert, no matter how big or small the GSC, is very important to the success of the show you are producing," he explains.
Staples echoes those sentiments, calling ESCA a cornerstone to the company's networking opportunities. "ESCA has provided such a great opportunity to socialize and network with other GSCs, so it's not hard to find subcontract support should we need it," he says. "We've built a rapport and support system across the country that gives us the opportunity to compete, even if it's out of our regional market. It certainly gives the little guys a fighting chance to increase their brand on a national level."
Everyone in the GSC universe knows that not all shows are right for all contractors, Fitzpatrick says, and GSCs will routinely flip show referrals downward or upward on the GSC echelon based on those relationships with peers. And though they are often quite competitive in the field with what Fitzpatrick calls "hard noses and sharp elbows," the reality is that GSCs often help each other by borrowing and trading equipment, subcontracting shows to other providers, and even sharing information about experiences to help other GSCs make decisions about clients who are out playing the field.
Yes, Fitzpatrick confirmed, many of the GSCs in the market know each other, and if a show organizer has been "around the block" a few times with different GSCs, some will pick up the phone to ask a former provider why. Sometimes an organizer is a hard price shopper who goes out for bids every couple of years, and other times they have proven themselves more challenging than usual to work with. Whatever the case, a GSC needs to know whether submitting a request for proposal is good for the company, and oftentimes, peer GSCs will share their experience. Sometimes, Fitzpatrick says, the hard price shoppers will get a hard pass from contractors because the relationship is so much more important. "You have to pick based on service," he says, "Otherwise, it's a race to the bottom. You have to be value conscious, but at some point, you can't keep going down that road."
Better questions than price, says Staples, are questions about previous shows, the quality of equipment being used, and how they are regarded in the industry. Proud of their reputation as a sought-after subcontractor, he notes that referrals from other GSCs, large and small, can be a good indication of a firm's trustworthiness as a GSC.
Also, Fitzpatrick adds, look for the longevity of clients, range of services and experience dealing with exhibitors of all sizes, from the largest and most established to the smallest and newest. "A GSC should be able to run the whole gamut," he says, "from CAD drawings to working with the building's fire marshal; things a GSC familiar with a facility knows."
Curran agrees, saying organizers should explore the innovation a GSC offers and their willingness to push the envelope on capabilities. "I think it's important for an organizer to qualify a GSC by their ability to perform in their strong markets," he says. "When I have the opportunity to get a customer into my offices, they see that we are able to offer everything that our larger competitors do."
Being smaller, the men say, actually can make a GSC far more nimble and accessible than large counterparts, with very little red tape and a phone line that always leads to a real person, even the CEO. Another thing that sets them apart, they say, is that a great many small GSCs are family run, which establishes a legacy that company leaders have a deep investment in protecting. "We are family owned and operated and about to celebrate our 25th anniversary," Curran says. "Our success is in the retention of our people. Having the consistency of account managers year after year gives repeat clients a sense of ease."
Staples says that is the key behind his family-run business as well. "I believe legacy operations and family-run businesses tend to be more cohesive in their core staffing," he says. "We protect what our parents or other family members have sacrificed and built by hiring trustworthy professionals around us. We surround ourselves with 'like family' members." Hiring well, he says, is the best gift a manager can give to a dynasty. "I'm a believer that the relationship you have with your client is almost as important as the quality of work you provide," he says. "If I hire well, treat them respectfully and fairly, and train them correctly, they will, in turn, have a desire to be engaged with their clients."
Even with the best reputation and the greatest staff, there are challenges in the industry for the smaller players on the field. Show consolidations might force out a contractor, and GSCs buying up their smaller competitors can alter the landscape significantly when mid-tier GSCs are suddenly competing with the pricing of mega-suppliers.
The reality is that the largest firms will always have the cheapest prices due to sheer economy of scale, the men say, but that is precisely why the smaller firms have to step up so high on the service they provide. Part of the stepping up, Fitzpatrick says, may be that small GSCs have to champion creating the cost certainty that organizers and exhibitors so desperately want by retrofitting the pricing models for services and drayage. With a few examples in the marketplace now, all eyes are on the outcomes, he says, to gauge whether the new pricing models are successful.
And probably, Fitzpatrick says, smaller GSCs can keep themselves competitive on the bigger stage by being better players with fewer sharper elbows around their same-sized peers. "We compete and even get angry at each other sometimes," he says, "but at the end of the day we work together as much as we compete."
After all, he says, it's not about market share, it's about profitability, client happiness, and creating amazing spaces for face-to-face marketing. "We all want to make the best experiences that are remembered for the right reasons," Fitzpatrick says. "We all just want to take concrete boxes and turn them into showcases."
This story originally appeared in the September/October issue of Exhibit City News, p. 42-44. For original layout, visit https://issuu.com/exhibitcitynews/docs/ecnflipbook_septoct_2019_web