by Jeanne Brei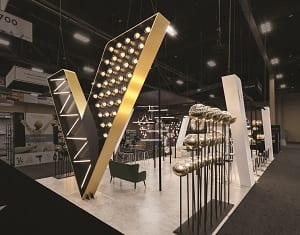 When VISO Inc., a global multidisciplinary lighting design and manufacturing firm based in Toronto, approached Holman Exhibits in September of last year to propose a design for their tradeshow booth, their prerequisite was that they did not want the space to look like a traditional tradeshow booth. Paddy Jordan-Higgins, Holman's executive vice president, creative and lead designer, says, "With our experience in designing custom environments in the tradeshow, museum exhibit, and retail spaces, the opportunity for creative freedom was a welcomed project for our team."
VISO's company mission is to create dramatic and inviting atmospheres through the use of light, so Holman's task was to design a booth structure that highlighted and accentuated VISO's lights, where the lights were the focal aspect of the entire space for the HDExpo 2019 that was to be held May 15-17 at the Mandalay Bay Convention Center in Las Vegas, Nev. VISO had secured a spot at HDExpo 2019, and had a 20' x 50' booth space that they were looking to partner with a booth designer/fabricator on.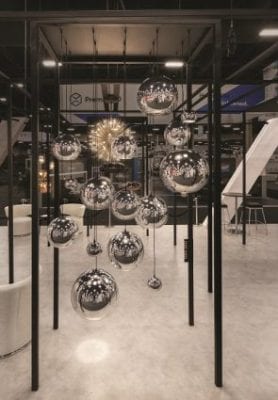 This was Holman's first project with VISO Inc., and throughout the design stage, the concentration was on how they could display VISO's lighting clusters in a way that each display piece would stand out distinct from the other, while not overwhelming the space with too much activity. And yet, the mission was always to exaggerate the elements in order to present a "show-stopping" booth.
Jordan-Higgins says, "Ultimately, we developed a booth with sleek and simple structural support frames as hanging points for the light fixtures—the matte black finish created the effect of blending the frames into the show background, thus concentrating attention towards the lights themselves. In order to achieve the look of an untraditional booth, we incorporated unique design features such as angled structural columns, and inverting the Bolio light fixture (at front of booth on either side of the large "V") as an atypical means to display VISO's lights."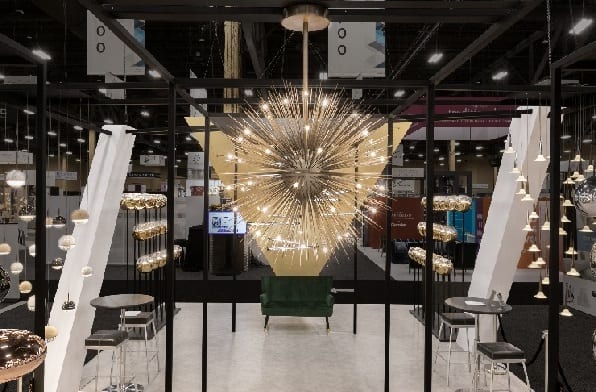 "With every piece of the booth being unique in its presentation, our ultimate stand-out piece was a 13.5 foot high "V" in the shape of VISO's logo, that would render the booth noticeable from afar, and draw visitors in to explore the space," Jordan-Higgins continues. "The giant "V" structure integrated VISO's lights into its front face, creating an immersive atmosphere where the lights became one with the booth itself.  Ultimately, our goal had been to create a dramatic environment where VISO's lights were creatively integrated into all aspects of the booth—and with the booth winning the award for "Best Booth – Clarity of Concept," we are proud to say that that we achieved this."
Holman worked closely with VISO throughout the design and fabrication process. According to Account Manager Lily Ljubicic, "We were fortunate that our client gave us creative freedom over their company's image and identity—they encouraged our out-of-the-box design concepts which allowed us to challenge the traditional understanding of what a tradeshow booth design looks like."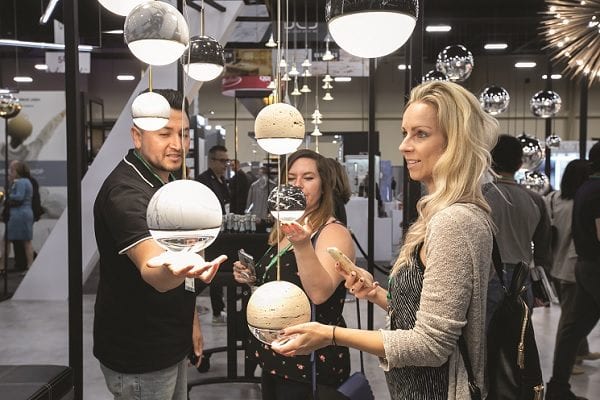 Ljubicic continues, "Holman's mission in all of our projects is to build working partnerships with our clients, where we invite their involvement into all phases of the project—from their input on the conceptual design phase, all the way through to inviting them for a viewing of the final build at our facility in Toronto. We completed a test assembly before the booth shipped to Las Vegas, in order to give VISO an opportunity to ensure a final quality check—nothing leaves our Holman facility without a final quality check and approval that the booth is built to meet our highest standards."
Holman was the design, fabrication and installation partner for this award-winning show booth and they look forward to collaborating in the future with VISO, Inc. to design and create more "show-stopping" booths.
By The Numbers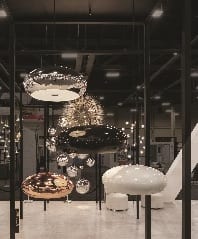 20' x 50' booth size
12 lighting fixtures
4 structural white columns
1, 13.5 foot high by 16' wide "V" structure – MDF construction with laminate finish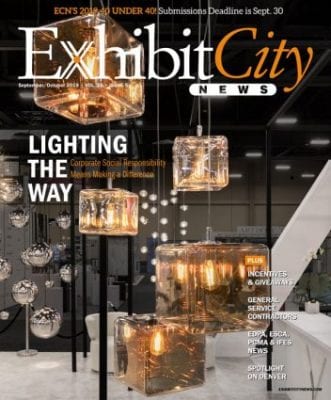 Based in Toronto, Canada, Holman Exhibits has more than five decades of creating branded environments and exhibits development in Toronto and across Canada and the U.S. They pride themselves on providing the most advanced and innovative booth designs for their customers by creating immersive and interactive tradeshow exhibits, tradeshow displays, retail solutions, museum interiors and more. For more info, visit www.holmanexhibits.com.
VISO Inc., a global multidisciplinary lighting design and manufacturing firm based in Toronto, Canada, serves the hospitality, commercial, infrastructure and retail chain sectors. They offer custom designs, rendering services and total project consultation as well as an exclusive lighting collection. For more info, visit www.visoinc.com.
This story originally appeared in the September/October issue of Exhibit City News, pp. 46-48 and the cover. For original layout, visit https://issuu.com/exhibitcitynews/docs/ecnflipbook_septoct_2019_web