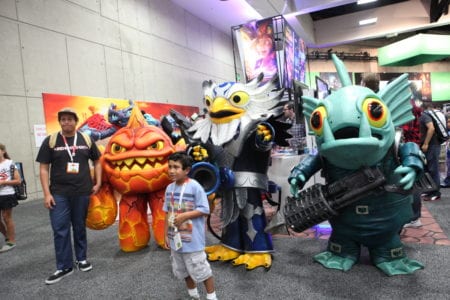 Silicon Valley Comic Con has partnered with IRL Events, producer of E3 and Anime Expo, to continue the event's upward trajectory since its successful launch in 2016, SVCC owner and Apple co-founder Steve Wozniak has announced. The pop-culture event debuted in 2016 to a sell-out crowd of 60,000 guests, after which officials raised the attendance cap for 2017 to 65,000 and expanded the show's size and level of programming.
With preparations for 2018 underway, the show's forward momentum can't be sustained by the SVCC team alone, Wozniak said. "We made huge changes and additions between SVCC 1.0 and 2.0, but our team didn't grow at the same rate," he explained. "Lab and digital cloning aren't quite there yet, so it was time to bring in reinforcements."
Joining forces of the original SVCC team and IRL doubled the event's staff resources, officials say, as well as instantly deepened the event experience of its leadership. As part of the partnership, Mary Dolaher, CEO of IRL Events, will take over as CEO of SVCC, bringing with her decades of work with similar shows. Outgoing CEO Trip Hunter will stay on as a partner and advisor. "With more than 25 years of experience in running events, I know a great one when I see it," Dolaher said. "We look forward to being part of the show and its success in the years to come, and to working with the SVCC community. Please stay tuned for more details about the 2018 event!"
After enjoying overwhelming fan support at its inaugural event in 2016, SVCC saw massive physical expansions and layout changes for 2017, including the addition of a free public outdoor festival, programming at City National Civic, a Kids S.T.E.A.M. Lab, Geek Fashion Show, science fair, dog cosplay contest, Space Village, and more. That trend will continue, Dolaher said, and new features for 2018 will be revealed soon.
"With two booming startups–Primary Data and Silicon Valley Comic Con–Woz, Trip and I had to find a way to expand and prioritize our resources," added Rick White, chairman of Silicon Valley Comic Con. "Mary and her team at IRL Events have decades of experience running pop culture and technology events like E3 and Anime Expo, so we knew they were the experts to supplement our core team to take SVCC into the future."
With Apple co-founder Steve Wozniak at the helm, Silicon Valley Comic Con celebrates the Age of the Geek by bringing together America's two greatest superheroes: pop culture and technology. Featuring top celebrities, comics, independent artists, cosplay, video game creators, consumer electronics, music and apps, Silicon Valley Comic Con is where entertainment and our electronic worlds intersect. Silicon Valley Comic Con will return to San Jose April 6-8, 2018. For more info or to inquire about exhibiting and sponsorship, visit www.svcomiccon.com.
IRL Events is an award-winning producer of entertainment and technology trade shows and fan- fests in areas ranging from video games, anime, and K-Pop, to hardware and user-specialized conferences. IRL's current event portfolio includes Silicon Valley Comic, E3, and Anime Expo (AX). For more info, visit www.irl-events.com.